While many people still wax or shave unwanted hair, more are discovering the benefits of epilation. An epilator offers longer-lasting results than shaving, and can be done either wet or dry. Braun offers epilators with a variety of caps for different skin types. You should learn about the range of Braun epilators so that you can choose the model that best suits your personal requirements.
Braun Silk-Épil 7 Skin Spa 7951
Braun Silk-épil 7 Skin Spa 7951 provides full body-hair removal and exfoliation. Its 40 tweezers grip and remove hair, and 10,000 tiny bristles gently brush away dead skin cells. The Braun Silk-épil 7 7951 comes with trimmer caps for sensitive areas, such as underarms, bikini line, and face. Its two speed settings and smart light enable more efficient hair removal when used wet or dry. This cordless unit charges in around an hour and can be used for up to 40 minutes continuously on a full charge.
Braun 7181 Silk-Épil Xpressive Wet & Dry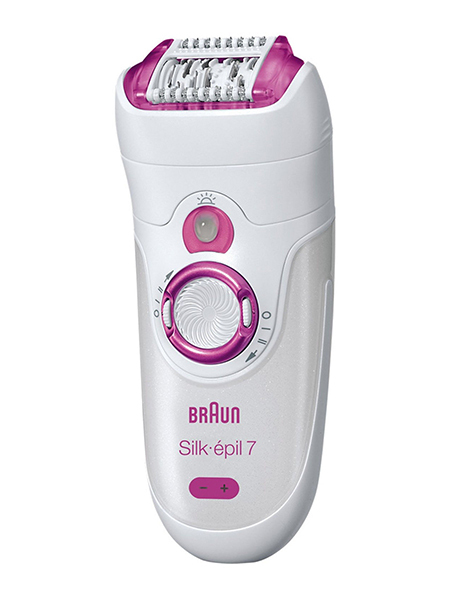 The Braun 7181 Silk-épil Xpressive Wet & Dry epilator for legs offers the same hair removal and exfoliation benefits of the Braun 7951. The one difference is that it has only one cap that maximises contact with the skin, so it works faster. Its SoftLift Tips gently lift tiny hairs that are lying flat and guide them towards the tweezers for removal as the pivoting head maintains contact with the surface. The epilator has two speeds that enable either gentler or more efficient hair removal. The waterproof and washable Braun 7181 can be used wet or dry.
Braun Silk-Épil 7 7681 Wet & Dry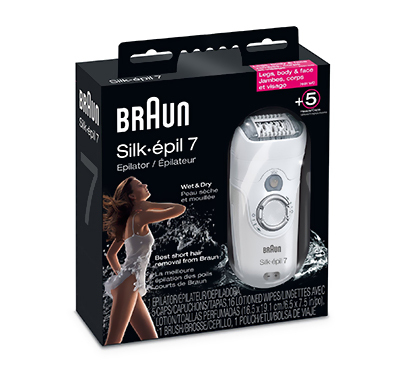 The Braun Silk-épil 7 7681 Wet & Dry epilator offers excellent performance and greater comfort. It comes with Olay cooling wet wipes that are specially formulated to relax the skin before using the epilator to make hair removal easier and sooth the skin afterwards. Its adjustable speeds enable you to adapt the unit to your personal requirements. The Braun 7681 Silk-épil Wet & Dry epilator has five caps: trimmer, sensitive area, facial, efficiency and shaver. These attachments make it easy to use the epilator on any part of the body.