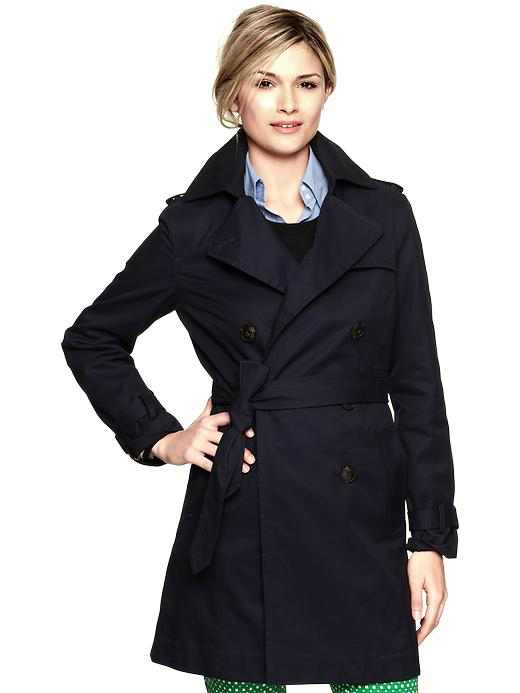 The trench coat traces its origins from the gabardine Tielocken coat designed by Thomas Burberry for British war officers. In 1901, Burberry was commissioned to design a coat that included D-rings and shoulder straps; the waterproofing and wool lining made it indispensable in the trenches, hence its name. The coat was popularised by mass media: Ingrid Bergman and Humphrey Bogart in "Casablanca", Audrey Hepburn in "Breakfast at Tiffany's", and more.
The modern trench coat is just as durable and all-weatherproof as its predecessors, though they have rapidly become an integral part of the stylish woman's wardrobe. Most trench coats are still often military in style, but the design has been reworked, re-imagined, and recast in quite a few variations. Try buying trench coats on eBay to take advantage of the many styles and fashions available It is also possible to purchase stylish coats in offline clothing stores or other online shops, as well. Women should understand the options for trench coats and their various style options; knowing the basics of these help the customer find the stylish trench coat that her wardrobe cannot live without.
Options for Trench Coats
A trench coat is just a simple long coat with a belt until the wearer incorporates options into her personal style. What is seen as vogue could be simple or complicated, and there are many options that can affect how stylish a person appears.
Length
Most women's trench coats are around knee-length,, allowing for a more complex display of colours and styles than the full-length trench coat. With a trench coat that does not go all the way to the ankles, the user can always show off skirts and dresses or pants and leggings, down to the shoes.
More petite women look better in the shorter coat lengths than longer because, aside from showing off the legs, it prevents the wearer from looking like a squat cylinder. A trench coat can easily overpower a look, especially if a woman has short lower limbs. The petite woman should pair shorter coats with high-heeled shoes to perhaps lengthen the legs, and should choose one with a collar that is not too large. Slimmer coat styles are recommended for those with less height, as the more bulky-looking trench coats do nothing to lengthen a figure.
People with wide hips also benefit from a shorter length; the flare of the coat does not fit close to the hips. The trench coat dress is one of the modern variations of the trench coat that is flattering for women with large hips and thighs.
Coat Fit
Trench coats are generally cut to be worn over other clothing so plan to buy one that is a size or two larger than usual. It depends upon personal style, because the snug fit has been a popular look over the years.
The position of the trench coat's waist can alter a person's form significantly. Try for a coat that belts at the natural waistline. There are coats that have waistlines deliberately changed, but for trench coats, this is recommended; cinching in the coat at the natural waistline, which is located above the navel, is more compatible to most coat styles and flattering to most body shapes.
Body Type
There are four general body types that characterise people, generally based on the overall shape of the body. It makes sense that different trench coat styles look differently on each. Knowing which coat styles look best on a particular physique makes choosing a stylish coat easier for the customer.
Body Type

Characteristics

Trench Coat Suggestions

Apple Shape

Large bust

Broad shoulders

Narrow hips

Less defined waist than pear or hourglass shapes

Simpler styles, with slightly flared hems

Coats with less detailing at shoulders and hips

V-shaped necklines and less bulky collar and lapel styles

Raglan or dolman sleeves

Angular Shape

Undefined waist

Narrow hips

Small bust

Bulk up shoulder and hip areas; like pairing coat with scarf or choosing flared styles

Double-breasted styles

Wide or bulky collars and lapels

Hourglass Shape

Bust and hips nearly the same size

Well-defined waist

Full bust

Fitted coats

Belted styles

Pear Shape

Defined waist

Wider hips and thighs

Narrow shoulders

Small bust

Fitted designs with more detailing on top half

Double-breasted

Shoulder pads

Belted
Full busts, wide hips, sloped shoulders: all of these play a part in how a person looks in a trench coat. Even if a particular coat is touted as the most stylish of the season, if it does not flatter a body type, then the wearer may not be satisfied.
Colour
A trench coat colour flatters skin tone, as they are worn over all types of clothing and provide the most contrast to skin. Buying trench coats in different colours is a good idea as different colours complement different wardrobe choices. Different coats in different colours mean that the individual would have more trench coats compatible with more clothing styles and options. Neutral colours like black,, or the multiple shades of brown and beige,, are practical because they are colours that complement most other hues and tones.
Trench Coat Styles
A trench coat has many styles, as many designers had a hand in coming up with new variations over the years. Some trench coat styles include belted, double-breasted, different lapel styles, and multiple accessories.
Belted
Traditionally trench coats are belted, but many are not. The belted styles are good choices for those who are looking for coats that emphasise the waist. There are coats that cinch in at the waist without a belt, as well.
Belts can be fastened by buckles or by tying the belt in a knot. Both are popular stylish options, though it is more difficult to get a knotted belt to look just right.
Trench coats that are not belted are generally shorter than belted styles. They can consist of shaped fabric, of deliberately flared hems, or long coats designed to just hang from the shoulders. Fitted coats are better without belts. Aside from the fact that they are not needed, they could ruin the line of the coat. Many trench coats are loose, so belts keep slack fabric from getting away from the wearer, especially on days that have strong winds.
Double Breasted
The double breasted trench coat is one of the most popular styles and it is also one of the classics. The straight, clean lines of many double-breasted coats are attractive to people who want a little more authoritative pop to their wardrobe. Double-breasted styles are not recommended to women with larger busts though, unless the trench coat also has a V-shaped neckline, which many double-breasted coats do not have.
Lapel Style
The lapels of a coat can affect how stylish it looks on a person, too. There are many types of coat lapels, from peak lapels to notch lapels. However, a customer need not memorise such information; she only needs to know which types look better with certain styles or body types, whether thick or thin, or even fur lapels.
Hoods and Buttons
When dealing with chilly weather, rain, and snow, hoods are necessary. However, they are not just for protection from the elements. There are many people who find hoods stylish. A hood adds bulk to the shoulder area, which is great for women who want something to offset sloping or thin shoulders. They are not much good for the more formal events, but they can be stylish when casual.
Fasteners for trench coats can be as stylish as a person wants them to be. There are zips and buttons, and also hook-and-loop fasteners, and toggles.
How to Buy a Stylish Trench Coat on eBay
Many clothing shops, both offline and online, are sure to carry a selection of trench coats,, and if not, can order some. For more, and perhaps better choices, it is more efficient to search for trench coats on eBay or other online stores. Searching for a good trench coat on eBay is simple. Just navigate to any page on eBay and type the word "ladies trench coat" into the search bar. The hundreds of listed coats can be overwhelming, but there are site tools that can help you cut down the list to the styles or fashions for which you are looking. There are options that allow you to narrow down the selection by size, material, style, condition, and more. Of course, you can always type more specific keywords into the search bar, like "ladies wool lined trench coat&". It eliminates time that you may have spent modifying searches by using site tools. Of course, you need to know exactly which type of coat you want. A general search allows you to browse the many possibilities available to you.
Conclusion
Style is a transient thing, but the trench coat can still be a part of the stylish individual's wardrobe for years to come. Choosing a trench coat involves many factors, like the best colours to give skin a glow or the best styles for a certain body shape. It is difficult to be stylish, but once a person gets the hang of it, it gets easier. A knowledge of one's body, an understanding of how good quality materials provide better results, and a good grasp of colour are all things that help the individual acquire a stylish trench coat. There are also many styles of trench coats, and many variations of these styles. The many options a trench coat buyer has can be overwhelming and exciting. It also means that there are good chances of acquiring a good quality coat for any wardrobe or body shape. A local shop may not have them all, but online stores like eBay are sure to show a buyer a great selection.