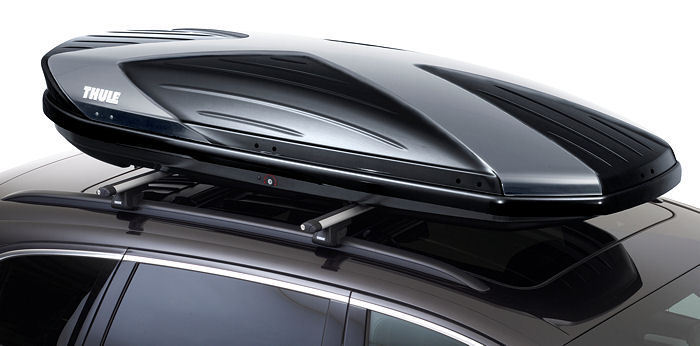 Add a caption
A premium branded roof box perfectly fitted to a roof-top.
A Video From MicksGarage:
We have plenty of advice for you in text below, but if you rather not read, we go through all of the common questions we receive from our customers, in the video to your left.
Which one to buy? How to install? And other solutions:
You're looking to add some storage space, without the price of a new car? You've come to the right place! You have many options to consider though; how to fit it, what accessories you'll need, where you can store it when not in use, etc. You can check out our eBay store here:
MicksGarage
.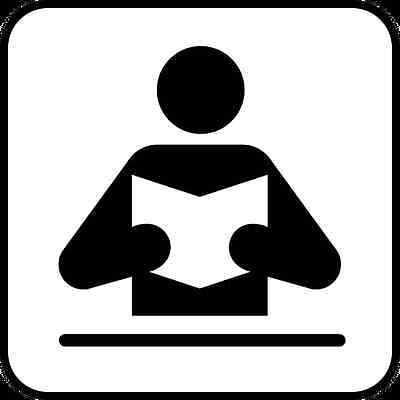 Check your car's manual:
The most important factor for you to consider when installing your roof box is the maximum load capacity your car can hold on it's roof. Before you choose your roof-box make sure your car will be able to support it. Every car has different capabilities in this department.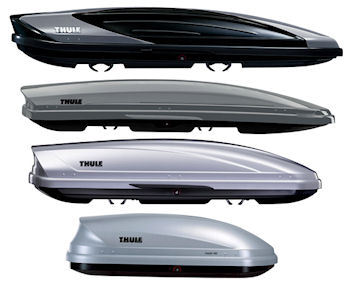 Design and size:
Knowing your car's maximum capacity, you should now consider the different styles, sizes and shape of your roof box, that will suit your needs and your car.

There are 2 main style types of roof boxes; rounded and rectangular/square in shape. The square shaped roof box generally will hold a larger load, e.g. prams, skiing gear, etc. The rounded one is ideal as a second small trunk!

The width of roof boxes also varies greatly. If you intend on carrying bicycles on the roof also, a narrow roof box would be ideal for you. If you are using a bike rack attached to the car boot, a wider roof box would not be an issue, then (see pic below).

If you are carrying expensive equipment such as skis, a premium roof box may be necessary as weaker roof boxes can crack in the cold weather due to being made of brittle plastic.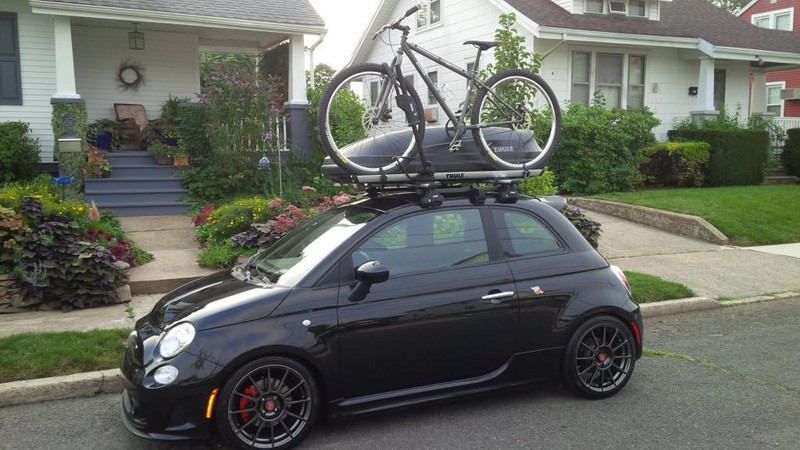 Add a caption
An example of a bike & roof box being carried together.
Securing your roof rack:
With the perfect size and shape of roof box, you now need to choose the correct accessories.
Depending on the shape of your roof, you will need some extra bits, which may include; a fit kit, towers and cross bars. Cross bars carry everything, the towers grab the cross bars and the fit kit clips it all to your roof.

(1) Fit kit
If your car has no in built gutters or factory roof rack, or a flush roof, you will need a fit kit. These kits come with clips called feet or connectors that attach to the corners of your roof to accomodate the bars. These clips will be specific to your car so be sure to get the right ones.

(2) Towers
It is essential this part is fitted correctly. Unlike fit kits, these are universal so you have less to worry about, and if you change car, all you will need to change are the clips.

(3) Cross bars
These hold everything together. They come in 3 styles (square, circular and aero).
Square bars are the least expensive, however will create the most noise whistling when moving at high speeds, and also due to drag will cause a higher mpg. The circular bars produce less whistling noise and give a better mpg versus the square bars due to less drag. The best (but most expensive) option are the aero bars from Thule. These bars have the best fuel economy and are the quietest bar type.
Sliding bars are another option, which are especially handy for wide and/or tall vehicles.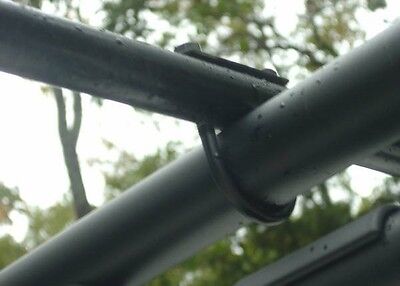 Connectors:
There are 2 main types of connectors: T Track adaptors and U-bolts.
U-bolts: these are the most common type of included connector with roof boxes, and are suitable for all types, except the aero roof bars. They may also scratch softer aluminium bars.
T Track adaptors: These are nicer in appearance, and are also suitable for aero cross bars. They also help spread the load weight and reduce the wind noise.
Building:
You should be able to assemble all of your parts by yourself, however if you opted for the long and wide wide, it may take a second pair of hands.
Reducing noise:
At high speeds, a roof box can create considerable noise pollution. Noise is caused by the gaps between the bars and the base. Here are some suggested things you can do to help:
Moving your rack: moving the cross bars around could greatly reduce the noise effects. Play around with it.
Use rope wrapping: Wrap rope around the front cross bar covering the gap, which will reduce airflow, and hence reduce the whistling noise.
Airfoils ("windjammers"): these handy accessories are pretty cheap and clip simply onto the cross bar creating a smooth flow of air, reducing wind noise.
Fairing: these work by increasing the streamlining of the vehicle, and goes a long way to increasing fuel economy by reducing drag (see image below).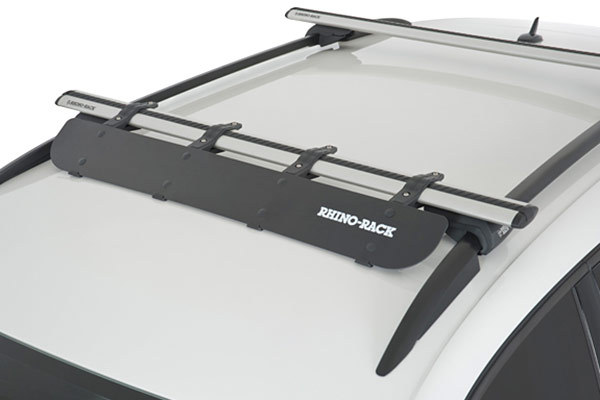 Storing your roof box:
It wouldn't be wise to leave your roof box on your car's roof whilst not using it, as it will affect negatively on your fuel economy.
Your garage/shed is an obvious place to store your roof box. However, there are some excellent alternatives on the market for this.
Storage straps: The cheapest option. These hold your roof box up, suspended from the roof of your garage/shed.
Roof box hoist: A slightly more expensive option; by using a pulley mechanism, you can hoist your box up from the roof of your car to the roof of your garage. It is very easy to use, simply unbolt your box from the cross bars and hoist it up!
Usually, your roof box will be fully waterproof, so, you may find some creative uses for it in multiple places when not in use!
Here at
MicksGarage
, we proudly stock a huge array of roof boxes for almost every model of car. With our car experts at hand for all of your questions, you can rest assured, your buying experience will be a pleasurable one.
Happy driving!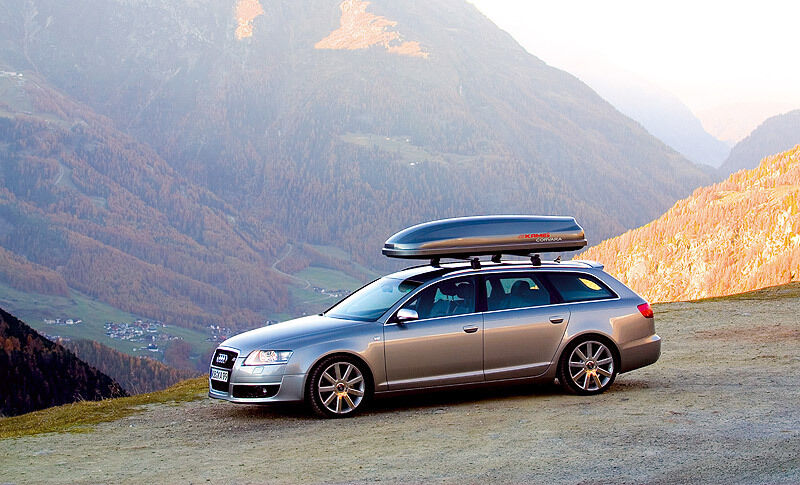 Why Choose MicksGarage?
MicksGarage
offers some of the best online prices, with over one million car parts and accessories available through
our eBay shop
.
Our 99.4% customer satisfaction rating and "Top-Rated Seller" rating from eBay (which guarantees a track record of excellence to all our customers), and our amazing 30 day return policy money back guarantee ensures you you are in good hands.
Should you have any queries, our customer care team are here to help.
MicksGarage
; car parts & accessories on time, as described and all guaranteed. Enjoy shopping with us on
eBay
!