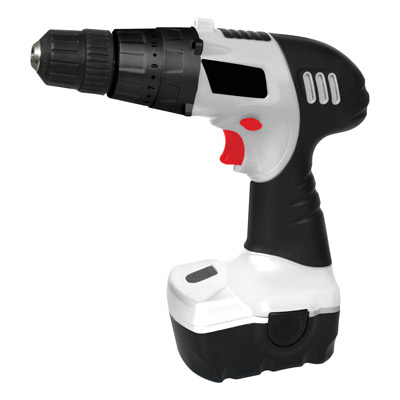 Cordless drills are a valuable asset for businesses and industrial use. They can be more convenient that their corded counterparts and are safer in large work areas with multiple people. There are several types of cordless drill available for purchase, including standard units, screwdrivers, hammer drills, and impact drills. Buyers can also shop for kits that contain more than one type of drill, as well as extra battery packs. There are several types of features and accessories that can be found on cordless drills. Look for models with lights, extra handles, and other features that can improve product efficiency or increase safety.
eBay has listings for a range of cordless drills. These are available from private and commercial sellers, and can be found in both new and used condition. It is important to determine the specific condition of a cordless drill before committing to a purchase, so examine item listings in order to find suitable products. Buyers can also inspect seller profiles to choose reliable eBay users and to choose cordless drills that can provide the optimum performance for the next job.
Types of Cordless Drill
There are several types of cordless drill available. Each one is designed for a different purpose. Learn more about each type of drill to select the best one for the job.
Basic Cordless Drill
Basic cordless drills use rechargeable batteries. Buyers should purchase a unit with at least one spare battery, as this allows the drill to be used continuously while an unused pack recharges. Some modern drills have batteries that can be charged very quickly, some in as little as 15 minutes.
Cordless Hammer Drill
Cordless hammer drills have the ability to pound at a working surface, while simultaneously rotating the bit. These units move the chuck backwards and forwards rapidly to power through tough surfaces like masonry, brick, and concrete. Special bits are required to prevent them from breaking. The speed of the hammering motion is measured in blows per minute (BPM). The average drill has around 10,000 BPMs. Hammer drills are much heavier than standard units.
Cordless Impact Drill
A cordless impact drill, or impact driver, has a similar design to a standard drill, but with a greater emphasis on the perpendicular force of the drill. It can sense resistance in the drilling surface and increase torque to prevent the bit from slipping. This feature is especially useful for working on carpentry projects such as decking, sheds, and cabinets.
Convertible Cordless Drill
The weakest type of cordless drill available often comes with attachments to convert it to a cordless screwdriver. These drills have low speed settings that allow them to function like a screwdriver. They are suitable for small projects, and their low speed makes them easy to use without endangering an object. These convertible units can eliminate the need to carry two separate tools for a job, which increases working speed and efficiency.
Cordless Drill Sets
Cordless drill sets include more than one type of drill in a single case along with a variety of bits. In most cases, a set includes a basic drill and a hammer drill, along with multiple battery packs. Larger sets may incorporate other tools, such as saws.
Factors to Consider When Buying Cordless Drills
Cordless drills are designed with a variety of additional features and accessories. The following table lists some of the most popular, with a description.
Feature of Cordless Drill

Description

Large chuck size

Most cordless drills have a 3/8-inch chuck

Units designed for heavy-duty use have a larger 1/2-inch chuck.

Larger chuck allows the cordless drill to drive larger bits for greater drilling power

Second handle

Allows users to grip a cordless drill with both hands for greater stability

LED light

Enhances visibility in a work area to help users guide their cordless drill accurately

Some drill sets include a light that can be attached separately

Lithium ion battery

Can greatly reduce the weight of a cordless drill

Makes the cordless drill easier to handle for extended periods of time.

Reversible

For cordless drills used as screwdrivers

Allows bits to be run backwards to remove screws

Brushless motor

Some modern cordless drills use microprocessor chips instead of carbon brushes

Units are highly efficient

Can run as much as 50 percent longer than a standard cordless drill
Many other features can be found on cordless drills. Inspect the packaging or the specification sheet to determine the product's specific abilities and design.
Condition of Cordless Drills
Cordless drills are sold in several different conditions. In addition to new and used products, look for like new and refurbished models.
New Cordless Drills
New cordless drills have never been used and are contained in their original packaging. They can be expected to perform well for many years.
Like New Cordless Drills
A like new cordless drill is one that has been removed from its packaging, but has experienced minimal use. There are several reasons these items may have been used. For example, a drill may have been a display model or have been used for demonstrations. Read the item description to be clear about the specific history of a like new cordless drill.
Used Cordless Drills
Used cordless drills have varying amounts of wear on their external and internal components. They do not have the expected life of a new item, but can be purchased for considerably less. Look for used items that have a minimum amount of wear and tear.
Refurbished Cordless Drills
Refurbished cordless drills have been restored using factory new parts. They have also been cleaned thoroughly and can be expected to perform nearly as well as a new item.
How to Search for Cordless Drills on eBay
It is easy to search for cordless drills on the eBay website. You may find products by entering keywords into the search field. This method is especially useful for buyers looking for a very specific item. For example, type "dewalt cordless impact driver" into the field to display all items on the site tagged with those terms. You may enter new keywords on any page to refine searches further. You can also refine the main search by selecting category links containing feature of cordless drills.
Review Item Listings on eBay
Take the time to inspect item listings on the site. Click on the name or image of any cordless drill in the search results to see its full description. There you can find detailed information about the product's condition and cost. Check the base price of the item and remember to include delivery charges in your calculation of the total cost. It is also important to determine the seller's accepted forms of payment. Be prepared to pay promptly for your purchase to ensure a smooth transaction. Sellers typically accept payments via PayPal, or credit and debit cards.
Review Seller Profiles on eBay
Item listings display a seller's feedback rating and the number of transactions he or she has completed, which can be used to ascertain the experience and reliability of the seller. Click on the seller's name if you would like more information. In full profiles, you can find comments from previous buyers, as well as average feedback ratings based on key aspects of the seller's performance, such as dispatch speeds, delivery costs, and the accuracy of item descriptions. Once you have received your item, return to eBay to leave feedback about your experience. Constructive feedback helps sellers to improve and also provides useful information for future eBay shoppers.
Conclusion
Cordless drills are an indispensable tool for some business and industrial environments. They can be more convenient than corded models because they do not have to be used in close proximity to mains power, or incur the use of a lengthy extension cable that could create a tripping hazard in a work area. There are several types of cordless drill available, including basic units, hammer drills, impact drills, and models that convert to cordless screwdrivers. Buyers can also shop for drill sets. These normally include basic and hammer cordless drills, as well as multiple battery packs. More extensive drill sets incorporate saws and other tools.
Consider the chuck size of a cordless drill and the types of bits that can be used. Most units have a 3/8-inch chuck, although more powerful units use a 1/2-inch chuck to accommodate larger bits. Some powerful drills can also be equipped with a second handle for greater accuracy and control. LED lights can improve visibility and ensure accuracy while drilling. If a cordless drill is used as a screwdriver, ensure that it has a reverse mode.
Cordless drills on eBay are sold in several conditions, including new, like new, used, and refurbished. Buyers can browse these items by using keywords. Choose items that fit the budget and needs of the business. Review item listings and seller profiles before committing to a purchase. The high number of cordless drills available on eBay makes it easy to choose the right product for the job.