Yugioh Cards come in various different levels of rarity
Common cards - Just that - Plain cards - unadorned
Rare = Silver Lettering, the rest of the card is normal as above.
Super Rare = Holographic Picture - Normal Lettering - usually black or white dependant on the card surround colour.
Ultra Rare = Holographic Picture and Gold Lettering
Secret Rare = Holographic Picture and Holographic Lettering
Ultimate Rare = Holographic Picture and Gold Lettering - All of the picture, words, symbol and even the border of the picture and Stars if applicable are embossed (raised) and the cards always look stunning! - The best (ultimate) card you can obtain from a booster pack.
Parallel Rare = Japanese Cards ONLY as a rule (however the HL Hobby League cards are paralle rare and are written in English) - Holographic type covering covering the entire card, when held to an angle the entire card looks multi-coloured like a rainbow, normally with a kind of check pattern.
Ghost Rare = Secret Rare type title with the Holofoil picture in a type of "negative photo" image. Appears mainly silvery until you angle the card to the light - then you get the "oil slick" colour effect - These cards are very few and highly sought after.
Gold Technology = To be hoest they look a great deal like a few of the forgeries out there but without the gritty effect to the gold coating. Matt gold edges and borders and lettering - ALL numbered as GLD1-EN_ _ _ and Limited Edition.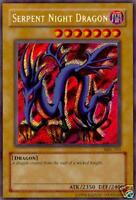 Example of a Secret Rare card from the Spell Ruler set.
I HOPE YOU FOUND THE ABOVE HELPFUL - IF YOU DID - PLEASE INDICATE SOI USING THE BELOW BUTTON TAB. IF THERE IS AN AREA OF YUGIOH TO WHICH YOU STILL WANT INFO - SAY SO IN THE COMMENT AREA AFTER INDICATING YES ON THIS REVIEW. I WILL ENDEAVOUR TO FILL THE VOID. THANK YOU.