Yugioh Card set Identification
Each Yugioh card is different, different in many ways.
Each card has its own picture, title, wording (effect) and card number in a sequence at the extreme bottom left of each card and more importantly at the bottom right of the picture.
This identification number tells you the set of cards that the card is from as well as the number of the card within the set.
For example - CRV-005 is WINGED KURIBOH LV10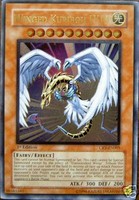 The CRV is the abbreviation used for CYBERNETIC REVOLUTIONS - and 005 represents the card number from within the Cybernetic Revolutions set which actually goes fromm 001 up to 060. Quite a small set compared to some.
If the number is prefixed with an E or an EN then this indicates that the card is from an English set as opposed to a worldwide set (mainly in play throughout the United States and Canada). Germany amongst other countries have their own cards written in their own language.
LOB = Legend of Blue-Eyes
MRD = Metal Raiders
MRL = Magic Ruler (US) - SRL = Spell Ruler (GB)
PSV = Pharaoh's Servant
LON = Labyrinth of Nightmare
LOD = Legacy of Darkness
PGD = Pharaonic Guardian
MFC = Magicians Force
DCR = Dark Crisis
IOC = Invasion of Chaos
AST = Ancient Sanctuary
SOD = Soul of the Duelist
RDS = Rise of Destiny
DB1 = Dark Beginning 1
FET = Flaming Eternity
DR1 = Dark Revelation 1
TLM = The Lost Millennium
DB2 = Dark Beginning 2
CRV = Cybernetic Revolution
EEN = Elemental Energy
DR2 = Dark Revelation 2
DR3 = Dark Revelation 3
SOI = Shadow of Infinity
EOJ = Enemy of Justice
POTD = Power of the Duelist
CDIP = CyberDark Impact
STON = Strike of Neos
FOTB = Force of the Breaker
TAEV = Tactical Evolution
GLAS = Gladiator's Assault
PTDN = Phantom Darkness
LODT = Light of Destruction

There are also numerous other card set numbers from promotional sets (inside GBA games etc) as well as Deck Sets such as SYE, SDK, SDJ etc. On top of this you have the Tournament Pack cards indicated by the first two letters being TP. Collectors Tin cards CT1 and CT2. And lets not forget all the foreign sets from Japan and elsewhere.
Most sets listed with a number at the end such as Dark Beginnings 1, contain mainly "repeated" cards from earlier sets in a different format for example a "Left arm of the Forbidden One" in common format whereas the original set Legend of Blue-Eyes White Dragon (LOB) ran this card as an Ultra Rare.
DUELIST PACKS
DP1 - JADEN YUKI (Elemental Heroes)
DP2 - CHAZZ PRINCETON (Best card - Armed Dragon LV10)
DP3 - JADEN YUKI 2
DP4 - ZANE TRUESDALE
DP5 - ASTER PHOENIX
IF THIS GUIDE HAS BEEN USEFUL TO YOU, PLEASE VOTE YES ON THE TAB KEY BELOW. THANK YOU AND HAPPY DUELING!