Zundapp Janus
This is one of many illustrated classic car guides I've created for the community. I hope you enjoy it. If you wish to find out more about the classic bubble and micro car art featured in this guide please click here.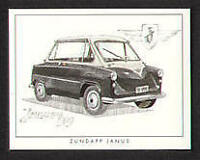 In 1956, Fritz Neumeyer of Zundapp (a previous collaborator with Porsche to produce the legendary Beetle), took out a licence from Dornier for a small 4-seat vehicle named the Delta, and from this developed the Janus 250. The unconventional back-to-back paired seating and similar front and back opening doors made for a more compact symmetrical car. Engine: 248cc single-cylinder 2-stroke, mounted centrally between the seats, with four-speed and reverse gearbox and hydraulic brakes on all four wheels. Top speed with accelerator hard to floor was 50mph.
If you would like to see more guides on bubble and micro cars please click!
Thank you for reading my guide and I hope you found it interesting!