Dave on 07858250878
Honda Generators have a very good name Globally, largely due to their good quality control design & very good reliability, they have been widely copied in their designs & features, BUT I do regulary see very many FAKES on E Bay, see photos if the item you are looking at, if it looks just like the 4 Chinese FAKES in photo's ON THE LEFT SIDE BELOW by all means consider buying, it will work very well, BUT only pay normal Chinese generator prices as that is where these are all made! Also the stated outputs are often ALSO falsely stated, we see a 6.5hp engined models claiming to be a 4.5 or even 5kW or 5.5kVa like the one in photo, when this size of 'copy' engine is simply INCAPABLE of making that much power (typically it might make 2.6kWatt maximum!).
I actually bought one of the items shown near bottom (the 6.5Kva one) second hand , needing a couple of jobs and wasn't 'sure' about it in my own mind, my doubts were confirmed when it WAS TAKEN OFF by E Bay for being a fake, quite ok to sell it honestly for what it really is a none Honda powerful generator, it was newish & very reasonably priced so the guy was happy despite being told it was a 'copy'.
I saw one fake sold in Manchester today 17 June for £375 Item Number 200774299474 on E Bay , I have seen them go for up to £1300!...you can buy an ok equivalent serviceable quite decent Chinese model (like a Gasoline 3000 or similar) genuinely sold for around £160.
Another fake Honda in Shrewsbury, Shropshire sold for £650 on bids, around 3 Times it's true value! It could be the sellers genuinely don't know they have ordered-have Counterfeit items until they have arrived OR more likely they realise but want to still make a large return / profit
This one made me Titter have you ever seen a less convincing Fake.
Also beware of some selling Kipor suitcase Types as 'Honda's' Item 270783903996
Sometimes sellers now add Honda Motorbike stickers on tank to try and make them look more genuine lol! ITEM NUMBER 370512653952 or just Lie to drag price up Item 110706098879
Look at the photo of the fake-counterfeit items on left side-edge of page below, notice how the white model number is on a plain black background, on a genuine item this has some red BEHIND lettering and it 'shades out' into the black background, as on the 2 GENUINE items on the right. The 'Honda' decal letters are often also too big on most fakes no doubt to attract extra attention. They ARE getting smarter I saw this Fake with much better decals today!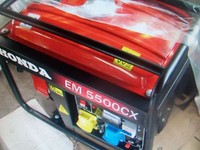 Latest Fakes have better stickers, this one is £900 BIN!. Older Kipor suitcase (stickers removed) being sold as a Honda's 270780783579
Other "Honda's" (item numbers) Redditch 320721366112 Bury St Edmunds £470 180682131403-180682131403--220788972196-- 260800909036---150618881695 all fakes.
Chinese Manufactured Generators do (usually) offer great value for money & aftermarket parts are very reasonably priced unlike Honda spares! a basic-simple exhaust muffler for a Stephill model can be bought for £15 on E Bay, the identical item from Honda is a scary £98!
PLEASE VOTE IF THIS WAS HELPFUL .
2 FAKE HONDA GENERATOR ON E BAY TODAY
(BELOW ON RIGHT) 2 GENUINE HONDA GENERATORS
note the yellow square & triangle stickers 50Hz etc
and style of control panel, both are really 2.5 Kw Replica Generators no where near 5Kva output.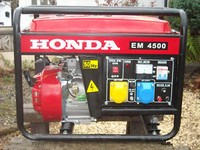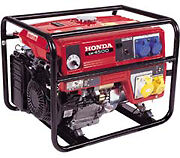 GENUINE HONDA EM4500
SOMETIMES THEY ARE MARKED Kva on label like this Chinese fake, 3.5Kva in reality.

BELOW GENUINE HONDA GENERATOR

Above the genuine item.
below Honda trademark on side or very top of block.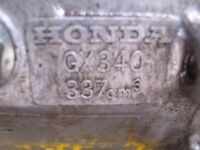 Honda emblem-Trademark on side of engine crankcase or on top down edge of fuel tank.
Below are 2 'honest' Chinese made Generators
notice the similarities to fakes over on left? cost today on E Bay £230 or less.
BEWARE OF DISHONEST SELLERS WHO REMOVE THE STICKERS AND SELL THESE AS "HONDA's"

Another Chinese made generator calls itself "SUPER SILENT" brand though this is VERY misleading! it is actually just a name & is just as noisy as any other 2.8kWatt model (92-98DB) plus they charge a lot more up to £900 for these models.