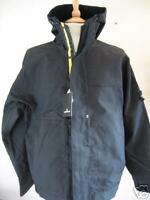 I bought a jacket off here about six months ago (for my nephew) a fake raso it turned out (you could tell strait away) It cost me £70 for a piece of snide (100% genuine) market stall crap!!! ,a total insult to everyone who spends hard earned to have the real thing .I KNOW WHAT YOUR THINKING!! A STONEY FOR £70.....MUPPET... Yes i know!! i,ve been kickin myself ever since, but there's no excuse i was had fair & square... any way enough already!!! heres how you spot a fake raso tomato on e-bay (that'll be 99.9% then) mostly new ones though yellow stripes ect (i hope this narks the s i market stall fake peddlers) but i see blatent snides bieng sold & bought all too often on here . and don't get me started on muppets that know thier buying fakes...your not fooling anyone the people your trying too impress know its not real & find it hard not to laugh out loud at you!! & the rest dont care cos they aint into clothes or labels........ ill try to show you how cheap & nasty these brand new with tags raso's for£60-£100 really are ......
first the buttons real si buttons are solid brass with brass workings (have a look) & then sprayed with resin the cheap ones are plastic with tin facia's (see pics)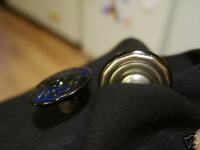 black coats fake/ivory's real....next blatantly obvious thing is the spa label (see pics) the real one here ive covered some of the art number(so they cant copy that too)......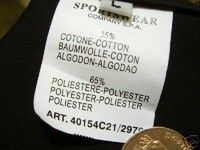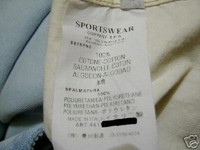 notice on the fake raso there's no country of origin ??.....i cant put pictures of every flaw (there are that many)the badges dont come close to the real thing, but hard to tell in a photo?...the zip isnt a lampo & yes i know s.i.use other zips than lampo(ykk/vislon..ect)but ill leave you all with a pic of my £70 raso as i saw it in the listings.... raso gommato is a type of material owned by stone island(cotton cloth with a polyurethane smearing to either the interior or exterior) if it hasn't then its fundamentally flawed and NOT a raso....I HOPE THIS NARKS EVERY FAKE RASO GOMMATO SELLER ON E-BAY.LOOK TO THE RIGHT AT THE RASO'S ON E-BAY AT THE MOMENT AND 99% -100% AT UNDER £120 ARE FAKE(THAT'S THE LATEST SELL EM FOR £120 THAT'LL FOOL EM INTO THINKING THERE REAL OR CALL THEM OFFICERS JACKETS)the officers jackets(no such si jacket since the old u-boat ones)are the ones with the cheap tin buttons!!!.... i hope it stops someone else being had!!!???...GOOD LUCK!! AND IF YOU FOUND THIS GUIDE A HELP PLEASE RATE IT AS YOU LEAVE THANKS.....(just so i know weather its helping) DONT LET THESE CROOKS WIN AND KEEP LAUGHING AT THOSE WEARING CHEAP FAKES LIKE THE ONES TO THE RIGHT OF THIS PAGE