Choosing the right overflow insert for your basins and vanity sinks is really quite straight forward. First things first though let's be straight about the most important thing they must do.
They have to allow water to flow easily past and must never block up the overflow hole.
Having said that, lets move on to helping you pick the right one for your washbasin.
When bathroom basins are manufactured the overflow is left as an open, often roughly cast drain hole and however clean you manage to get it, it can look bare, unfinished and unattractive.
Why should you have to look at that every day.
The more expensive basins have attractive trims to decorate these overflow holes.
Bathroom basins and vanity sinks come in a large variety of shapes and sizes but the majority have one single round overflow hole, usually at the back under the taps. The most common size for the hole is between 22mm and 23mm, what used to be called 7/8 of an inch.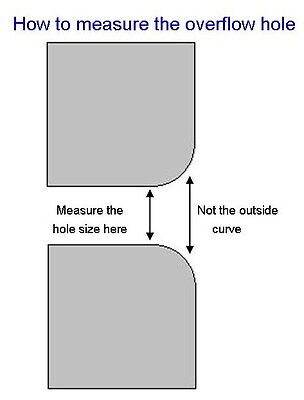 The reason the hole size varies slightly is because sinks are made from pottery which is then fired in kilns, so while they are made to very exacting standards they cannot be manufactured to perfect sizes due to the production methods used.
So any insert you choose will have to be flexible and have enough spring in it to fit snugly in the hole.
Of course if you found that it was a slightly loose fit a smear of silicone sealer would quickly solve the problem, ( this works well for all except the tripod spring types).
As a rule of thumb the types that are made up of two pieces are more flexible and robust, since the white inner part is made of springy plastic.
There are many different designs available, from simple ring types that just cover the edges of the hole, to more elaborate ones that actually hide the hole almost completely.
Some types sit almost flush with the surface of the basin, while others, usually the type that hide the hole sit a little proud.
If you have a very small vanity basin having a flush fitting insert might be better than having one that sits proud, but even the most elaborate types only stick out a few millimeters.
The type you put in to your basin will be a matter of personal taste. All the different types available will look at home in most bathrooms. Don't just buy the cheapest, they cost very little considering you are going to be looking at it every day.
Simply pick the one that will look best in your basin in your bathroom.
Always try to buy from an established specialist shop rather than a general trader who sells a bit of everything. Find one who has hundreds of them to sell that way they can easily send you a replacement if anything is wrong.
A good supplier will ship the insert to you carefully packaged in order to protect it, as they could be easily damaged otherwise.
You want a top quality 'A Grade' or '1st Quality' item not one that will look shabby in a matter of weeks.
Discarded 'seconds' from plumbers merchants do sometimes find their way on to auction sites so be cautious of traders who only have a few dozen to sell.
As always on eBay check the traders feedback to see what other people say about them, take a note of any negative feedback they might have.
To fit, gently push the insert in to the hole using an even pressure all over, if necessary use a little soap to ease fitting.
If you have a lot of difficulty pushing the insert in to the overflow hole it is likely that the hole is slightly under sized. In these cases your best bet is the type that consist of the shield and ring combined as they are the most flexible.
They are regarded as a "fit and forget" item as few people remove them once they are fitted.
Cleaning is best done with a little gentle washing up liquid or soap on a soft cloth and then rinse with water.