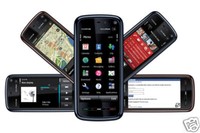 Has the real competition to Apple iPhone finally arrived with the unveiling of Nokia 5800? Since Apple CEO Steve Jobs announced iPhone in January 2007 MacWorld, there has been a flurry of touchscreen phone launches from almost all mobile phone manufacturers.

However, so far no one has really been able to steal the limelight from Apple despites many devices boasting of far more power in terms of features. In the past few months, the Finnish phone maker has often been criticised for having missed the `touchscreen' bus. Will Nokia 5800 prove the critics wrong? Will Nokia 5800 be able to do to iPhone what no other phone could do? Only time can answer these questions.
CAMERA AND VIDEO RECORDING
Nokia's first touchscreen phone boasts of a 3.2 megapixel camera with Carl Zeiss lens, 3x digital zoom, auto focus and a dual-LED flash. It also has a second backward facing camera. This compares to Apple 3G iPhone's 2 megapixel camera with no video recording option and no flash support.
Unlike iPhone, Nokia 5800 offers video recording option at up to 640 x 480 pixels and up to 30 fps (frames per second). It offers up to 4x digital video zoom. The phone's front camera supports video calling feature. Nokia 5800 can support video playback up to 5.2 hours, video recording time up to 3.6 hours and video call time up to 3 hours.
No video recording in 3G iPhone also means no video conferencing. iPhone also lacks optical zoom feature.
FREE MUSIC SERVICE
With Nokia 5800, the world's largest cellphone maker also tries to challenge Apple's dominance in the digital music arena. Beginning next year, the phone will feature Nokia's free one-year subscription for the company's new music service, `Comes With Music'.
Positioned as a music phone, Nokia 5800 comes pre-loaded with a vast range of music collection. Though iPhone users can download music from Apple iTunes, however, the service is not available for free. Apple has neither tailored any download scheme with iPhone.
Nokia's music download package is its first major push into the services business. The company said that all major music labels and most independent labels will offer their tracks as part of Nokia's 'free' music bundle "Comes with Music," raising the total number of tracks to around 5 million.
REPLACEABLE BATTERY
User's one big disappointment in 3G iPhone was lack of user replaceable battery. Apple reportedly claims that it left out the user-replaceable battery option as it would add weight to the device.
However, interestingly almost all smartphones in the market, even those at the lower-end offer this option. And so does Nokia 5800.
Nokia 5800 battery life is reportedly as much as nine hours (GSM) or five hours (HSDPA), 35 hours for music playback or three hours of video. Nokia claims that the standby time is up to 17 days.
Apple iPhone support talktime of 300 minutes for 3G and 600 minutes for 2G and has a 300 hours standby time.
BLUETOOTH STEREO
Nokia 5800 Xpressmusic can sync with stereo Bluetooth or in-car Bluetooth handsfree, which again Apple iPhone cannot.
Nokia's touch phone supports Bluetooth version 2.0 with A2DP and AVRCP. iPhone lacks A2DP on Bluetooth. A2DP audio devices, such as stereo Bluetooth headsets, offer enhances listening quality.
Also, iPhone doesn't support file sharing feature including MP3, images and video files via Bluetooth.
MESSAGING
Unlike the iPhone that doesn't allow users to forward text messages as well as MMS messages, Nokia 5800 doesn't have any such bar. The phone supports SMS, multiple SMS deletion, MMS version 1.3, message size up to 600KB and automatic resizing of images for MMS.
In iPhone users can only send text messages or snapshots via email. Also, users can't send a SMS to multiple contacts as iPhone has no option for that either.
iPhone also lacks support for voice-recognition that allows users to dial verbally. Here again Nokia 5800 takes the lead, the phone supports voice commands and dialing feature.
ADOBE FLASH
According to media reports, Adobe is working on Flash for iPhone. This means user needs to wait as and when it gets launched.
However, no wait for prospective Nokia 5800 buyers, as the Xpressmusic phone already offers Adobe Flash support. Flash is required to power many online video services and websites. This means with no Flash support when users will browse Web pages which require Flash, they will see empty spaces with missing icons on iPhone. Apple claims that Flash may slow down browsing on iPhone.
Incidentally, iPhone supports YouTube which requires Flash. This means users cannot get all YouTube video, but only a few selected ones that have been rolled out for the Apple-favored H.264 video codec.
COST ADVANTAGE
Nokia 5800 too looks more attractive vis-a-vis 3G iPhone in terms of pricing. Nokia 5800 will be available at an unsubsidised price of 279 euros ($390). When compared to the 3G iPhone, the unsubsidised versions of 8GB model cost 499 euros ($700) in Italy or 350 pounds ($619.19) in UK. Nokia is yet to disclose the operator deals and other details.
TOUCH-CUM KEYBOARD
For text input Nokia's touchscreen phone has four options: handwriting, mini QWERTY keyboard, full screen QWERTY and alphanumeric keypad. The handwriting and mini QWERTY keyboard are stylus operated.
Apple's iPhone lacks Stylus, which, however, can be added as an accessory. Also, alphanumeric keypad and landscape keyboard is missing.
EXPANDABLE MEMORY SLOT
Nokia's touchscreen device comes with 81MB internal memory, 8GB microSD memory card, capable of further expanding up to 16GB.
However, iPhone which comes with storage options of 8GB and 16GB models cannot be further expanded. It has no memory expansion slot. The 2G iPhone was also available with same memory capacity with no further expansion.
THE SUM UP
i Phone 3G Nokia 5800 XpressMusic
Resolution 320x240 640x360
Screen size 3.5" 3.2"
Camera 2 MP 3.2 MP Carl-Zeiss
Flash NO dual-LED flash
Zoom NO 4 x
Video recording NO YES
Music download i Tunes Comes with Music(1 year free subscription)
Adobe Flash support NO YES
GPS YES YES
Replaceable battery NO YES
Talktime 5 hours(GSM) 5 hours (GSM)
Stanby 300 hours 400 hours
PS.: IF YOU FIND THIS GUIDE HELPFUL PLEASE VOTE IT,IT'S ONLY A HALF SECOND. THANK YOU