dVb Jeans - real or really fake?
Being a big fan of VB myself and owning a few pairs of her gorgeous jeans I decided to write this little guide on spotting a fake pair...there are sooooo many on eBay and I am surprised to say I got caught out on a pair too!
For the purpose of this guide I have used a pair of black bootcut crystal star jeans (REAL,) grey skinny signature pocket jeans (REAL) and a pair of white star pocket jeans (FAKE.) All pictures are taken by myself and if anyone would like to offer any extra info for me to add to this page then feel free to contact me :)
Let me be honest and say first of all that these copies are pretty good to the untrained eye and plenty of eBayers are happy with their purchase. If like me you only want the best quality and workmanship of a genuine piece of Victoria's denim then here is your guide....
The easiest way to tell is the usual interior tags inspection. The purple dVb tag in the middle of the inside waistband should be sewn at either end, smooth, flat and tightly woven at the back. The fake is loose, snaggy and is all loopy and cheap at the back (see pics below)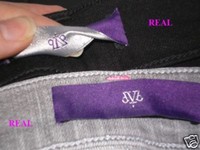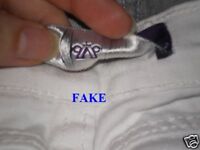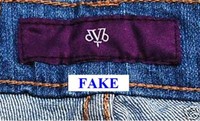 The white interior tags are thin and matt even when you turn them towards the light and generally say 'made in Canada' (on mine,) where as the copy will be shiny, slightly thinner and say 'made in China' (clue there!)
There is a large purple patch on the out side waistband which has the 'dVb' logo and 'DENIM BY VICTORIA BECKHAM' on it. Compared next to the fakes you can see the logo is wider/fatter, the words are a different font and the 'VICTORIA BECKHAM' words looks too close together...almost like one word. On the hip there is also a little tab with dvb on it, the copies font is taller (see below)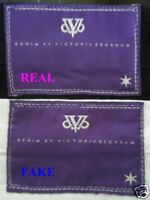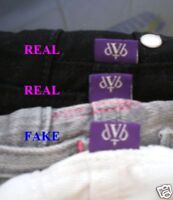 The authentic fly zip is YKK on the front and on the back will say YKK 4Su, but my fakes say YKK on the front but only 4YG on the back.
Lets look at the stars on the back pockets. Stitching is neat and the stars are nice and pointy, but look at the purple versions stitching which looks quite crammed in and the stars points are rounded and shorter, also the 'V' under 'dVb' is too fussy and spiky (see below)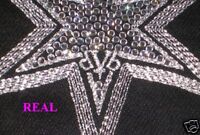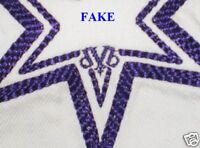 There is one main thing above all...use your common sense! These are expensive jeans and if it looks cheap then it's FAKE. These ones below have a strange blue card hang-tag which they put on fake Rock & Republic jeans, LOL!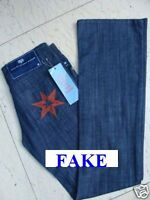 Currently I believe the China made copies are grey and black signature skinnies, white bootcuts with purple stars, indigo with bronze stars and a very good straight leg distressed pair with gold crystal stars...but obviously there may be more so be carefull. Buy from sellers that use lots of detailed photos they have taken themselves or will email you with pictures of the tags.
Thanks for reading and please visit my listings for designer jeans...Viva La Beckham!
♥ Della ♥