DO NOT BUY OR BID ON SELLING THE 132 DVD DISNEY DVD CHEST BOXSET!!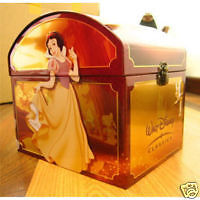 ITS A FAKE AND A TOTAL WASTE OF YOUR HARD EARNED MONEY,ESPECIALLY WHEN ITS A RECESSION!!
THE BIGGEST GIVE AWAY IS THE INCLUSION OF TOM & JERRY CARTOONS AND SELLERS SAY THEY ARE REGION FREE... WELL IF U LOOK ON THE DISNEY PAGE VIA THE VERO PROGRAMME ,YOU WILL FIND DISNEY DO NOT MAKE REGION FREE DVDS.
THESE DVDS ARE NOT GENUINE,THEY DONT CARRY ANY OFFICAL HOLOGRAM/LOGO..BASICALLY THEY ARE RUBBISH .. PLEASE TAKE NOT OF THIS WARNING AND DONT BE FOOLED INTO BUYING THIS RUBBISH BOXSET...
DISNEY DID RELEASE A DVD CHEST BOXSET FOR THE JAPAN MARKET,IT ONLY CONTAINS 14 DVDS.. AMAZON IN JAPAN SELL IT... DO SOME RESEARCH
DONT WASTE YOUR MONEY