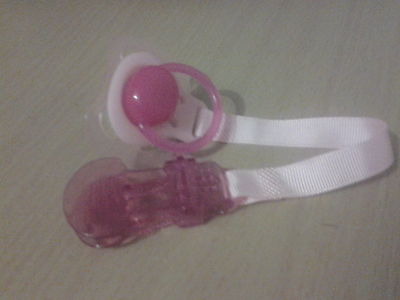 dummy clip
EMMAY CARE PINK BABY'S DUMMY PACIFIER SOOTHER HOLDER SAFETY CLIP.
very easy to attach so easy to use and quick fastens to all types of clothing.
saves loosing all those dummys.
such an investment for baby.
you just wouldnt no what to do without it.
aboulouse little thing alot safer then others that are on the market simular to this.
very happy with my purchase of this an havent gone wrong with it as of yet.
tightley fastened to dummy and main clips.
it is two clasps that am able to be tightened by using the little leaver to push up to fasten it tight to babys clothing which is then very securley fastened.
this item is not all that stylish but does its job with baby pink ribben and a darker pink for the clip an the thing that attatches the clip to the dummy.
I purchased mine when it was on offer i think i had a grate deal on this item would all so be grate if you could get different colours in this as ive only come accross this in pink colour.
So fare i have tried this with two different types of dummies and both have fit this so fare, one beimg a brand named dummy they other is nin branded.