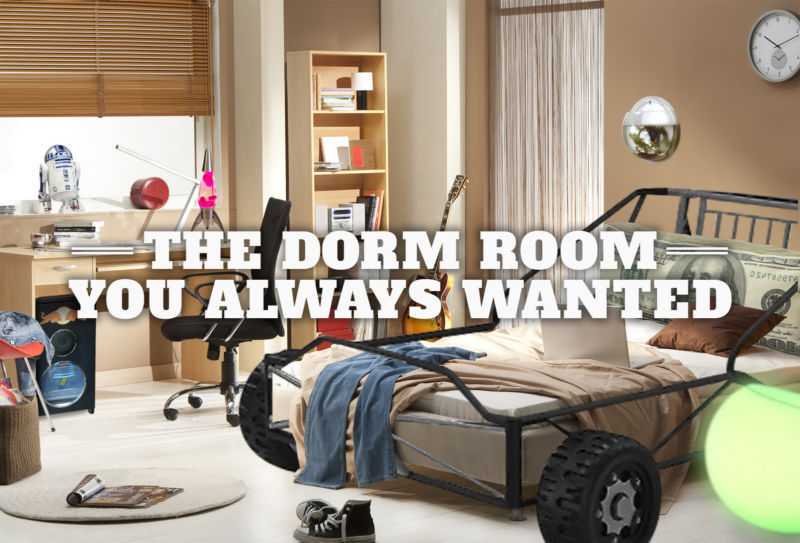 If you've graduated college, you probably remember your room in halls as four cramped walls of blandness. Now that you've moved on, and can probably afford way better stuff, here's a list of all the right touches you could've used to kit out your uni-pad like whoa. While it's cool to fantasize about these items furnishing your heady college days, they're still cool for spaces you might have now (garages, basements, garden sheds, etc.). Read on, so you can learn how to make your chair also your remote-controlled lamp.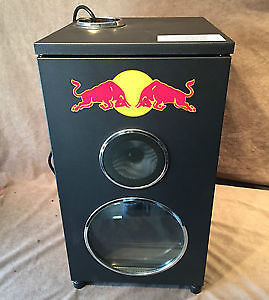 1. Red Bull DJ booth/mini-fridge £349.99
If you don't want to expose your beers (et al.) to the masses, you've got to get a mini-fridge. While you don't have to get a Red Bull mini-fridge equipped with a mega-speaker, why not make your room and your food cooler (and louder).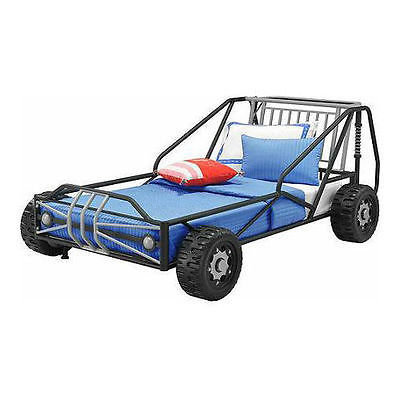 2. Racecar bedframe £479.89
If there's a time to lean into your youth, it's when you're in college, or if you're living in weird dorm-fashioned digs post-grad. Why not wake up in a
slick whip
, while the rest of your classmates (coworkers) wake up on some bland rectangle? Let them be squares: you stay cool.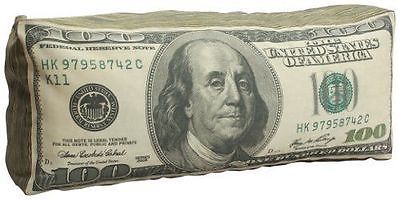 3. Big-money beanbag chair £254.84
Want a beanbag chair, but afraid your cozy furniture will look cheap? Fear not, because this big beanbag chair is all about the Benjamins (baby). And, as any interior designer will tell you, the more your digs have in common with Puff Daddy, the better (we think).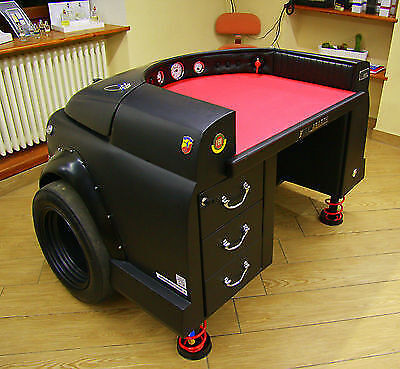 4. Handmade Fiat desk £10,750
If you like incorporating driving metaphors into your emails, but are afraid you might seem cliché, then rev your engines, because this is the desk for you. When you tell your lab partner (now your fantasy football nemesis), that you'd like to take the wheel on your next project, or let your professor (now your boss who doesn't know your name) know exactly what it is that you're driving at, you'll be speaking near-literally, as your Italian desk was casually once an Italian car.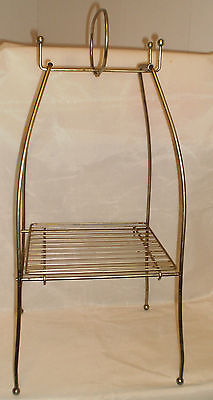 5. Mid-century modern ashtray stand £39
While furniture from this period is popular now, this particular object hasn't really been re-imagined (yet): an ornate ashtray stand. This hip period piece is both a genteel accent to an otherwise dull dorm room, and a totally practical one: it would work well to house a plant, as a bookshelf, or for tastefully displaying whatever trophies or trinkets you've got.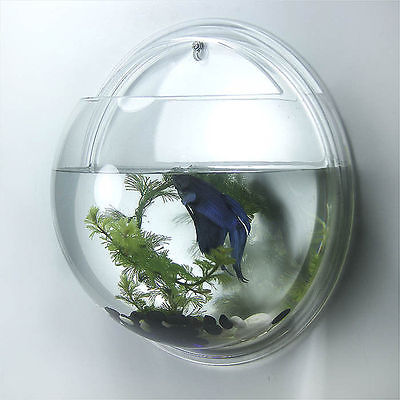 6. A fishbowl you can mount on your wall £5.99
One drawback to a dorm room is the lack of space. But this fishbowl addition mounts directly onto your wall, and sort of resembles a window on a submarine. Get one, so your room will include consistently good company, and something actually original on your wall -- instead of a poster of Bob Marley/ Pulp Fiction/ "The Kiss" by Klimt. Plus, this
fishbowl wall mount
only costs like 5 bones (not including the fish).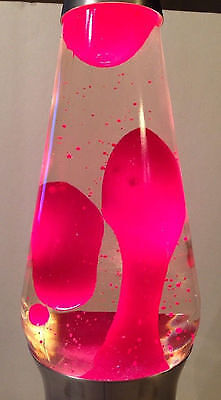 7. Lava lamp shaped like a rocket £69.99
Unlike the sun, you're encouraged to stare at
lava lamps
. Since your room is probably equipped with something awful and fluorescent, it's good to have some other lighting options to lend the space a warmer mood. Plus, this one is shaped like a ready-for-takeoff rocket -- in the 60s, both lava lamps and rockets were new and exciting.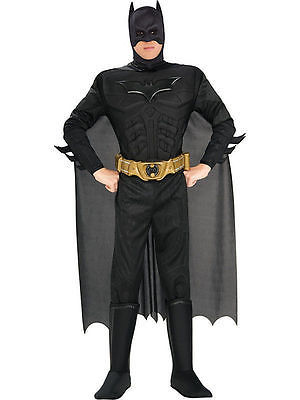 8. This reasonably priced Batman costume £39.35
College = parties, & mostly costume parties. But why wear a thousand makeshift ensembles, when you can buy just one serious Batman bargain?Toga party? Go as Batman. Prohibition-era themed soiree? Go as Batman. Who else should fight Gotham's bootlegging gangsters? Tinder date with girl from English Lit? Go as yourself. But then leave abruptly, bolting from the bathroom as BATMAN! In all seriousness, a costume is a worthwhile investment, because you'll always be ready for a party.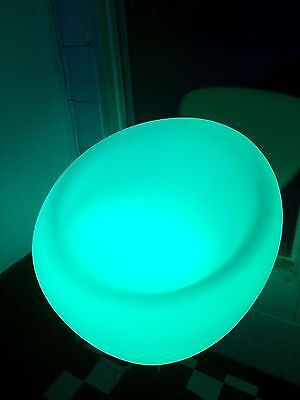 9. Light-up LED furniture you can adjust remotely £219.99
Want to get noticed when you and your roommate throw a pre-game rager? Why not have that chair beneath you glow red at the touch of a button? Is it subtle? No, it's not. But it is dope AF when you can sit down on things that light up, and have your mood-lighting and cozy seating be one in the same.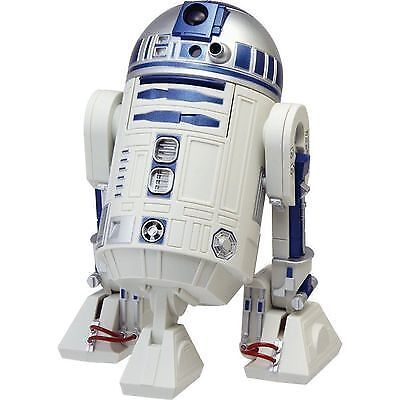 10. Star Wars alarm clock £166
Introducing the thing everyone hates turned into the thing everyone loves: R2-D2. If wailing electronic bleeps and bloops wake you, then it's undoubtedly better to have them as the voice of your favorite swaggering Star Wars robot, than a repeated bleating honk mimicking a boat horn, or whatever the hell that stock alarm sound is. Plus, if you plan to make it to Economics (or, you know, work) on time, R2 may be your only hope.