*** WARNING !!! ***
Hi , as we all know Ebay is a great place to find bargains and an excellent place to buy & sell .

HOWEVER ....... There are some people out there who are determined to SCAM you out of your hard earned cash
In this guide il point out the most common SCAMS , FAKES , FRAUDS , and general nasty people .
As an Ebay member for many years now ( first as timsbargainbin , and now as Timz.Bargain.bin) I , like many of you have been a victim of these scams at some point , and hope that this guide helps you to shop and sell a bit safer on Ebay .
1 ) ~ PAYPAL

As you may or may not know , paypal is owned by ebay , and although there are other payment options available , (nechex etc etc ) paypal remains the most common . but BEWARE if anything should go wrong they do not have the best customer service in the world , and often fail to reply to emails .
also , if you have a business account you will pay fees for receiving payments no matter how small ( on avarage of 10% ! ) this is on top of the other fees .
lets have a look at fees for a standard listing using a business account .
1 .listing fee
2. picture fees
3. layout fees
4. final value fees
5. paypal fees
6. bank transfer fees
these are typical fees that you will be charged for a standard listing ( not to mention , bold standout fees , second cat listing fees , swiss tax etc etc etc )
on one of my small typical listings for 2.99 , i loose approx 1.10 in fees !
BUT for all of its fees etc , paypal does provide a great online service for receiving and sending funds .
REMEMBER ~ DO NOT GIVE OUT YOUR PAYPAL DETAILS TO ANYBODY, AND ALWAYS LOG OUT OF YOUR ACCOUNT !
2 ) NIGERIAN SCAM
I am not trying to say that all Nigerian buyers / sellers are bad , but be aware , be very aware that 70% of the scams on Ebay are traced back to Nigerian scamsters , why do you think soo many people write NO NIGERIAN BUYERS at the bottom of their ebay listings . the most common of Nigerian scams ( apart from the letters you may get through your post saying that they need to use your bank account to transfer funds for the Nigerian royal family ! ) is FAKE credit cards , the scam artists will have acquired somebody's credit card details , and start a spending spree with the FAKE cards . if in doubt , only send to paypal verified addresses , DO NOT send to PO boxes etc etc .
IF IN DOUBT ASK THE SELLER FOR A LANDLINE TELEPHONE NUMBER ALSO .
3 ) THE BANK SCAM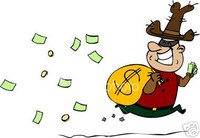 A friend of mine recently became a victim of this at Xmas time , it all started off with a very promising listing from a seller with good positive feedback and about 8 months trading on ebay .
my friend purchased an iPod Touch for what he thought was a very very good price , but this turned out NOT to be .
it started off with the seller who had very good feedback ( and for items that were for 100's of pounds ) asking my friend to send the money via bank account transfer ( the seller claimed that his paypal account was being upgraded and that payments into it would not be open for 10 - 15 days )
my friend was wary but on the basis of the sellers good feedback he took the risk ..................... fast forward 1 week later , and still no ipod touch delivered , and surprise surprise the seller had received 15 negative feedback in 2 days ....... anyway , this went on and on , and after 2 weeks it turns out that the SCAM had taken 20,000 from ebay buyers . the seller had extracted the money from various pay points and banks across the UK and still has not been caught .
how does it work ?
this SCAM is much larger than you may think ! ......... heres how it starts ~ a group of scam artists get together 6 or 8 months before xmas ( ebays busiest selling time ) and create new ebay accounts , then start to build up feedback , they buy and sell between each others accounts , using FAKE items that are highly sought after ( lcd TVs , mobile phones , mp3 players , ps3 , etc etc ) until they have 100% positive feedback , they may even open up ebay shops , and sell a few genuine items just to make the scam more believable . then when it comes to xmas time , and the marketplace is soo hectic with buyers trying to get that last minute Nintendo Wii , they STRIKE ! ... over a week or so they will all sell items as mentioned above , and tell the seller that due to xmas time and being very busy , postal issues etc etc , the buyer should expect to wait 1 week for delivery ( this gives the scammers time to scam as many as they can before the negative feedbacks and claims start to come in ) , they may even buy and sell a few items between the dodgy accounts , just to have recent positive feedback , so that wary buyers are reassured , then when the time is right they extract all of the money from the fake bank accounts they have set up over a 24 / 48 hour period .
4 months on , my friend is still trying to get his money back , and along with 30 other ebay buyers have now enlisted the help of police in the areas where the money was extracted from .
BANK TRANSFERS ARE NOT GUARANTEED BY YOUR BANK , AND YOU WILL MOST LIKELY LOOSE ANY MONEY TRANSFERED TO SCAM ARTISTS .
4) FEEDBACK SCAM
Always check feedback !
Go over it with a fine tooth comb if you have to , as sometimes it can be FAKE !
A common example is sellers having multiple accounts , and bidding / buying / selling over the many accounts .
check what and who they have bought and sold to
But by far the biggest SCAM is the 1p auction !
Scam artists can easily build up 100's of positive feedback by using this 1p auction ( for example , £1 = 100 positive feedback ! , more if you are buying from overseas $1 = 200 positive feedback !)
if in doubt ~ CHECK IT OUT !
Fin.
well , thats about it for this guide , i hope it has helped , and maybe cleared up some ebay myths you were maybe not aware of .
if it saves 1 person from getting scammed , then it has done its job !
IF YOU HAVE ENJOYED THIS GUIDE AND FEEL THAT IT MAY HELP OTHER PEOPLE , PLEASE CLICK ~ YES ~ BELOW
Thanks
Timz.Bargain.Bin