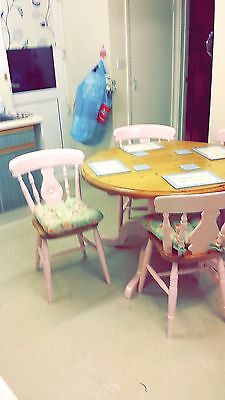 How this bzzagent went shabby to chic
So I found a old pine table and four chairs on ebay for cheap! Granted they needed major tlc but I was the girl to give them it!
I'd never done any restoration of any kind before(well I once restored my husband... I made him shave) anyway...
step one! you need some sandpaper, my dad told me 200 grain or under.. something to do with how thick it is I think! start sanding away to remove the old varnish then using a damp cloth clean and dry.
step two: next up you want to use tape to cover what you don't want to paint, so I taped the seat of the chairs just under where the back joins
step 3: using white primer paint what you want covered. leave for 24 hours
step 4. paint the colour of your choice over the primer, I used a pale pink as you can see, I got a quick drying paint as I'm impatient.
step 5, when dry varnish. I also varnished where I didn't paint just to give it new life
step 6: stand back, take a picture, facebook it with # imadeit and pat yourself on the back!! Also if you're anything like me, you look like a human canvas so go wash the paint off!