giffgaff are the new kids on the block. With a slick looking website and plenty of promises that they are different from the other networks. To get a really good look at giffgaff, I'll go through the various features that giffgaff highlight about themselves which claim to mark them out as better than their competitors.
Low Calls Rates

giffgaff costs miles less than other mobile networks. Their standard rates are half the cost of the big boys.



Calls and texts between giffgaff mobiles are FREE if you have topped-up in the last 90 days!
No Long Contracts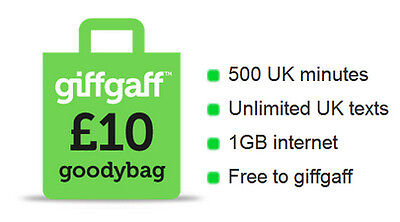 Whereas other networks often make you choose between the fleibility of a PAYG deal and the cost-effectiveness of a Pay Monthly deal, giffgaff have actually delivered a product that essentially gives you all the benefits of a pay monthly contract without being tied into a long contract.
What marks giffgaff out as a little different is their use of so called 'goodybags'. These function in a similar way to 30 day SIMs that other networks offer, but without the need to be tied into a monthly rolling contract.
giffgaff also offers the cheapest Mobile Internet available in the UK. Mobile Internet is charged at the rate of 20p per day for up to 20MB of data. If you use less than 1MB then you will be charged less than 20p. If you use over 20MB a day then you will be charged extra at 20p/MB. If you do not use Mobile Internet, then you will not be charged for it.
A basic giffgaff SIM works in the same way as any other PAYG sim, but as well as topping up with regular credit, you can also buy goodybags. These offer a package of minutes, texts and internet browsing, all of which last for a month.
When it runs out you still have your credit left to use as you wish, or you can just buy another goodybag. If you carry on doing this, your giffgaff SIM operates just as any pay monthly contract would, but it is far more flexible and you get far more control over what you spend and when.
£10 goodybag = 500 UK Minutes + Unlimited UK Texts + 1 Gigabyte UK Mobile Internet
£12 goodybag = 500 UK Minutes + Unlimited UK Texts + 3 Gigabyte UK Mobile Internet
£15 goodybag = 500 UK Minutes + Unlimited UK Texts + 5 Gigabyte UK Mobile Internet
£20 goodybag = 2000 UK Minutes + Unlimited UK Texts + Unlimited UK Mobile Internet
Member Rewards
While it may appear to just be a way of giffgaff keeping their costs low, their member rewards scheme is actually a nice way for you to earn some money quickly and easily.
The way it works is that you can earn payback points for spreading the word about giffgaff. For instance, if you have a friend looking for a new phone tariff, then you can send them a giffgaff SIM and it'll earn you 500 points when they activate it.
This may sound like one of those internet schemes that don't actually work, but the giffgaff points system is very simple. 1 giffgaff payback point =1p. So for getting a friend to join, you earn £5.
You can then either:
Get it back as cash via PayPal
Get it as airtime credit for your phone
Or donate it to the charity chosen by giffgaff members
Because call costs often boil down to being pretty much the same across different networks in the long run, it is little extras such as this which really help to elevate one SIM deal over another. Being able to earn back some cash without having to do a whole lot definitely makes giffgaff a more attractive option.
A Different Kind of Company
You will see plenty of copy on the giffgaff website claiming that they are run in a different way to the big corporations that they are competing with. Again it would be all to easy to dismiss this as advertising baloney were it not actually the truth.
If you are one of these people who spend a lot of time complaining about your phone or your network on internet forums, then giffgaff is definitely the network for you. They have a very active presence on the forums on their website, especially in a section where users can submit ideas.
Each time someone submits something which they believe could improve giffgaff, a moderator responds by either saying that it will be considered, or explaining how it has already been implemented.
If giffgaff see it as a useful idea, it will be tagged with a constantly updated status as it is considered by giffgaff workers, accepted as an idea worth using and ultimately implemented.
If you go into the forums you can see a number of user generated ideas that are now being used by giffgaff.
In the same way as the Reward Scheme, this is one of the great intangibles about giffgaff which mark them out as something different from the big networks. They don't feel like a faceless corporation, and they do pay attention when people raise concerns or particularly interesting ideas.
giffgaff offer a very comptetitive basic tariff, matching other networks for price per minute etc., but where they are really a step above is through their goodybags. These offer unmatched allowances of minutes, texts and internet for the amount you have to spend.
Verdict
giffgaff are the real deal. Not only do they offer great value for money and flexibility through their goodybags, but they do genuienly offer an alternative customer experience to the corporate big business mentality that is typical in the mobile phone network market.
The reward scheme and customer input both give you a chance to make the most of your time with giffgaff and get better value for money beyond just their low prices.
As they run on O2's network, which has nationwide coverage in the UK and with such low prices, giffgaff is without doubt, the best place to go if you are looking to get a SIM Only deal.



Order Your giffgaff SIM Now see bit .ly / giffgaff7

* Get £5 Bonus Credit After Online Activation (Requires £10 Minimum Top-up)
giffgaff will work in any unlocked or o2 UK locked mobile phone.
giffgaff SIMs are Dual-SIM Hybrids. This means you can use them as either a Standard Sized SIM or as a Micro-SIM, no cutting or modification required, just press the micro-SIM out of it's shell.
NanoSIMs are also available, just ask!