this legendary edition back on the 13th september 2010 set me back £100 and what you simply get is a elite officer code,the spartan recon flaming helmet code,
halsey's journal which is part of the limited edition pack included in with the game and some halo reach memorabilia.
what sets this edition apart from all the others is it comes with a limited edition noble team statue which just looks stunning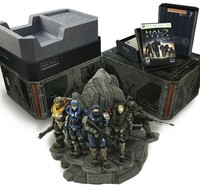 overall the gameplay is somewhat good,to me it's just a watered down version of halo 3,the gametypes are pretty much okay right now
rocket hog race on multi team needs to go in the action sack playlist,the covenant weapons are weaker than the spartan weaponry
the bloom on the reticule is just awful.no matter how hard you pace your shots the enemy just kills you faster.the times you need to reload will get you killed,the spartan shotgun,the covenant energy sword and the assault rifle is so weak in this game,the pistol is somewhat useful in multiplayer,the maps are somewhat balanced but the spawning system is too generic and predictable ( like you die and reappears near of when you had died previously and sometimes right into the open prone to getting spawn killed ) the title update playlists are good.the firefight is fun for a month but it's a gametype that just drags on and it's something people seem to get bored of quick.
the forgeworld is a nice editing map tool but even that has problems.you save your map and it overwrites another map on your hard drive,it sometimes reverts back to halfway in development to being empty
i'm not giving any info away on the campaign that's for you to experience. overall i'd rate halo reach about 85%
also before i go i must warn you of this
if you constantly quit games online you will get quit banned and you won't be able to join multiplayer for sometimes 10 mins to 1 hour.if your boosting achievements with multiple controllers then prepare yourself for a multiplayer matchmaking ban,credits will stop adding to your progress bar and your console will get banned for playing reach for sometimes 2 days to 2 weeks to a month.
i hope you enjoyed my quick review of halo reach legendary edition.