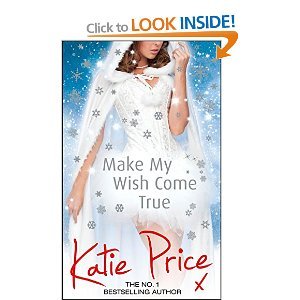 books
Katie Price
wishes
romance
friendship
love
fall outs
family
tear jerker
I brought Katie Price book Make my wish come true and well if you like to get lost in books and love romance and friendships. i would suggest to buy this book as i did and finished it in 24 hours loved loved loved it
I have read all Katie price's books and i thought this one was rushed on some pages but i did enjoy reading it and getting lost i thought i was in the setting of the book as well.
i would curl up on the sofa with this book, box of chocolates and a hot drink, but don't forget to drink it and some tissues as some of the book does make you cry (well i did)
well done Katie on another good book
the book is bout
Take one showbiz reporter; one sexy TV chef; one creepy ex-boyfriend plenty of sex and scandal and you have all the ingredients to Make My Wish Come True from the bestselling Katie Price.
Storm always wanted to be a celebrity reporter. But when she lands the job of her dreams, it costs her her best friend.
However, apart from her creepy ex-boyfriend, Storm loves the job. Until she's asked to go undercover to find out if sexy TV chef Nico Alvise is cheating on his girlfriend. Storm knows it's wrong but agrees because she likes him. A LOT. And she's determined to protect him.
She didn't bank on them falling in love though. But Nico has secrets to hide, and he hates journalists.
So when he finds out what Storm does, the fallout is brutal.
Suddenly jobless, friendless and heartbroken at the most romantic time of the year, Storm knows that no matter how hard she wishes, Nico will never forgive her…