Hi this is my first guide so go easy on the marking okay! Only kidding. Judge it how you like, but it should give you some tips. Please check out the section(s) you like - Where do I start, What next, and Whats best.

Where do I start?
To start with you have to know that this hobby is not for the faint hearted and requires a lot of dedication. You need to be able to paint or at least be willing to learn, and if you would lie to know how to game then you must be able to take in the rules and be prepared to spend a bit of money.
To start your collection, I would recommend buying a starter set, that contains some men and a few paints with a guide on how to go about painting them. Here are a couple of my examples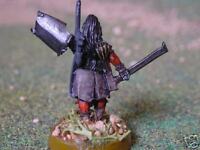 The starter set will explain how to play so I recommend buying a rulebook IF you won't to play the game - I don't, so I can't answer any questions about this topic, but if you contact me via ebay I can give you some advice on painting or if you want advice on specific models. Paint the models using an undercoat of CHAOS BLACK always! This is because it leaves a good finish and leaves shadows in the darker, deeper areas of the models. After painting the models, don't give up if they look poor or of a worse standard, I can guarantee that they will be one of the worst you will ever do, and quality comes with time. I have been painting for six years, the model you see above was done last year, it isn't great but it aint bad.
Basing the model is quite a hard thing to get a grasp of. What i recommend is basing like your gaming board, or if you are not a gamer follow these steps...
1.Apply games workshop sand using PVA glue.
2.Paint using CHAOS BLACK. Leave to dry, then dry brush (using very little paint) using a brown of your choice.
3.Then highlight using BLEACHED BONE.
4. Use green grass flock to produce small patches of grass over certain parts of the base.
And that is it, a simple guide for the beginner.
What next?
There are now a variety of metal models, which need a heavier prime undercoat than the plastic models to prevent any paint from coming off. These models cost more for obvious reasons, but gamers will appreciate these figures more as the quality tends to shine through.
Visit the One Ring website for painting guides, techniques and advice. It's where I developed my passion for the hobby and the board hosts a very friendly bunch.
http://www.one-ring.co.uk/index.php
Try experimenting! CONVERT models by chopping off their heads or weapons or arms and use it for scenic decoration or just plain convertion to produce a captain. These models sell more on ebay, and look better on the battlefield.
Just remember to take your time because patience is the trick of the trade.
Whats Best
Choose an army. Paint it up and use against your fellow gamers. As for painters, the metal models look better but the plastic ones build up your cabinet. A mixed variety is useful.
"TO BUY!"
-Mouth of Sauron: easy to paint, looks great, see pic
-Warriors of Rohan: easy to paint in batch production, look good
-knights of minas tirith: no complicated shield design, looks great
-Moria goblins: Wicked little figures, 4 or 5 colours needed and look great
-Uruk hai: 4 or 5 basic colours, look great, easy to paint.
"WHAT NOT TO BUY!"
-Knights of Dol Amroth: take a ridiculous amount of time to paint
-High elves: Look super, but take for ever to complete
Haldirs Elves: Look good but take up a very large burden of your time
Hobbits: Too small to even be bothered
So there is my guide with tips and advice on almost everything apart from gaming - as I dont know how to...must learn soon. Might take pics of all my models in cabinet and post it on here soon so you can observe what can be acheived...you'll just have to wait.
Thanks for being so patient if you have got this far - this patience that you have maintained will be a tester for when you come to paint these models. Please contact me if you need advice on anything to do with painting, buying or converting your models.