Thanks for taking your time to look at this guide on lyle and scott polos
1.On tops like so --> these design of the top should on have 2 buttons
this one is genuine.->
2.On the lyle and scott lables the size of the t-shirt has to be under the label.
3.On the lyle and scott buttons they are marked with lyle and scott.
4.On the inside of the top the golden eagle has a white back and has a black outline.
5.The genuine lyle and scott tags are a deep black coloured booklet atached with a golden/yellow thread and atached to the inner lables.
6.On the lyle and scott label it should have lyle and scott vintage and not lyle and scott scotland.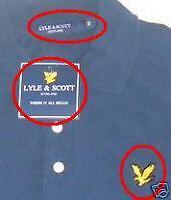 7. On most lyle and scott polos the eagle should be in line with the 3rd button or inbetween the 2nd and 3rd button.
8. When you are buying think carfully at the prices, who really is going to buy a top at £40 - £45 and sell on for say £15
9.Genuine lyle and scott polos are made of cotton pique.
10. And finally dont buy from abroad, such as thailand.
thanks for looking at my guide and i hope it is useful for your shopping.