Brief Introduction to Marine Magnetic Compass Correction and Adjustment
The magnetic compass responds to the Earth's magnetic field. However the Earth's magnetic field is modified locally by any ferrous metal onboard, from hull material if it is steel, any large lumps of metal e.g. the engine(s), the keel to the humble can of Baked Beans in the locker behind the compass. Electrical cables also have an associated magnetic field when passing current and can affect a compass. Basically the bigger the lump and the nearer to the compass, the greater the distortion to the local magnetic field.
Compass Correction and Compensation
Once a compass is installed it should be swung to determine the error and how it will be corrected. The swinging of the compass must be done against known headings, so that the precise error can be determined, tehse can be transit lines, the true course from a gyro, satellite compass or even a GPS. A Deviation table can be created for the various headings and the compass corrected to reduce the overall deviation. The correction is done by adjusting the effect of additional magnets placed close to the compass card. In the simplest arrangements this is a pair of orthogonally mounted magnets that can be rotated to increase and decrease their effect. More complex arrangements can include quadrantal correctors (the large spheres seen on either side of a binnacle housing), a heeling corrector and a Flinders Bar that are mounted vertically below the compass and can be moved up and down. Compass adjusting is done by a compass adjuster and the process in experienced hands is quite quick. The objective is to reduce and record the error so that when navigating this correction (the deviation) can be applied to the heading.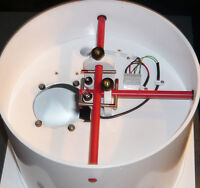 An example of B and C correctors

All compasses can be corrected, but you should consider this, if a compass is bracket mounted and can be removed is it worth correcting. For the deviation table to remain correct the compass must be returned to it's original position and by virtue of the design - i.e. the bracket this may not be practical. Where a compass is fixed eg on a bulkhead, bench top or gimballed in a binnacle there is not such an issue.
Compass adjustment needs to be done when the compass is newly installed, after there has been any significant change to the compass surroundings or when it is noticed that the compass course is not correct.