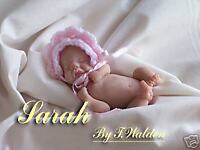 ooak or ONE OF A KIND babies are generally made of polymer clay.They can be other mediums though as well.Either mini size of prem or full term bubbas,with lots of lifelike detail.
I have had so many people ask me what OOAK stands for i just thought i would explain it.
Ooak babies should be unique,not from molds
I have a group on ebay.uk called ooak polymer baby sculptors,so if you are a fellow sculptor come along, we are a happy bunch.
an example of an ooak baby
the link to the group;
If you wish to know anymore, come along and we will be happy to help you start sculpting!
Polymer hugs
Theresa