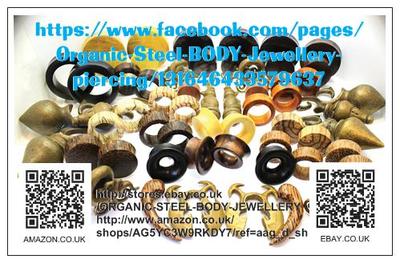 heres the link to our facebook business page please like the page .
please "LIKE " us on facebook page ORGANIC STEEL BODY JEWELLERY ,PIERCINGS . thanks
we will continue to add new and exciting items each week so check back often to see new items .
we are working on many new stone and wood items in 2014 so have a look and feel free to ask us what sizes we offer .
some customised ear plugs in buffalo horn and olive wood are available for bespoke work send us a message on facebook ,
facebook fan page will host new items and links to our amazon store + lots of other cool things :)
if you like to share photos of your self wearing our jewellery just add them direct to the wall we love to share .


At ORGANIC STEEL BODY JEWELLERY we are confident that the products we supply are of the highest possibly quality (because we Work direct with suppliers whom make them not middle men buying junk from china) and that our customers will be 100% happy with their purchases. Nevertheless , due to the nature of the products that we supply, we must insist that for hygiene reasons, we do not accept any return if the sealed ziplock bag has been opened . We therefore encourage you to be very careful when you order, and make sure you select the right size, colour and or specification of the product you wish to buy. If any help is needed, please e-mail us for assistance before you purchase. We are sure you will understand this as this policy is also ongoing in the major chainstore "Argos" (UK) for body jewellery products.