I know only sell one item on e-bay. You can find me as 'sacks-n-stories 'through a search engine or look for the link on my e-bay 'me' page
Jolly Phonics-Creating a story sack teaching resource-2006
Letters and Sounds Phonemes-This idea is easily adapted
(I have added new updated notes in italics)
I am a recent convert to Jolly Phonics having been through various schemes and approaches to teaching phonics and reading in general in 25 years.But Jolly Phonics works well.I work in an education nursery and we started using Jolly Phonics last September (2005).The children have responded well to it.We have followed the scheme as far as the first 3 blends which we felt was enough and are now revisiting the letters 2 a week broadening the input by including 'words beginning with' (we now go further as the children have responded so well and the adults are familair with delivering it)
Since I started this sack I have created a special picture Jolly Phonics sack which can be personalised with a teachers name if required
Please contact me if you are interested in the following being listed on e-bay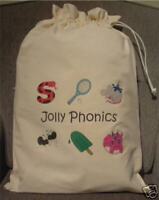 personalised with name/setting or unpersonalised
You can choose any 6 pictures you would like as I know some people have refined their use of JP
Our phonics table is divided in half for the 2 letters of the week and the children are encouraged to bring in objects for it.To accompany this I decided to create a Jolly Phonic's Story Sack using a phonic themed fabric sack. It hangs on a child height hook on the side of the display and the children take it down and role play 'teachers' or explore the sack on their own.It's been a very effective approach.Every time we recap a letter we are adding to the sack the accompanying card ( I have now completed my smaller postcard sized coloured cards which are easier for small hands to handle) and an object relating to the way the sound is created.For those of you who do not know Jolly Phonics it is not always an object beginning with the sound more an aid to its sound in words.
Here are the objects the sack contains
A-Large plastic ant
B-Bat and ball from the P.E small apparatus
C & K-2 Castanets I always tell the children there are 2 in the picture to remind them the sound has 2 shapes.
D-Drum
E-Frying pan and plastic egg to crack
F-Inflatable Nemo fish bought on e-bay by searching 'inflatable fish' -there were 7!
G-Realistic dolls house sink also bought on e-bay
H-Rag doll with leg stitched up to 'hop'
I-Soft toy mouse-I can't bring myself to 'ink' his face he's too cute
J-Traditional shape jelly mould from the back of my kitchen cupboard-I knew it would come in handy one day!
L-Ice lollipop mould-same place!
M-Plastic plate with plastic food glued to it (fish fingers, chips and peas following a discussion with the children)
N-Red plastic aeroplane
0-2 way cooker switch in the reduced bin at B&Q for 50p-actually has the words 'on' and 'off'and big red switch to flick-great!!
P-Soft toy pig although keeping my eye open for a sturdy pink candle so the sound is more effective-I have now found a short chunky pink candle in a pound shop
Q-Soft toy duck (I keep hoping to find one that 'quacks') the hunt continues
R-soft toy Dalmation from car boot with a scrap of purple fabric to rag.
S-Soft toy snake
T-I hope to get a strung tennis racket as one of the hardest teaching points was the childrens recognizing a bat and ball and the picture of the tennis racket were seperate sounds.Found in a pound shop on a very wet day on Scarborough seafront.Lots of amazed stares when I annouced 'I've been looking all over for one of these '
U-Child's umbrella
V-Van from toy cars
W-Looking for a toy windmill for the 'wind' to blow-Found in posh garden centre a well made small windmill with a wooden stick.The most expensive thing in the sack
x-X-ray from our hospital role play (someone broke a wrist once!)
Y-Empty banana yogurt pot
Z-Bee - soft toy found at car boot
Sh-small baby doll
Ch-Toy train
Th-My daughters clown in her bedroom (hope she doesn't read this she doesn't know yet!)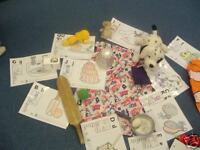 By the middle of the last half term the sack will be full of the 28 sounds just ready to use for the end of year assessment which we should be able to do in a very informal and relaxed method using this sack.When it is complete I will add some Jolly Phonics readers and a picture dictionary.
update-we have just completed our end of year phonic assessments which are the best we've ever had.Approachs are never going to be 100% effective as each child learns in their own unique way but Jolly Phonics seems to have the boardest range of success compared to other methods I have used.
This and my teaching themes fabric sacks are available along with many other U-fill teaching resource sacks-please contact me if you would like them listing on e-bay