Hello everyone!
It's been quite some time since I last wrote any guide on how to spot fake Chanel sunglasses. Do check out my previous guides for the general features of fake Chanel Sunglasses. The latest replica Chanel sunglasses have become more sophisticated, i.e. they would have all the features of an authentic ones. So, buyers can definitely be fooled by the cheap pairs even though sellers sell them at such high prices. Nonetheless, for those who are familiar with genuine Chanels, fake pairs can easily be spotted. So here's the basic guidelines:
1) Fake pairs nowadays have the serial numbers etched on the right lens, the word 'Chanel' engraved on top of both lenses, and also the model number etc. And they also supply the sunglasses with the latest Chanel quilted case. So for those thinking that only genuine ones are supplied with the new case, think again
2) Fake Chanel sunglasses will usually come with a quilted case, box, cleaning cloth (usually white) and certificate of authenticity. Here's a good example: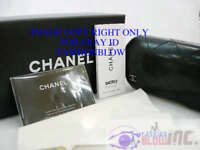 so, basically if sellers offer these with the sunglasses, you should enquire about the item. by the way, if you search the eBay ID for this seller in the picture, you'd see that he's got a pretty decent feedback and he's sold LOADS of fake chanel sunglasses at average of GBP 180 per pair. You can get these cheap imitations for less than GBP 30, usually from Cyprus, lol!
so, here's the pictures of an authentic Black Chanel quilted case: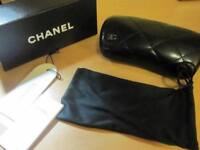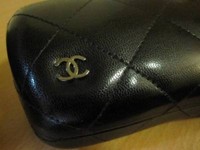 so what's the difference between a fake Chanel quilted case and the real one? Real Chanel quilted case are padded while fake ones are not. And fake ones feel cheap as well. and real ones have 'depressed' CC logo on the case. while fake ones seem to just have glued CC logo on the case.
2) Those who produce fake Chanel sunglasses tend to make mistakes. Even though you can't really tell the validity of the serial numbers, fake ones would usually make minor mistakes about the model number. So i'll be using the pictures provided by the seller mentioned before.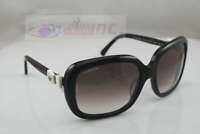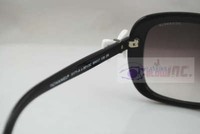 so I chose this model because it's one of the most popular model and there are a lot of fakes pairs, along with Chanel 5076-H mother of pearl sunglasses, and Collection Perle range. so, if you take a look at this sunglasses, the model number is Chanel
5171-A
. If you're not familiar with the model, just google the model and compare it with those sold by verified seller such as sunglassesitaly. The letter after each Chanel sunglasses signifies the detailing on the arms. here are some examples:
a) Letter B - diamante on the sides
b) Letter H - Collection perle or mother of pearl
c) Letter Q - Leather detailing on the sides
d) Letter H-B - if there are both diamante and pearl detailing
e) no letter - no detailing
so for this model, the right model number would be Chanel 5171, with
NO
letter. an example of a genuine pair would be like this: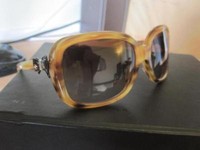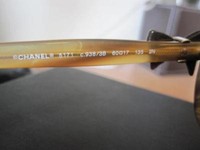 once you know this, you can easily figure out all other models. for example, Chanel 5076-H sunglasses would have mother of pearl on the side. Chanel 4164-B would have swarovski diamante on the sides, etc etc.
So what if you bought a fake pair??
1) don't fret. there are several ways to get your money back. you can either contact the seller to get a full refund or you can open a dispute on Paypal to get the refund
2) communication with the seller will seem the easier way especially if the seller has good communication and is willing to accept returns. but this may not be the case if the seller is adamant of not accepting returns
3) dealing with issues with Paypal will take time but I'd always recommend people to opt for this method. Not only will you get your money back, but you'll also get to keep the fake pair. In other words, the seller will be at loss. How do you do this?
4) It's simple. Just open a dispute on Paypal saying that the item is not as described, i.e. it's an imitation. Escalate your dispute without waiting for the seller to respond. Paypal will take 3-5 days to respond to your dispute. And Paypal will respond by asking you to provide proof that the item is fake. Now here's the tricky part. In order for you to provide proof that the item is fake, you have to provide a letter from an authorized person. In this case, any Chanel boutique or any sunglasses shop will be able to produce a letter to support your claim. Chanel boutiques will not usually be bothered to help you because you didn't buy their products from an authorized reseller. So your best bet is to go to any Sunglasses shop and ask them to help you out. They may even charge you some fees but it's gonna be worth it.
5) So, scan or fax the supporting letter and send it to Paypal in the dispute page. Paypal will again take a few days to respond. And when they respond, you will be relieved because you'll get your money back and Paypal will instruct you to 'destroy' the product as it's illegal to sell imitation products. So you can 'destroy' the product and get your money back! :-p
6) If you do not want other buyers to fall for the same trap, you can leave a negative feedback for the seller. This is important because the reason why so many people were fooled into buying fake products is because these sellers get positive feedback from ignorant buyers.
That's it for now. I'll add other updates in the future. Be safe when buying on eBay. It is definitely a good place to find bargains but don't be fooled by imitations. Would you rather pay a high street price for a genuine pair or slightly cheaper for a cheap pair?? Spend some time to do research on items and you can end up getting an authentic Chanel sunglasses for a cheaper price!
as with previous posts, I will welcome any queries regarding Chanel sunglasses on eBay and I will do my best to give opinion regarding the authenticity of Chanel sunglasses. However, please take note that my opinions are based on personal experience and I'm no professional.
Happy bidding on eBay!