Tile Adhesive.
1 Part Flexible, Rapid Set 20kg.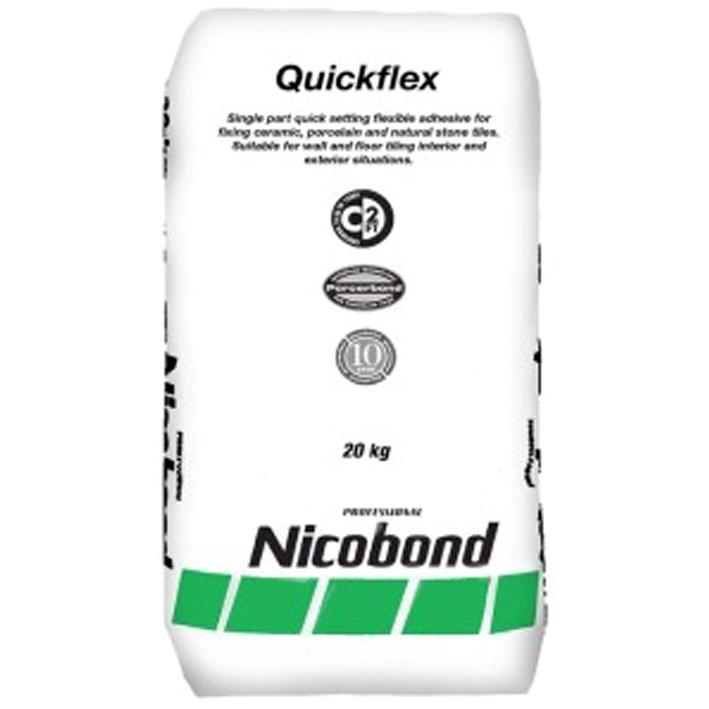 Our high quality flexible tile and stone adhesive is specifically designed for use with all floor and wall tiles, including CERAMICS, PORCELAIN and NATURAL STONE. It is suitable for use over both wood and concrete sub floors. Our adhesive is ideal for use with our underfloor heating systems without any additional additives making it is a very versatile and a high quality adhesive.

Please note that grey is the default colour if not stated.

For large orders we offer a bulk discount
Please leave a contact phone number in the comment box when placing your order as this is required by the courier before a delivery can be made.
Things to know !
Please note the postcodes listed below will incur an additional carriage charge from £20

LD, LL (except Wrexham), LN, NN, HU, DN, YO, TS, LA, SR, CA, DL, TD, DH, NE, DG, AB, PH, IV, KW, DD (except Dundee City Centre), Argyle and Bute, Isle of wight.
Our Adhesive has been designed for the professional tiller but is easy to mix and use if you are a competent DIY enthusiast.
Please note that sub floors should be clean sound and free of any loose debris before any tiling takes please. To ensure a good adhesion between the sub floor and all floor adhesives the floor may require being primed with a suitable acrylic floor primer.
Tile Adhesive Features :

Flexible and requires no additives to mix, (Only water required).
Ideally suited for use with underfloor heating systems.
Once set is totally water proof, is fast setting and can be grouted over, (dependent on conditions) approximately 2-3 hours after tiles are fitted.
Suitable for internal and external use, (Frost and ice resistant).
Unparalleled sump resistance, (Floor tiles will not sink down into adhesive whilst adhesive is setting).
Massive grab / Non Slip formula, (Wall tiles & even heavy stone tiles, once positioned will not slip down the wall whilst adhesive is setting).
Mixes very easily and consistently.
Is Grey in colour so the colour will not bleed through natural stone tiles or show up under glass tiles, (White adhesive available on request).


Technical Specification
Non Slip - Euro compliance code C2FT
Coverage 4 - 10sqm per 20kg depending upon, floor or wall application. Surface irregularities, depth of adhesive required.
Working Time @ 20oc +/-40 minutes
Serviceable temperature -20 to 80oc
Orders placed before 1pm can be dispatched same day on a next working day delivery service. please do not hesitate to contact ourselves if you have any questions or require further assistance. Our time and advice is FREE.
IMPORTANT
To make sure you receive the correct kit sizes, if you are unsure of what you require, please do not hesitate to contact ourselves. If possible please provide us with a sketch or measurements of the floor area you would like heated and we will advise you on which heating kits / ebay items would best suit your requirements.