Descriptions
*NEW* 4 Axis TB6560AHQ Stepper Motor Driver Controller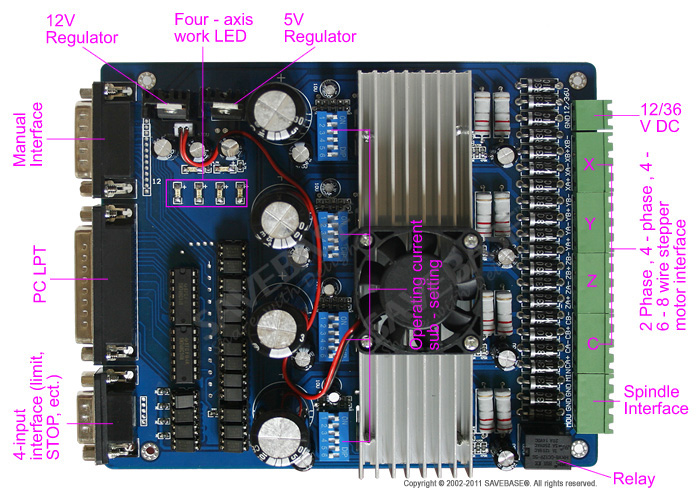 Product Features:
Toshiba TB6560AHQ chip - High power, maximum 3.5A drive current chipset !
For TB6560AHQ Datasheet, Please click here.
1-1/16 microstep setting - Higher accuracy and smoother operation than standard 1, 1/2 step!
Adjustable 1.5A-3A drive current settings for each axis - 25%,50%,75%,100% of full current can be set for different stepper motors
*Attention: This driver is the 1.5A-3A version, it's specially designed for stepper motors with rated current from 1.5A to 3A, it's NOT compatible with stepper motors with rated current below 1.5A or above 3A!
If the rated current your stepper motors is below 1.5A, you can choose the 0.5A-2.5A version!
Please let us know which version (1.5A-3A version is default) you need immediately after placing a bid!
Overload, over-current and over-temperature safety - Full protection for your computer and peripheral equipment !
On board current switching - Power output can be set according to specific user requirement !
Full closed-type optical isolation to protect the user's computer and equipment
Relay spindle interface - Outputs Max. 36V 7.5A for spindle motors or coolant pump (only one device can be powered by this output!)
4 channel inputs interface- Can be used for XYZ limit and emergency stop !
Professional design - Two stage signal processing with super anti-jamming !
Bipolar constant current chopper drive with non-resonant region - Controls motors smoothly through range without creep effect !
Four control inputs (divided into pairs of knives) - Allows setting of limit and emergency stop !
Universal architecture - Supports most parallel software MACH3,KCAM4 etc!
*For compatibility with other softwares, please feel free to contact us!

Dip settings:
| | | | | | | | | |
| --- | --- | --- | --- | --- | --- | --- | --- | --- |
| Current Setting | 1 | 2 | Decay Mode Settings | 3 | 4 | MicroStep Settings | 5 | 6 |
| 100% | ON | ON | FAST | ON | ON | 1 | ON | ON |
| 75% | ON | OFF | 25% | ON | OFF | 1/2 | ON | OFF |
| 50% | OFF | ON | 50% | OFF | ON | 1/8 | OFF | ON |
| 25% | OFF | OFF | SLOW | OFF | OFF | 1/16 | OFF | OFF |

Further Details:
Power supply DC 12-36V (not included, please feel free to contact us if you need !)
*This driver get its power from the same unit as the steppers, it doesn't require separate power source.
*Voltage Selection:
12-16V DC power supply for Nema 17 stepper motors
16-24V DC power supply for Nema 23 stepper motors
24-36V DC power supply for Nema 34 stepper motors


(High voltage will burn up the chips or stepper motors!!!)


*Ampertage Selection:
Output current of the power supply can be calculated by the following expressions:
Output current = Rated current of your stepper motors * quantity + 2A
(For example, if you want to drive 3 * 3A Nema 23 stepper motors, theoretically 24V 11A DC power supply is recommended, but higher power such as 24V 15A also will be good.
If you are not sure about the selection of power supply, please feel free to contact us for help)
The power output of 12V shall be applied to the radiator fan of 12V.
Driver output compatible with 2 or 4 phase, 4,6 or 8 lead stepper motors, 3A max.
Suitable for unipolar or bipolar stepper motors.
Voltage regulated spindle speed controlled by parallel interface as function of supply voltage.
*NOTE:
P
lease
SHUT DOWN the power before you plug or unplug the connectors to avoid burning up the board.

Connection Wiring:
*NOTE: These external tools on the left and bottom of the following picture are only for exhibition, we don't have them for sale at the moment!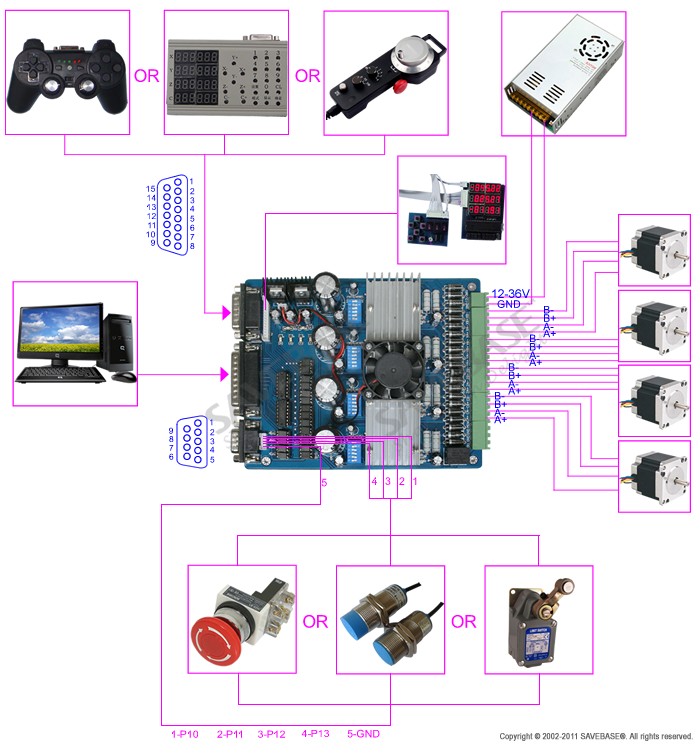 Specifications
Electrical properties (ambient temperature Tj = 25 ℃ pm):

Input Power

12 - 36V DC power supply

Stepper motor drive current

1.5A - 3A/phase

Drive type

Double-pole constant flow PWM actuation output

Compatible Stepper motors

2 or 4 phase, 4,6 or 8 lead stepper motors, 3A max.

Dimensions
18 * 11 * 4 cm (L*W*H)
Contents
1 x TB6560 Stepper Motor Driver 1.5A-3A
6 x Wire connectors
1 x White ribbon 5-pin limited cable
1 x DB25 parallel cable
1 x CD Driver
Estimated Delivery Time
UK
Royal Mail Recorded Signed For™
2-4 business days
Other Western Europe Countries:
Austria, Belgium, Denmark, Finland, France, Germany, Greece, Iceland, Ireland, Italy, Liechtenstein, Luxembourg, Netherlands, Norway, Portugal, Spain, Sweden, Switzerland
Registered Airmail service
3-7 business days
Other Countries (May depart from other stock location)
Registered Airmail service
12-21 business days

Please DO CONTACT AND CONFIRM with us BEFORE you bid IF you:
- need the item urgently.
- require that the item should be delivered within a certain time.
- have any other questions/requirements about delivery.

Remarks:
*Usually, your order will be dispatched before the next working day after the full payment is cleared when stock lasts.
*Notification will be sent after your order is dispatched, please check you email or ebay order records for date of dispatch.
*It is not guaranteed that parcel should arrive within the time stated above. However, 95%+ parcels will be delivered within the reference time.
*Please contact us if you have any trouble in receiving your orders. We will help you to track them.
PayPal: We accept PayPal (Allows you to pay by credit cards, debit cards or echecks securely with NO surcharge)
* If you have difficulty to make payment by PalPal please contact us for alternative payment method.
Remarks:
*Please send payment within 5 days after auction ends. All sales are final, shipping and handling costs are also NOT negotiable.
*We will use your PayPal shipping address as the delivery address.
*Please make sure that your shipping address is correct.
14 Days Money Back Guarantee:
If you are not satisfied with the item purchased from us. Please inform us in writing(e.g. e-mail, eBay message, fax, letter) within 14 days of receipt of goods. We will guide you to return and refund the item. Please note that the postages / custom fees(if any) spended in such an order are on the customer's cost.

Free Replacement:
If you receive a not-as-described (e.g. defective, incorrect, part missing) item, please contact us when you get the item. We will arrange a replacement as soon as the case is confirmed.

Suppliers Warranty:
We offer one month warranty on all products purchased from us. If your item has any warranty issue please contact us for a satisfying solution.

Requirements:
*All qualified returns/replacement must be guided by us. We may not accept your return without informing us in advance.
*Customs fee, handling charge, postage and insurance are not refundable.