Professional wide angle lens fit for 58mm DSLR
Detailed introduction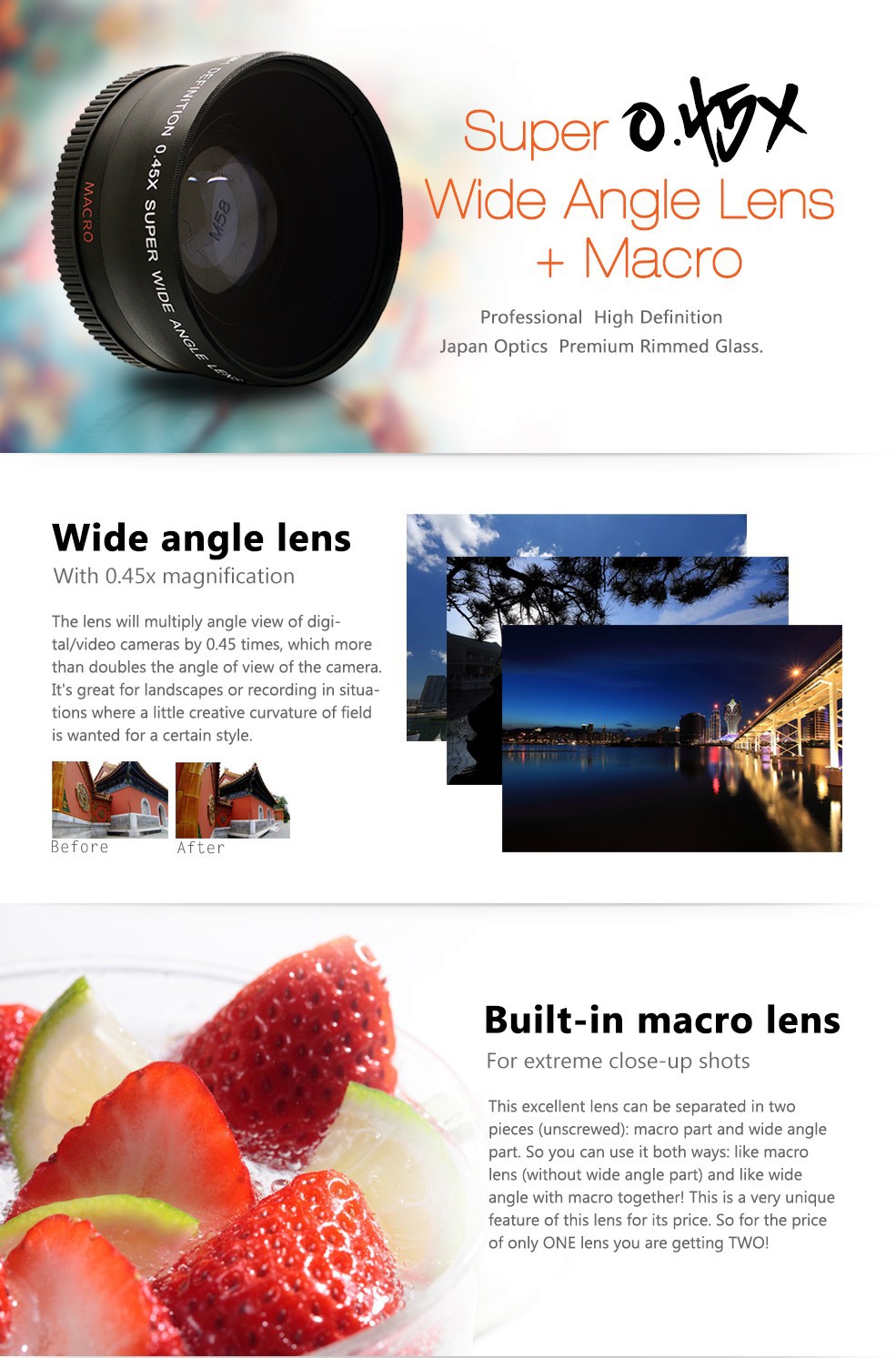 How to choose wide angle lens fit your camera
If your camera lens is 52 mm, please buy 52mm wide angel lens click this
If your camera lens is 55 mm, please buy 55mm wide angel lens click this
If your camera lens is 58 mm, please buy 58mm wide angel lens click this
Description
This is a premium 58mm wide angle lens with 0.45x magnification for cameras and camcorders. The lens will multiply angle view of digital/video cameras by 0.45 times, which more than doubles the angle of view of the camera. It's great for landscapes or recording in situations where a little creative curvature of field is wanted for a certain style. This unique lens works on all Cameras & Camcorders with 58mm size Lens Filter thread! This excellent lens can be separated in two pieces (unscrewed): macro part and wide angle part. So you can use it both ways: like macro lens (without wide angle part) and like wide angle with macro together! This is a very unique feature of this lens for its price. So for the price of only ONE lens you are getting TWO!
Some people confuse about how to choose wide angle lens?It is only related to the camera lens model.There must some words on the camera lens to show the model,as Canon 18-55 is Canon 58mm lens.Please check the model before you buy this item.
Specification
Weight: 191g
Magnification: 0.45x
Mount Thread: 58mm Straight
Lens Composition: 2-2 fully Multi-Coated
Can not fit the lens:focal length above 200mm
Compatible with: All cameras & camcorders with a 58mm sized lens filter thread
Feature
Multi-coated
Auto Focus
Fully Automatic
Lens Back Threads Size 58mm
AF / Infrared Compatible
Digital SLR Pro Lens
High Quality Crystal Optics
Built-in Macro lens for extreme close-up shots
Professional High Definition: PHD Lens reduces glass flare & ghosting caused by reflections
Special matte aluminum satin finish frame reduces reflections & optimized photography
Premium Rimmed Glass: High quality rimmed glass reduces light reflection around lens edge
Infrared Compatible: For high resolution day & night recording
Great for Every Type of Photographic Situation
Package includes
1 x 58mm Wide Angle Lens
1 x Lens Bag
1 x Lens Cap
Fit for lens model
EF 50mm f/1.4 USM
EF-S 55-250mm f/4-5.6 IS
AF-S 50mm f/1.4 G
EF 85mm f/1.8 USM
EF-S 18-55mm f/3.5-5.6 II
EF 70-300mm f/4-5.6 IS US
EF 100-300mm f/5.6L
EF 75-300mm f/4-5.6 III U
EF 100MM f/2.8 Macro USM
EF-S 18-55mm f/3.5-5.6
EF 75-300mm f/4-5.6 III
EF 70-300MM f/4.5-5.6 DO
APO 70-300mm f/4-5.6 DG M
EF-S 18-55mm f/3.5-5.6 IS
EF 28-105mm f/3.5-4.5 II
EF 70-210mm f/4
DA 55-300mm f/4-5.8 ED
......etc.