Underfloor Heating Under Tile & Stone Heating
Loose Wire Heating Cable Ideal For Use in your Conservatory as a primary Heat Source !
Living Heat electric double insulated and earthed Underfloor Heating Loose Wire cable. This Underfloor Heating is designed for use directly under All Tiles and Natural Stone flooring and is suitable for use in all rooms and can be used as a Primary Heat Source, (Ideal for irregular shaped areas such as kitchens and bathrooms).
Things to know !
Ideal for irregular shaped areas such as kitchens and bathrooms. Please note that on uninstalled sub floors, (especially concrete sub floors) we highly recommend the use of an additional hard insulation layer which will increase the response rate and maintain the high efficiency of our underfloor heating systems.
Orders placed before 1pm can be dispatched same day on a next working day delivery service. Below is a table of other sizes offered in our ebay shop. We can produce systems in virtually any size required so please do not hesitate to contact ourselves if you have any questions or require further assistance. Our time and advice is FREE.
Living Heat Loose Wire comes with :

Underfloor Heating Loose Wire System.
High adhesion fixing tape.
Lifetime warranty on heating system.
Full fitting instructions and technical Free Phone Help Line.
FREE next working day delivery service.
Living Heat underfloor heating loose wire cables are ultra powerful and tough. They come double insulated, fully sheathed and earthed. At only 2.4mm in depth they are ultra thin to minimise floor height. They are suitable for wet and dry areas and are very easy to fit.
Pricing and other floor coverings !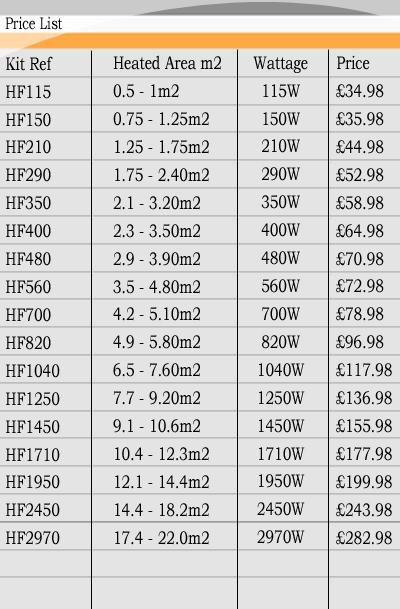 We also stock a full range of insulations, thermostats and adhesives for use with our underfloor heating systems. Please see our EBay shop
If you have any questions or would like further information and assistance with our eBay under floor heating systems, please do not hesitate to contact us by phone or e-mail where one of the team will be happy to help. 01803 316060
Heating System.
Ultra thin & durable heating element (Only 2.4mm deep)
Full fitting instructions and Free Phone Help Line 0800 634 2737- 01803 31 6060.
Easy and quick to lay
Tough fixing / fibre tape
Life Time warranty
Technical Specification
Operating Voltage 230/240V 50Hz
Output Rating as per above table.
Double insulated, fully sheathed and earthed elements.
Cable width 2.4mm
3m long cold / connection tails.
Living Heat underfloor heating cables have been specifically designed to be used under tiles and natural stone floors. They are all capable of being used as the primary heat source, (No other heating required). A minimum of 70% floor coverage is recommended (@ 150w/m2 or above) for use as a primary heat source but in some instances a larger area or wattage may be required.

Our kits are easy to lay and do not increase the floor height as the heating cables are only 2mm deep and so are easily buried in the tile adhesive. The cables are simply fixed down using the fixing tape at the desired spacing's and tiled over in the normal way. We also offer a Technical Free Phone Helpline For any questions or help you may have/require.

It is not recommended to install underfloor heating over un insulated concrete sub floor areas without the addition of a 6mm+ insulation layer first being installed, (please see our eBay store for suitable insulations). This is because un insulated concrete greatly reduces the response time and overall efficiency of any underfloor heating if installed without the additional insulation layer.

We offer other underfloor heating options in our eBay shop for almost any room size and floor covering.

There is no specialist labour or tools required to lay and fit our kits. The only qualified person required is an electrician to make the final connection to the mains power.

If you require assistance please do not hesitate to contact ourselves, (Contact: 01803 316060)


To work out what size kit you require please follow the next 3 steps.
1. Measure your total floor area that you wish to be heated. (Less any immovable objects such as a bath or kitchen units that you do not want the heating to be fitted under).

2. Take off a 10cm boarder around the floor area to be heated as the heating elements should not be run up tight against any walls.

3. This measurement should then be rounded down to the nearest 0.5m, (ie 5.27m2 floor size would be rounded down to a 5m2 kit size). The measurement can be rounded down to the nearest 1m on larger room areas.
Fitting Guide.
1. Make sure the floor area is level, clean and free of any dust and debris. If laying tiles the floor should be made suitable for laying tiles before the heating or insulation boards (if required)are laid.

2. To fit the heating cable the heated floor area must be first marked out with clear markings at even centres at opposite ends of the room / heated area, (the distance between markings will depend upon the wattage required per m2 and length of cable to be laid). To mark the floor the installer should first work out what wattage per m2 is required and thus what length or wattage cable is required. The floor should then be marked to show the desired spacing between cable runs to achieve the desired wattage per m2 over the floor area.

3. Starting from the closest point to the thermostat / power source run the cable back and forward between the floor markings taping over the cable at the start and end of each run to fix it in place so the tiling process can be completed. If required additional tape can be used or the full length of the cable cab be taped over to maintain even spacing and fix it the cable in place.

4. Depending upon whether you are using a Living Heat dual or single core system the other end of the cable may need to be returned to the start position. (Living Heat duel core systems do not require the 2nd end of the cable to be returned to the start point).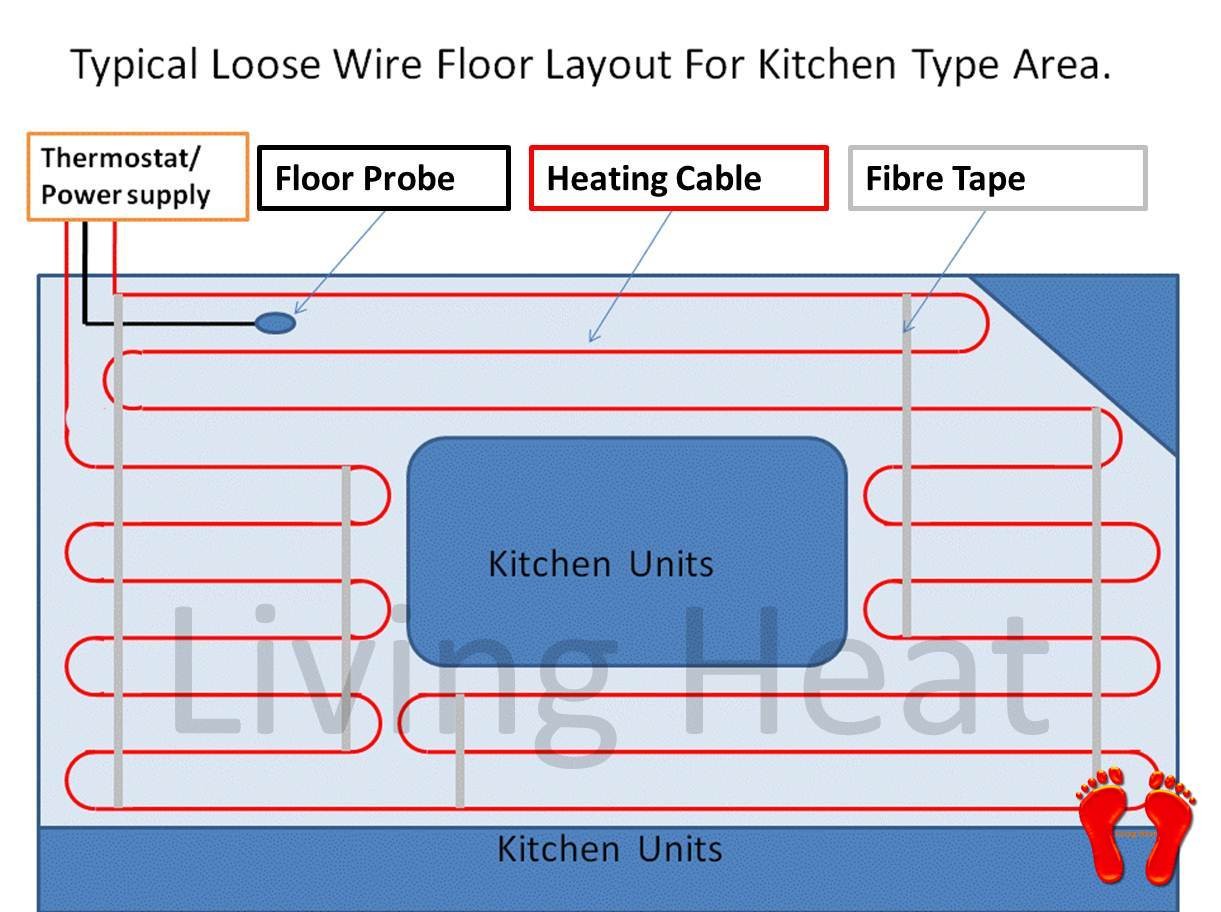 Below is a typical undefloor heating floor section build up of a tiled floor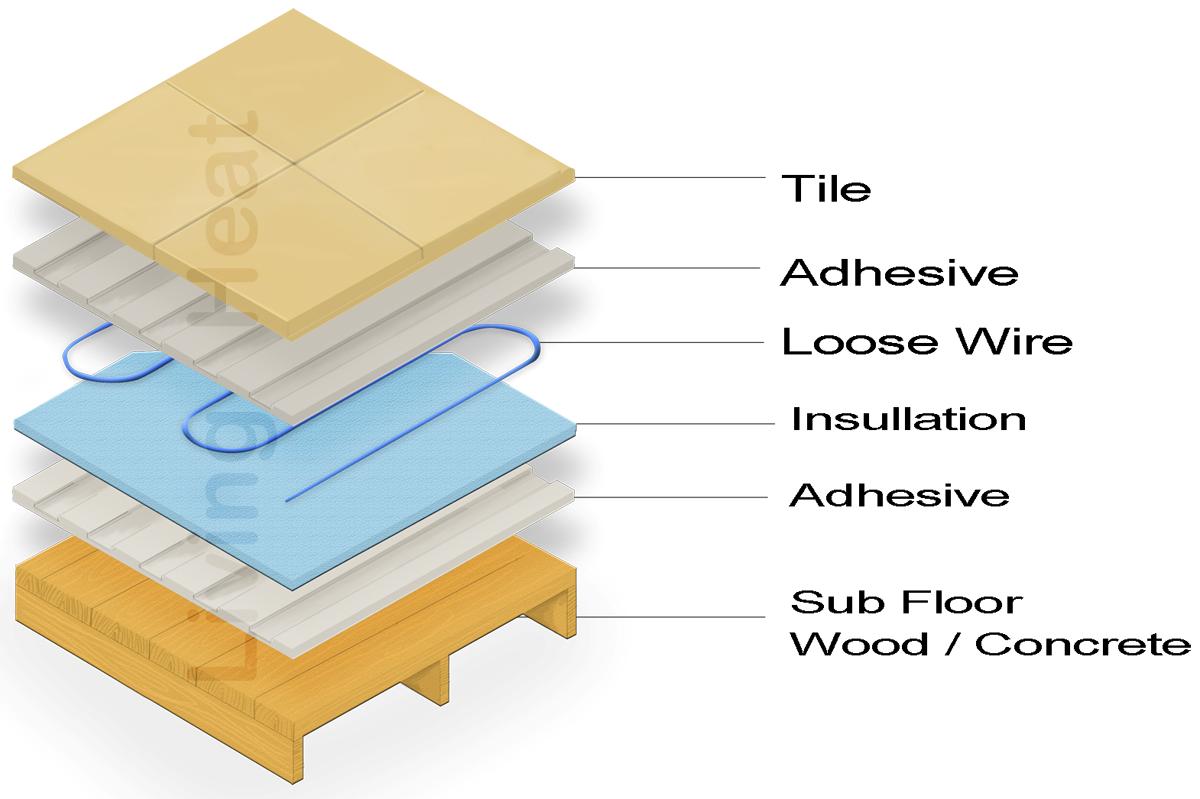 IMPORTANT
To make sure you receive the correct kit sizes, if you are unsure of what you require, please do not hesitate to contact ourselves. If possible please provide us with a sketch or measurements of the floor area you would like heated and we will advise you on which heating kits / ebay items would best suit your requirements.