Description
WHITE HARDCORE WORKOUT TOP BODYBUILDING CLOTHING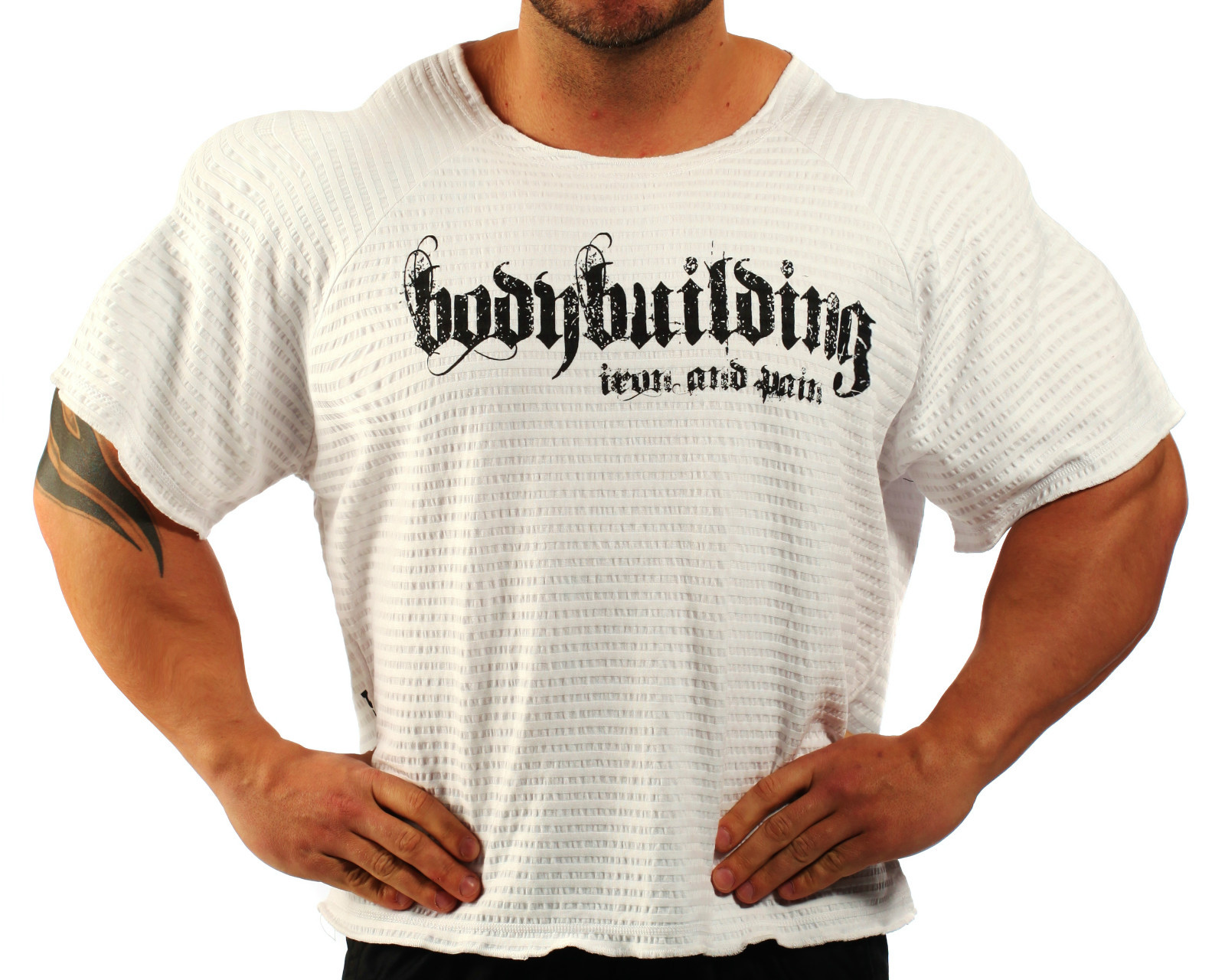 Team Ironworks clothing is designed for Bodybuilders by Bodybuilders
Our Hardcore Workout Tops are made from a cotton/poly blend double jersey and have a USA style cut that is designed to emphasize a gym built body. These new and original tops feature open neck, super soft waffle fabric and our distinctive distressed IRON & PAIN logo. A must have item that looks great on the beach, on the street or where it belongs bending bars in the gym.
Info
TEAM IRONWORKS Clothing is only available through this shop.
Chest sizes up to . . . Size M/L=46" Size L/XL = 50"
If you have any enquiry about your purchase please email this store before leaving feedback as we want to ensure that you are 100% happy with your item and our service, thankyou.
About Us
Ironworks Warehouse is the result of many, many years of hardcore bodybuilding experience. With over 30 years of training under our belts, there's very little we haven't seen or heard about in the world of bodybuilding and this passion for our sport has been the driving force behind the IRONWORKS brand.
This knowledge and experience was put to great use in 2010 when we opened the doors of our showroom Ironworks Warehouse, a 1200sq/ft one stop bodybuilding super store that offers a massive selection of the most up to date products in the world of bodybuilding & fitness. We are the UK distributor of TEAM IRONWORKS Bodybuilding Clothing, a tough and rugged brand designed for the most serious hardcore athlete. Developed and designed by bodybuilders for bodybuilders our wide range of casual and workout clothing is designed to ensure you look as good out on the streets as you do bending bars in the gym. From heavyweight hoodies to t-back vests all our garments carry the mark of quality and are sure to get you noticed with our striking Ironworks logos and designs.
For any serious bodybuilder nutrition has to be the number one priority , now after several years of research and development we have produced a range of premium quality supplements purely designed for one thing… to build hard lean muscle fast! IRONWORKS NUTRITION supplements have been tried and tested by a series of competitive bodybuilders over a 12 months period and the results have been totally amazing… One of our sponsored athletes gained over 18lbs of muscle and went on to take the Mr Britain title in his first year of competition and is currently as he say's 'Growing like a baby' thanks to IRONWORKS NUTRITION. The full range of IRONWORKS supplements are currently available online, in store and through our UK IRONWORKS distributors.
Our showroom is open six days a week, and in addition to our IRONWORKS clothing and supplement lines we stock a massive selection of the latest diet and weight loss pills and shakes, all the major supplements brands at fantastic prices including Gaspari, BSN, USN, LA Slim, Anabolic Labs…..and with our friendly , dedicated and knowledgeable staff who are here to give you impartial professional advice you are sure to find the perfect product to get your body into the greatest shape of your life.
Returns
Returns accepted
After receiving the item, cancel the purchase within 14 Days
Buyer pays return postage
Shipping
Shipping Policy
Goods are usually shipped within 3 days from date of purchase and are sent via Royal Mail 1st Class Recorded Delivery