revanol's profile
Feedback from the last 12 months
|
|
|
|
Member since:
19 Jul, 2004
|
United Kingdom
dolls house stuff



trains & trucks etc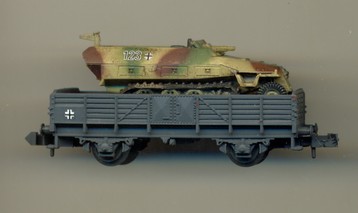 Reviews
by revanol

0 of 0 people found this review helpful.
Tank Battles (Nintendo DS, 2007) - European Version
If you like tanks with the combination of battling them with friends or A.I using the touch screen of the DS,then this game is good, it also includes WW2 tanks like the King Tiger 2 and the Jagdpanther Tank Hunter that makes this game fun, although it does get boring quite quickly as the game is mainly one on one with some weird assistance from you co-op tank but it does allow a friend to join you in battle and then with 2 tanks take on others offline/A.I or online and some of the other tank...

0 of 0 people found this review helpful.
Force on Force by Robby Carpenter, Shawn Carpenter (Hardback, 2011)
If you want to play on the modern Theater from Vietnam to the Gulf war and any small skirmish with land forces, then this rule book is for you it uses a very simple dice rule that you always hit on a 4+ but the dice increases or decreases with dice modifiers from D6 to D12 you will need allot of these dice however, and these can be expensive, but the rules are at first complicated but are very simple, if you are used to 40K or Flames of war, then unlearn all of that as this game is totally di...
Follow what inspires you
Like another member's style? Follow them to see more of their great finds in your eBay feed.