Nike Air Max 95: Inspired by the Human Anatomy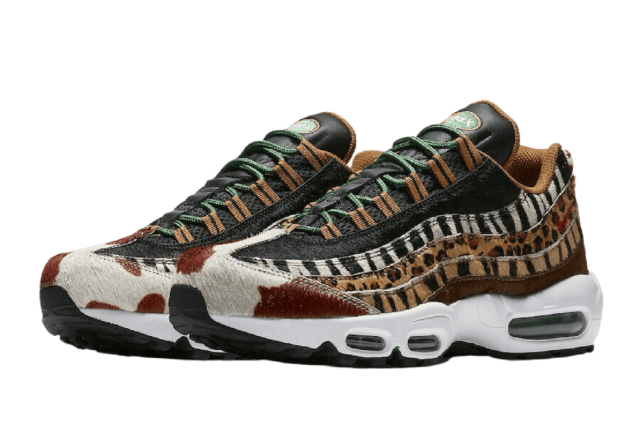 Nike designer Sergio Lozano's initial inspiration for the Air Max 95, which debuted in 1995, was watching the earth erode during a rainstorm. Challenged with recapturing the spirit of '70s and '80s running shoes, Lozano took his concept a step further by incorporating the human body's construction.
The running shoe's anatomy takes clear yet subtle cues from human physiology–with elements modelled after our connective tissue and bone structure. Its upper panels emulate muscle fibres, the lacing system resembles human ribs, and the outsole represents a human spine. Aesthetically, the Air Max 95 draws inspiration from other natural elements and is designed to withstand environmental wear-and-tear. The grey gradient upper echoes the look of rain-eroded stone.
Nike Air Max 95 Introduces Dual Visible Air Units

The Air Max 95 is notable for being the first design to add a second visible Air unit to the forefoot, in addition to one at the back of the shoe. Lozano also opted for a black sole to minimise the appearance of dirt and mud, deviating from the brand's conventional white sole. And though the original design didn't include the signature Swoosh, a small version of the logo wound up on the heel.

Other dynamic features of the Air Max 95 include:

Leather, mesh and suede upper for a flexible fit and breathable comfort
Polyurethane midsole with visible Air Max cushioning unit
Speed lacing eyelets wrap the foot from top to sock liner
Rubber outsole with waffle pattern for outstanding traction

Note on care: To keep your Air Max 95 running shoes in excellent condition, clean them with a high-quality soft shoe brush using mild running shoe cleaner and water.
1990s Running Shoe Culture's Impact on the Nike Air Max 95
Basketball shoes, such as Nike's Air Jordan models, dominated the early '90s running shoe culture. Bold, chunky silhouettes like the Air Jordan 8 were one of the decade's most prominent footwear trends. With the running shoe's popularity waning, Lozano saw an opportunity to reinvigorate the traditional running shoe by incorporating bold colour accents and innovative technological details. Upon its first release, the shoe received international praise. It quickly became a fixture in Japan running shoe culture–selling for up to ten times its initial retail price on the second-hand market. And, in America, Time magazine featured the style in its "Best of 1995: Products" awards list.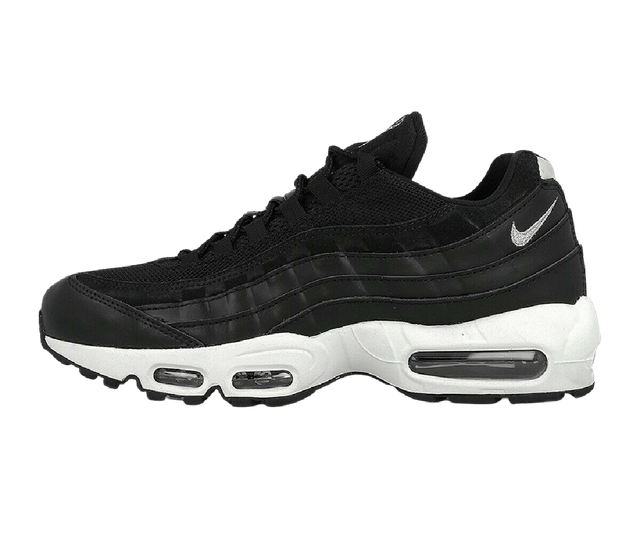 Air Max 95 Colourways

For its 1995 debut, the Nike Air Max 95 was released in the iconic OG Neon. The other original colourways are Solar Red and Crystal Blue.

Due to its incredible success and high international demand, the Air Max 95 saw several retro returns from 1997 to 2018. The most popular retros are:

OG Neon 2015 re-issue to honour the running shoe's 20th anniversary (along with the Air Max 95 Greedy).
Solar Red was rereleased in 2018
Crystal Blue also returned in 2018

Throughout countless releases, the Air Max 95 boasts more than 150 colourways. The most popular versions include those in black, white, neon, and red.
Celebs Tune in to Air Max 95: Music to Their Ears (and Feet)
The Air Max 95 attracted and sustained a cult following within the hip-hop community. Since the shoe's release, rappers have name-dropped the Air Max model in their song lyrics. Arguably, its most famous shoutout is in The Game's 2005 single, "Hate It or Love It," where he warned an opponent not to "try me for my Air Max 95s." Other notable mentions include those from Fabolous and Gucci Mane, who also praised the running shoe model by name in their songs, "Money Goes, Honey Stays" (2009) and "Bricks" (2008), respectively.
Acclaimed artists such as Eminem, Nelly, 2 Chainz, Busta Rhymes, Big Boi, DJ Khaled and T-Pain have all declared their love for the Nike Air Max 95. Other famous fans of the running shoe include LeBron James, Spike Lee, Floyd Mayweather, Jr. and J.R. Smith.
Nike Air Max 95 Collaborations and Collections
Japan-based atmos collaboration

Japan-based atmos collaboration. Nike collaborated with atmos, an esteemed Japanese streetwear and running shoe boutique, to create a series of highly coveted Air Max 95 styles. These colourways boast some of the highest resale values. Noteworthy collector's items include:

Animal Pack (2016)–featuring Air Max 95 and Air Max 1 colourways.
Animal Pack 2.0 (2018)–the DLX colourway
We Love Nike Pack (2018)–includes two Air Max 95s, an Air Max 1 and an Air Max 90. Clear Jade and Bright Crimson colourways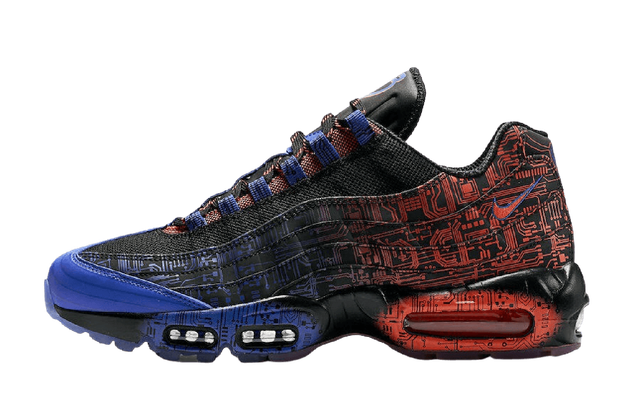 Doernbecher collab

Since 2003, Nike has partnered with the OSHU Doernbecher Children's Hospital to empower their patients to create running shoe designs for its annual Doernbecher Freestyle Collection. Some of the most sought-after Air Max 95 collaborative styles include:

Doernbecher 2007
Doernbecher 2011
Doernbecher 2015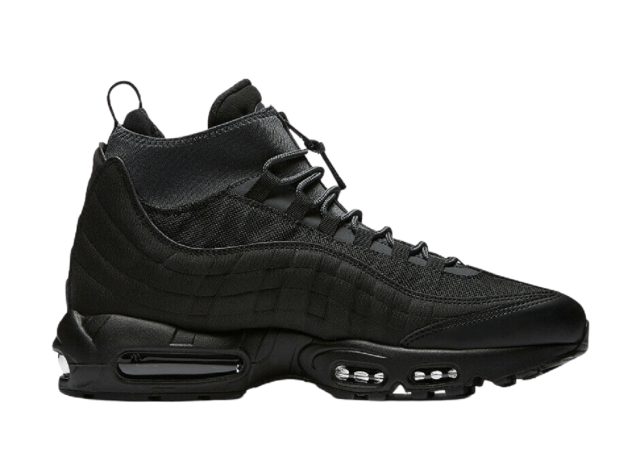 Sneakerboot collection

With its 2015 debut, the Air Max 95 grew up and added some inches to keep fans covered during colder months. The Air Max 95 sneakerboot was initially available in two colourways, and several colourways have joined the line-up since its launch. The collection's most sought-after colourways are Triple Black, Dark Loden and Black Volt.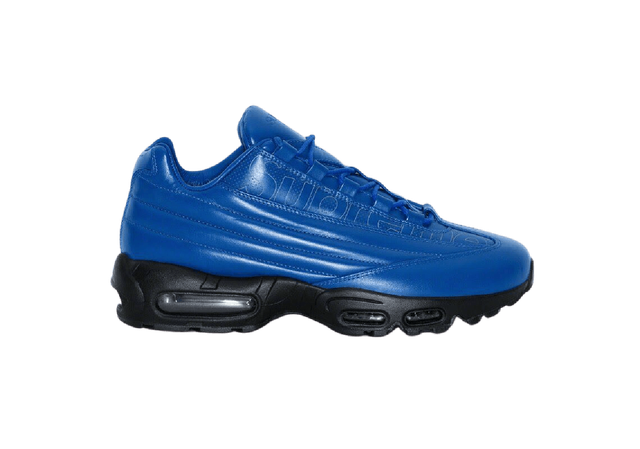 Greedy series

This colourway, released in 2015, has also been dubbed the "What The Air Max" and pays homage to the classic OG Neon colourway. For the shoe's 25th anniversary, the Nike Air Max 95 Greedy 2.0 was arguably 2020's most coveted release among collectors. The style combines OG Neon and Photo Blue.
High-Value Air Max 95 Models

Air Max 95 : OG Neon

Air Max 95 : Supreme Animal Pack

Air Max 95 : DLX Animal Pack 2.0

Air Max 95 : Coral Sole

Air Max 95 : What The Air Max

Air Max 95 : Greedy 2.0

Air Max 95 : Lux Supreme Black

Air Max 95 : Lux Supreme Red

Air Max 95 : Lux Supreme Royal Blue

Air Max 95 : Running Man

Air Max 95 : Doernbecher 200

Air Max 95 : Sneakerboot Triple Black