1960 New York Exhibition Commemorative Crown
The 1960 Crown was struck to celebrate the British Exhibition in New York in 1960. Amongst other British manufacturers, the Royal Mint had a stand, on which they were demonstrating coins being struck. The coin struck was the 1960 crown, or five shilling piece, which was designed for the occasion.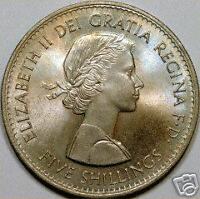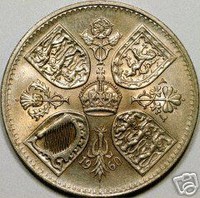 Obverse & Reverse of 1960 Crown
Polished Die Prooflike Version
The coins struck at the exhibition were made using polished dies, normally used only for proof coins, although the raised parts of the design were not matt finish, as is typical of proofs, and most of these coins are found with bagmarks, as it appears that all the unsold coins were bagged up and shipped back to the UK. Because of this, perfect examples of the polished die version are hard to find.
Obverse:
The first (young) portrait of the Queen facing right, designed by Mary Gillick.
ELIZABETH II DEI GRATIA REGINA F D
FIVE SHILLINGS
Reverse:
Crown in centre of emblematical cross, formed from a thistle, rose, leek and shamrock. In the angles, there are four shields bearing the arms of Scotland, England and Ireland.
This is the same reverse design as used on the coronation crown of 1953, but with the date changed.
1960
Edge
The edge is milled
Specifications
All versions:-
Denomination (face value) Five Shillings
Diameter 38.61mm
Version Alloy Weight Mintage
Uncirculated Cupro-Nickel 28.28 grams 1,024,000
Prooflike Cupro-Nickel 28.28 grams 70,000
VIP Proof Cupro-Nickel 28.28 grams Unknown
General Notes
We believe this coin is consistently under-rated in most catalogues. Its mintage is less than one fifth that of the similarly catalogued 1953 crown.
Images
All our images are copyright. Please do not copy them or use them to sell you own crowns on eBay or elsewhere. If you see any eBay vendors using our images, you will know they are breaching our Intellectual Property Rights, and if they are dishonest enough to do so, are they somebody you would want to be dealing with?
If you have a 1960 crown to sell, and you wish to show your buyers what one looks like, you could always include a link in your item listing to this guide.
Was This Guide Useful?
If you found this guide interesting, informative or useful, please spare few seconds of your time to vote for it by clicking on the "Yes" button below, thanks.

Other Guides
You may be interested in viewing our other guides:-

Mints & Mintmarks on Gold Sovereigns - All Seven Mints

How to Photograph Coins - Advice, hints, tips & more...
1780 Maria Theresa Silver Thaler Restrike Trade Coin

Krugerrand - One Ounce Investment Gold Coin

Buffalo - 9999 Fine Gold US Bullion Coin - 24 Karat Au

Pink Diamonds - One of Nature's Rarest Gemstones
Sniping - Is It Good Strategy or Tactics for Winning eBay Auctions?
£2 Two Pound Coins Queen with Necklace Rumour & Facts

Winning Auctions - Or Spending Money?
CGT Capital Gains Tax Exemption on Gold Sovereigns Britannias UK Coins

Definition of Investment - VAT Exempt (Tax Free) in UK & EU

Second Chance Offers on eBay - Should You Use Them?
Spellings - Is Good Spelling Important - A Few Howlers

Famous People (Celebrities) Who Collected Coins

Heads Upside Down on Coins - Medal & Coin Alignment

Identifying Coins, A Brief Guide to Help Identify Coins

BNTA - The British Numismatic Trade Association

Gold Coins Which Are Not Gold - Including German & € Euros

Postage Packing Shipping Insurance Charges - Fair or Excessive?
The Difference Between Proof and Uncirculated Coins
London Gold Fixing Price
Gold Bullion Bars For Investment