Portable Spas 101
When choosing a portable spa there are a few things to consider.
1 - Do you want to use the spa all year?
2- Are you going to use it just a few times per year ?
3- When you are not using the spa how much space do you have to store it?
4- Running costs
5- Size and Depth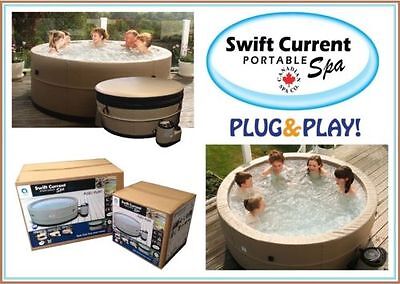 Top Rated Portable Spa Canadian Spa Company Swift Current Spa
The Canadian Spa Company Swift Current spa is an excellent addition to any backyard or cottage setting with its portable design and easy assembly. This spa consists of a foam-lined wall for efficient insulation value and includes a thermal blanket to absorb and retain the heat. Adults will enjoy the 29 in. depth of this spa which allows for shoulders to be completely submerged while in use. The 500 watt massage blower and 88 jets will ensure that everyone enjoys the warm bubbles and spa experience.

Adults can relax with water up to shoulder level with the 29 in. depth, 4 in. deeper than standard spas
Vinyl liner with foam walls for superior insulation value
Includes locking inflatable cover, thermal blanket and 2 filters
Suitable for all 4 seasons with the Swift Current Hard Top Cover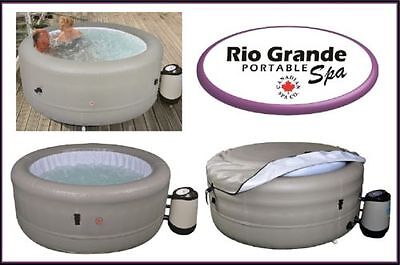 Rio Grande
The Canadian Spa Company 4-person inflatable Rio Grande hot tub will have you completely relieved of everyday stress and tension. Adults will enjoy a full massage as they completely submerge their neck and shoulders in this extra deep 29 in. model with its 88 air jets. The Rio Grande's spa wall is constructed using contour I-beam structure, making it safer and more rigid than standard inflatable models. Its reinforced vinyl liner and 6 in. thick inflatable cover keeps your hot tub protected and insulated year-round. The Rio Grande's unique transportable design gives the spa complete portability, making it the perfect addition to any home, cottage or party. The Rio Grande plugs directly into any standard 13 amp outlet so no electrician is required—just plug and play. A portable control unit located outside the spa houses the water filtration system, 500 watt massage pump, and 1900 watt heater, allowing quick external access for trouble-free maintenance.

Easy assembly and plugs directly into a standard 15 amp household outlet—no electrician required
Features 88 air jets, 1900 watt heater, 500 watt massage pump and portable control unit
Water capacity: 820 l / 220 Gal. (US)
Maximum water temperature: 103 degrees F/39 degrees C
Includes lockable 6 in. inflatable spa cover, thermal blanket, 10 ft. RCD cord and filter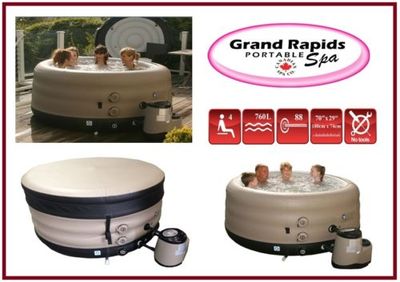 Rio Grande
The 29 in. Grand Rapids Inflatable spa is a great portable spa that provides an extra-deep liner for added relaxation and enjoyment. This spa is designed for adults with its 29 in. D which will submerge your shoulders and add to your spa experience. The 1900 W heater, 6 in. inflatable locking cover and included thermal blanket will keep your spa operating during the winter months.

29 in. depth
Vinyl liner with inflatable wall
Includes locking inflatable cover, thermal blanket and 2 filters
Suitable for all 4 seasons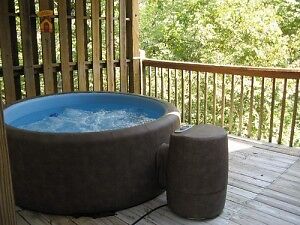 SOFTUB LEGEND 220
SOFTUB LEGEND 220 The comfortable and soft tub 220 (Legend) accomodates up to 4 people. PORTABLE
Lightweight, easy to use, simple to install: Since Softub is one of the world's most portable spa, there are no limits as to where you can install it.

2 FLEXIBLE
The tub's round shape ensures maximum flexibility: This spacious spa provides freedom of movement and lets you sit, lounge and recline in whichever position is comfortable for you.
3. COMFORTABLE
When it comes to comfort and relaxation, Softub spas are up as good as the Swift Current. The soft but firm foam interior provides comfort and support in any position and makes the Softub as cosy and comfortable as a leather sofa.


Muskoka Portable Spa
5-6 Person
Fully portable
heated air blower
goes indoors, or outdoors all year round
built-in aromatherapy cannister
super-durable build quality
hard-top cover included
runs on standard 13 amp plug (RCD)
What to Look For
Focused on spas that you require for your design and function.

The Canadian Spa Products are providing a well-insulated product that can be used year round, heats quicker and is deep enough to cover your neck and shoulders.

There control systems uses a heat jacket design so that the heater element never touched the water. The advantage of this is no scaling of the electric heater and a safer product.

Soft Tub with there foam wall is a good start, but not having a dedicated heater or a thermal cover as standard will in the long run cost more to operate.

Storage again the Canadian Spa products will break down into a smaller package to store when not it use if this is something you require .

Size both companies offer a variety of sizes but Canadian Spa offers all of its spas in 29 inch depth where soft tub it depends on the size.

Overall best choice for value and features
#1 Canadian Spa Company Swift Current Model
#2 Canadian Spa Company Rio Grande Model
#3 Muskoka Portable Spa by Canadian Spa Company
#4 Canadian Spa Company Grand Rapids Model
#5 RESORT 220 Soft Tub