A Guide To Emporio Armani Wristwatches.
We all have the same question... Is my Emporio Armani watch authentic? Well, as a fan of Emporio Armani as well as a trader in the brand, I thought I would share my most useful tips when looking for an Armani through eBay.


STEP 1
Look for a seller who has 10+ transactions at 100% positive feedback, this is to ensure a seller is honest in what they are selling.
If however, any of the watches are defective or fake- A sellers feedback will be far less than this and should not be trusted.

STEP 2
What is provided other than the watch? Original box, Manual, certificate of authenticity?... If this is the case, then it is easy to assume that a wristwatch is authentic- Unfortunately, this isn't always the case...

STEP 3

Next Section ------>>>





Techinical Stuff (Authenticity)
This is a basic guide to raise awareness of the ever-growing issue of fake watches being listed on eBay everyday, some sellers are simply trying to make a quick buck by buying cheap, tacky fakes and flogging them on eBay for up to triple their value!
To Avoid getting stung by these thieves, here's a guide to what to look out for and to compare an authentic Emporio Armani watch, to a cheap Chinese knockoff worth £40...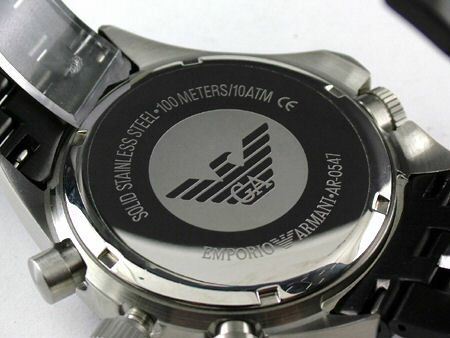 Add a caption
FAKE: No Serial Number, Logo to large, writing to large.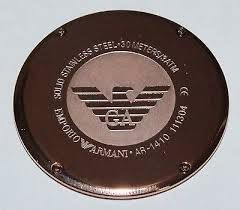 Add a caption
GENUINE: Back Cover has a serial number of 6 digits: 111304 which is common for the Emporio Armani AR1410 watch model.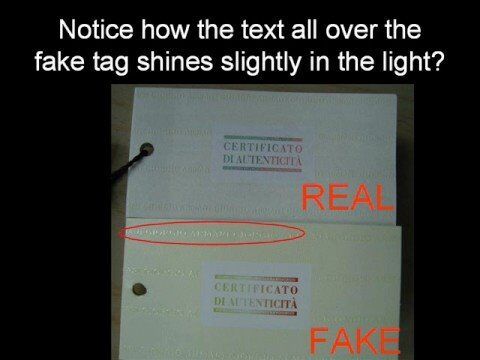 Add a caption
A fake tag is slightly more yellow and shines due to cheap printing. The genuine version has a more complex pattern.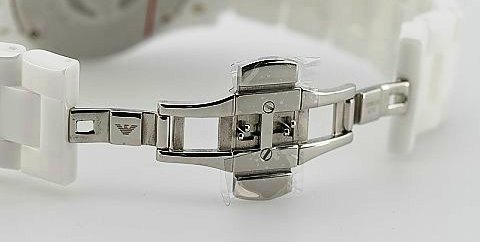 Add a caption
Genuine clasps have a small Giorgio Armani emblem and small 'STAINLESS STEEL' written on the right of the clasp.