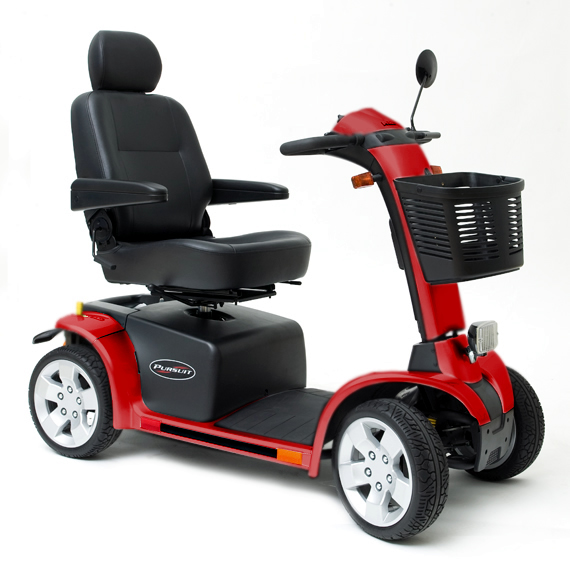 The ability to move from place to place, whether indoors or outdoors, is paramount to maintaining one's overall health. With the advent of mobility scooters, individuals with limitations in mobility are able to get around and continue to interact with society. The amount of mobility scooter options available in the marketplace astounds many first-time shoppers. Everything from a three-wheel outdoor unit to a four-wheel all-purpose travel scooter is available for individual use. However, shopping for such a scooter does require prior product knowledge.
An important element of purchasing a scooter is figuring out what purpose the scooter is likely to serve. Before purchasing an affordable mobility scooter, it is helpful to understand and study the types of scooters available, the various power and size options, and the accessories that might be necessary. Once this is determined, consumers are able to purchase mobility scooters from a variety of sources. One such source which offers a variety of choices, including used mobility scooters at affordable prices, is the online site of eBay. The various sellers and products on eBay allow for specific needs to be easily met.
Types of Affordable Mobility Scooters
The selection of a mobility scooter represents an important moment for an individual who lacks mobility. This device helps an individual to reclaim the ability to move from home to park, store to library, and everywhere in between. When shopping for a mobility scooter, it is vital to understand the array of choices available on the market. The differences between a three-wheel option and a four-wheel option can mean the difference between an enjoyable day at the market and a negative, hassle-filled experience.
Three-Wheel Mobility Scooters
Mobility scooters that are designed with three wheels are not quite as stable as four-wheel options, but they do offer a bit more manoeuvrability. The turning radius of a mobility scooter depends on several factors, one of which is overall size. Three-wheel scooters are somewhat smaller and thus offer an ease of moving around corners and in tight spaces.
Three-wheel options do often provide a better range of mobility, but the consumer should still check specifications before making a purchase. Understanding the turning radius, the weight capacity, and the overall size is an essential portion of making an educated purchasing decision. It is important to remember to determine the turning radius before committing to a purchase.
Four-Wheel Mobility Scooters
An individual who desires a more stable, rugged option when it comes to mobility scooters is likely to be happy with a four-wheel mobility scooter. Scooters that are designed with four wheels are often more stable than three-wheel options, but they can be less manoeuvrable. Four-wheel mobility scooters also tend to be quite fast when compared to their other counterparts. In fact, some of these scooters are fast and sturdy enough to navigate more natural terrain such as walking trails.
Consumers who are concerned with weight limits and carry capacities are likely to turn to four-wheel mobility scooters. These scooters are often labelled as heavy duty and are actually capable of carrying as much as 227 kg. Travel scooters, in particular, are designed with larger tires and are capable of not only holding more, but also of navigating more challenging terrain outdoors.
The chart below offers a comparison between three-wheel and four-wheel mobility scooters. All types of scooters have various designations, weight limits, and common usage options. The more variable the abilities of a mobility scooter, the more likely it is that price increases accordingly.
| Designation | Weight Limits | Usage |
| --- | --- | --- |
| Three-Wheel Indoor/Outdoor Scooter | maximum of 136 kg | incredibly manoeuvrable; designed for light use |
| Three-Wheel Travel Scooter | average maximum of 118 kg | lighter weight; designed to be transported |
| Three-Wheel Heavy Duty Scooter | average maximum of 204 kg | designed for daily use; can be used to carry extra items |
| Four-Wheel Indoor/Outdoor Scooter | maximum of 113 to 136 kg | constructed to be fast; designed with manoeuvrability and convenience in mind |
| Four-Wheel Travel Scooter | maximum of 113 kg | incredibly lightweight; built for those who travel with scooters |
| Four-Wheel Heavy Duty Scooter | maximum 227 kg | manufactured with durability in forefront of design; built to be used in varied environments, designed for everyday use |
Remember to search for and request specific documentation with the purchase of a mobility scooter. Not all scooters are capable of handling the same weight. Manuals and documentation are specifically helpful for scooter upkeep and also help to avoid abuse of the machine.
Affordable Mobility Scooter Sizes
When shopping for an affordable mobility scooter, the size of the actual scooter should be weighed in proportion to need. A scooter that is less than 100 cm in overall length is likely to be more useful for those who pack their scooters into a vehicle. Mobility scooters that are to be predominantly used outdoors should be somewhat larger and heavier overall. Ground clearance and the ability to be weatherised or covered are all important elements in considering what mobility scooter is adequate.
Weight, Limit, and Size
Smaller travel mobility scooters that are only capable of carrying around 113 to 136 kg are usually quite portable. Remember to take note of length measurements of the mobility scooters as well. A larger, bulkier machine is likely to be troublesome on the road. Individuals who require a higher weight limit, however, should choose a heavy duty scooter that is capable of carrying more than their own weight. Being able to carry items on a scooter without worrying about weight limits is a convenient feature.
Storage Capacity
Once a mobility scooter is purchased, some consumers discover that the ability to carry items while on the scooter is lacking. In order to avoid this, it is recommended that one purchase a mobility scooter that is capable of holding at least 45 kg above the weight of the individual using the scooter. Another helpful solution is to find a scooter with both back and front baskets for ease of transport. These features are especially helpful for individuals who are likely to shop using their mobility scooters.
Used and Affordable Mobility Scooters
Finding a mobility scooter for an affordable price requires a significant amount of research and shopping. With online marketplaces such as eBay, however, consumers are able to take advantage of quality used options. A consumer on a strict budget should consider used options as a way to save money.
With a number of used mobility scooter options as well as dealers that sell used mobility scooters, consumers are able to find almost any type of scooter that is used, but in good condition. When shopping for a used mobility scooter on eBay, make sure to locate a seller who offers a detailed description. Images of the scooter from various angles can also aid in making an educated purchase.
Affordable Mobility Scooter Accessories
Once a mobility scooter is selected, shoppers should make sure to purchase the necessary accessories. Mobility scooter extras include everything from covers to crutch bags and seats. Batteries and ramps are also important to consider if one plans to use a mobility scooter on a daily basis and needs to transport the scooter in and out of the home. Making sure that one has everything needed in order to safely operate the mobility scooter often results in a more pleasant experience.
Purchasing an Affordable Mobility Scooter on eBay
Mobility scooters are a range of devices that are designed to meet specific needs in a variety of capacities. In order to search through a wide selection, many individuals turn to the online marketplace eBay. The range of sellers as well as affordable or used mobility scooters available on eBay is impressive and allows individuals to find the specific types of equipment they are looking for. When searching on eBay, all a consumer has to do is visit the website and type in a general search term such as "mobility scooters".
Simply typing in a general term, however, often results in hundreds, if not thousands of search results. In order to avoid such broad listings, eBay shoppers may choose to narrow down their search in many ways. One option is to enter a more specific term such as "used mobility scooters". Another option is to use the advanced search feature on eBay that allows one to select different filters to create more specific search queries.
Once the choices are narrowed down, it then becomes a matter of reviewing the sellers' background, including feedback received from previous customers, before placing an order on eBay.
Conclusion
The ability to move from place to place unhindered is a liberty that is sometimes lost due to injury or aging issues. With mobility scooters, however, individuals are able to retain their manoeuvrability into the foreseeable future. Since needs vary from person to person, there are an array of mobility scooter choices available on the market. Understanding what those choices provide, including weight limits and mobility options, is helpful in making the right mobility scooter purchase.
With the right knowledge, consumers are able to purchase the machines that meet their needs. This includes an awareness of the prices of mobility scooters and the right channels through which one can access affordable options. Online marketplaces such as eBay allow consumers to do all of their shopping from home, a necessity for those who have trouble with moving from store to store. Additionally, eBay provides a wide selection of mobility scooters, including those that are in used condition and therefore more affordable. The many useful functionalities that eBay offers make the process of finding an affordable mobility scooter less daunting.