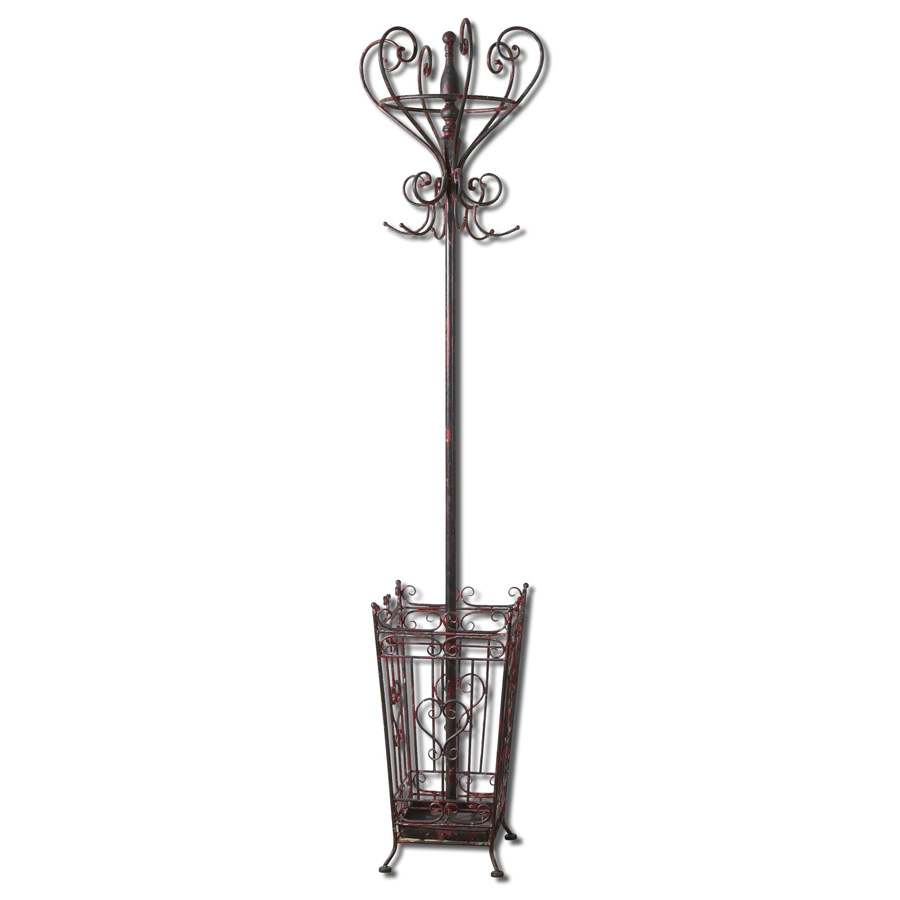 Antique coat stands are vintage and period furniture pieces used as beautiful decorative items. In addition to enhancing the visual appearance of a space, antique coat stands are also practical additions to a home or business. They are used to hang and store various items, such as coats, jackets, and other outerwear. As a result, antique coat stands help property owners keep entryways, hallways, and other spaces tidy and organised.
Coat Stands in General
Coat stands are free-standing or floor standing pieces used to organise personal belongings. Often used to hang coats and jackets, coat stands may also be used to place other articles of outerwear and household items. For example, they are used to hang hats, caps, wraps, and scarves. Certain coat stands are also designed with built-in storage, such as storage benches and shelving units. These added features are used to organise and store a range of items, including keys, shoes, gloves, and decorative pieces.
About Antique Coat Stands
From vintage to modern, antique coat stands can be authentic period pieces or reproduction stands. Antique coat stands are made from solid wood or metal and metal alloys. Iron, cast iron, nickel, brass, and bronze are common metals and metal alloys used for antique coat stands. Reproduction or modern antique coat stands can also feature steel and aluminium, while finishes are used to add an antique or weathered texture to the metal surface. Wooden antique coat stands are also built from a range of wood species, including pine and oak. Authentic antique coat stands are generally pre-used and are sometimes sought after as rare or collectable pieces. When purchasing a used antique coat stand, ensure the structure of the stand is in good condition. Hooks and legs should not be cracked or damaged. Damaged hooks can bend or snap under the weight of items hung from them. Similarly, cracked or bent legs could cause the stand to buckle under the weight of articles placed on the stand. The finish of the stand should also be in fairly good condition. Buyers should check for scratches, stains, and other damage that may have been caused from water. Antique coat stands may need to be refinished to restore the sheen and texture of the metal or wooden surface, including sanding and varnishing for wooden stands and using a polish for metal stands.
Choosing an Antique Coat Stand
The choice of antique coat stand depends on a range of factors. The first consideration is the utility of the coat stand. A coat stand should meet the storage needs of the property or space where it will be located. Storage needs will influence the size of the stand, as well as whether a stand with built-in storage is selected. Other considerations include the design, material, and price of the antique coat stand.
Antique Coat Stand Designs
Antique coat stands typically feature scrolls and curving elements. Hooks and legs are often curved and decorative. Antique coat stands are available in a range of styles, each suited for varying degrees of storage. The table below compares some of the common types of antique coat racks.
| | |
| --- | --- |
| Coat Stand | Coat stands are used to hang and organise items such as jackets, coats, scarves, hats, wraps, and other outwear. Antique coat stands generally feature prongs or hooks at the top of the stand and legs at the base. |
| Umbrella Coat Stand | Antique coat stands are available with umbrella stands. These cases at the base of the coat stands are used for storing umbrellas and other items, such as walking sticks. |
| Hall Tree or Hall Stand | Antique hall stands or hall trees feature additional storage. They are designed in a variety of styles and may include shelving, a storage bench, and cabinets. They may also have decorative elements, such as a mirror or stained glass. A top crown may also be used for plants, photographs, collectables, and other decoration. |
Hook Types
A variety of hook styles are found on antique coat stands. Each is designed to organise varying numbers of clothing and other articles.
| | |
| --- | --- |
| Single | With one prong, these hooks hold one article of clothing or other household item. |
| Double | Double hooks have two prongs. They are arranged vertically or horizontally. When positioned horizontally, the top prong is typically longer for larger items. Shorter prongs are used for light or small articles. |
| Triple | These hooks feature three prongs. Prongs are generally positioned triangularly. One longer prong is typically accompanied by two shorter prongs. |
| Swivel | Unlike other hooks, Victorian-style antique coat hooks are not fixed. They have swivel mechanisms, or swing-arm hooks that have the ability to be moved from side-to-side. They often feature two or more hooks. |
Hooks also feature a range of styles. The table below compares the various types of hook tips found on antique coat hooks.
| | |
| --- | --- |
| Curved | Many antique coat stands feature curved-tipped hooks. These hooks have a pronounced curvature towards the end of the prong. Antique hooks typically have elaborate curving with decorative scrolls. |
| Ball Tip | These hooks are designed with a decorative shape at the end of the prong. While typically a ball or sphere, other shapes can be found at the tip of the hook. The shape may be an addition to the hook or be molded or shaped from the body of the hook. |
Antique Coat Stand Materials
Antique coat stands and accompanying hooks are generally made of wood or metal. Coat stands can also feature a mix of materials, such as a wooden stand and metal hooks. Wood antique coat stands evoke a rustic or country feel. Wood is typically treated with stains and seals to enhance the colour and texture of the surface. Wooden coat stands may also feature metal elements, such as metal hooks. Metal antique coat stands are made of a variety of metals and metal alloys. While coat stands may feature antique styles or designs, they are also built from more contemporary materials such as steel. Other common metals and metal alloys used for antique coat stands include nickel, brass, bronze, iron, and cast iron.
Antique Coat Stand Finishes
Whether an antique coat stand is made of wood or metal, they are often treated with chemicals and other products and processes that provide texture and sheen. Paint is also used to add colour to antique coat stands. Green and red are common colours used for heritage and rustic antique coat stands. White and black are also popular choices, with white being used to create an ivory and vintage appearance.
Wood Finishes
Varnish, wax, and oil are all used to enhance the colour and surface of wood. These produce results in varying degrees of sheen, from matte to glossy finishes. All products help seal and protect the wood from wear and tear, including scratches and stains. While varnish also protects wood from heat and water damage, wood treated with a wax finish does not afford the same protection. Used wooden stands may need to be sanded and re-finished if the surface is discoloured, scratched, or worn.
Metal Finishes
Most antique coat stands feature a brushed surface. This finish is smooth with a textured surface, evoking a weathered or antique look. Brushed finishes may also be referred to as matte, satin, or antique finishes. Common brushed finishes for antique coat stands include brass, bronze, iron, and nickel. Certain antique coat stands may also have a polished finish. This finish is used to create an elegant and more refined appearance when compared with brushed metal coat stands. Polished metal offers a shiny surface and is common in brass and bronze antique coat stands. Brass and bronze antique coat stands may also be treated with oil. Oil-rubbed metal delivers a dark, sophisticated appearance.
Conclusion
Antique coat stands are decorative and practical. Whether purchasing an authentic or reproduction antique coat stand, these items can help enhance and complement a space. An antique coat stand can help achieve a heritage or vintage feel when designing a space or property with period elements that evoke a bygone era. When purchasing an antique coat stand, buyers should consider the condition of the piece if buying a used coat stand. Researching available antique coat stands also helps buyers determine affordable options, as well as select stands that meet individual storage needs.