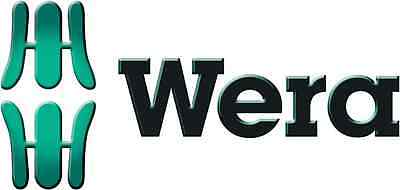 This Teutonic tool titan has been manufacturing innovative products for over 70 years from their base in Wuppertal, Germany. Specialising in the production of screwdrivers along with the various bits and accompaniments, they have developed a reputation for continually pushing the boundaries of quality and effectiveness. As recently as 2007 Wera Tools Inc. produced the first ever
stainless steel screwdriver parts
, revolutionising the way in which components of the same material could be fitted.
Pioneering Tool Manufacturer
Formed in 1936 Wera Tools, or to give them their full title Wera Werk Hermann Werner GmbH & Co. KG, have established themselves as one of the leading names in the manufacture of quality tools. Their range of bits and drivers are found on professional sites throughout the world. Known for their exceptional standards and durability, it is a product range that features an abundance of items covering the full cross-section of screwdrivers and related accessories.
Exceptional Wera Screwdrivers
Their leading
BiTorsion
technology has enforced the brands reputation for excellence with tradesmen across the globe. Featuring a range of finishes, including gold and diamond coatings, the Wera
BiTorsion head
is one of the strongest and longest-lasting examples currently available. The superb, ergonomically designed
Rapidator bit holder
backs up these fantastic bits. This easy-to-grip holder provides the perfect accompaniment to a BiTorsion bit, giving the user ample power to get the job done quickly and effectively. Users can replace screwdriver heads as and when required with minimal fuss too. There are none of the associated diffifculties that blight cheaper models; instead it offers a straightforward and smooth transition that can be done with just one hand.
The Wera Kraftform range provides an alternative to the BiTorsion products, offering a wide variety of
screwdriver sets
- both in standard materials and
stainless versions
- chiseldrivers and high torque hex keys. This only serves to further enhance the already impressive collection of highly specialist tools that they offer.
Quality Tools Built for Strength & Durability
Probably the biggest innovation within the Wera range, at least in recent years, is the inclusion of the aforementioned
stainless steel
components. Not usually renowned for being particularly strong, the idea of manufacturing a stainless steel screwdriver bit might seem a little risqué. However, when using screws and other components made of this material it can often be marked and ruined by the driver head; so it is in this capacity that it has always been considered an important step to produce a stainless steel variant. Finally Wera made the breakthrough with these brilliant BiTorsion products, which successfully combine a lightweight contemporary material with great strength and an impressive lifespan.
Wera Werk is one of the world's leading manufacturers of tools for driving all types of screws, fasteners and fixings. For over 70 years, Wera has concentrated on the development and production of screwdriving tools and today their range includes over 3,000 items of the best tools for the job, for both manual and machine use.
Wera Tool Quality
Wera's production centre in Wuppertal, Germany is based around state-of-the-art engineering processes using steel that is hardened and finished in-house, which ensures comprehensive quality control with all their tools. Not satisfied with meeting the minimum requirements of national and international standards, Wera have set their standards even higher to ensure absolute quality. As a result of this continuous endeavour to improve, customer satisfaction runs at virtually 100%. The excellent properties of Wera tools greatly increase productivity due to improved ergonomics and offer an increase in user safety while in operation.
The Perfect Screwdriver Handle
The Kraftform® screwdriver is the perfect example of Wera's high standards and innovation. For the first time in the production of screwdrivers, ergonomic aspects were taken into consideration in the development of a tool. Based on the shape of the hand, the Kraftform® handle has been designed to fit snugly in the hand, eliminating blisters and calluses, even with intensive use. The handle's hard zones are virtually friction free, allowing the hand to be easily repositioned while the softer anti-slip zones ensure a good grip when full force and torque needs to be applied. Wera has won several awards for this handle that has revolutionised screwdrivers, and the Kraftform® handle has become a favourite of many users worldwide.
Non-Slip Blades
Another Wera innovation is the Lasertip® blade, which can be found in their Kraftform® Stainless Steel screwdriver range as well as on the
Kraftform® Plus VDE
and Engineers Series. The Wera Lasertip® grips the screw head so effectively that slipping out - sometimes known as cam-out - is prevented, thereby reducing risk of personal injury and damage to the fastener. This is achieved by focusing a laser on the tip, which creates a sharp edged surface on the screwdriver blade, which is extremely hard and resistant to wear. The benefit for the operator is a better fit between screwdriver and screw head with less pressure needing to be applied, higher torque transfer and longer service life of the tool.
Screwdrivers for all Trades
Wera offer a vast range of screwdrivers for manual use, including the latest addition to their assortment, the Kraftform® Stainless Steel. Manufactured with a blade made from 100% stainless steel, this screwdriver prevents extraneous rust forming on stainless steel screws. The Kraftform Plus Series 300 is the ideal choice for manual work carried out by engineers and technicians and is available in
slotted, Phillips, Pozidriv*, TORX®, TORX PLUS®, hexagon socket, hexagon headed, square socket, SIT, TRI-WING® and TORQ-SET® profiles
. For those requiring insulated screwdrivers with protection up to 1,000 volts, Wera have their
Kraftform® 100 VDE
Series suitable for live line working. The Stainless Series, Series 300 and Series 100 VDE all have the benefit of Kraftform® handles and Lasertip® blades and are available in a variety of lengths from stubby screwdrivers up to 250mm blades.
Pound-Thru Screwdrivers
The Wera Kraftform Plus Series 900 Chiseldriver is the solution for jobs that require fastening, chiselling or loosening of seized screws or hose clamps - ideal for mechanics, builders and maintenance workers. This screwdriver features an integrated impact cap and a pound through hexagon blade made from high-grade material. With the impact cap in contact with the blade, the tool is vibration free and a transfer of high force can be achieved when struck with a hammer. The tough viscous tempered material prevents the blade and impact cap from splintering or breaking.
Packed with Features
Wera screwdrivers are packed with additional features to increase productivity and ease of use. All Wera screwdriver series are colour coded for easy recognition, as well as having the screw symbol and size of tip marked on the end of the handle. The integral hex shoulder stops the tool from rolling away on uneven work surfaces, and some screwdrivers even have an integrated hexagon bolster that allows an open jaw or ring spanner to be attached so that more torque can be applied.
Wera Socket & Ratchet Sets
Renowned for their top of the line screwdriving solutions for manual and machine use, Wera Tools have now introduced the revolutionary
Zyklop range
of ratchets and sockets available in 1/4", 3/8" and 1/2" drives. Although a new addition to the Wera tool assortment, devotees will recognise certain familiar features including the patented Kraftform® handle fitted to all Zyklop ratchets.
Incredibly Fast
At the heart of
Wera's Zyklop system
is the 6-in-1 ratchet, which combines five ratchet types in one, plus the facility to use as a screwdriver. This reversible ratchet has 72 fine-pitched teeth and a small return angle of only 5° resulting in a short stroke which helps you work quicker and more precisely in confined spaces. The Zyklops is one of the fastest ratchets on the market due to the 72 fine-pitched teeth and the unique spin sleeve on the ratchet arm, which can be used to speed tighten nuts and bolts when the ratchet head is locked in the 0° position.
Incredibly Flexible
All Wera Zyklop ratchets feature a thumbwheel that can easily be switched between clockwise and anti-clockwise, regardless of the position of the ratchet head, and eliminates accidental reversing. Defined locking points are set at 0°, 15° and 90°, left and right, with a slide switch on both sides allowing you to operate in any position. The 15° positions are particularly helpful at increasing hand clearance and preventing knuckle damage. A ball lock holds sockets and attachments securely in place with a quick release button located on the Zyklop ratchet head and an additional quick release function on the slide switch, which can be used to release at the 0° position.
Ergonomic Handle and Head
The Wera Tools Zyklop ratchet is ergonomically designed and features the Kraftform® handle, which fits the shape of your hand perfectly, eliminating blisters and calluses. The Kraftform® hard zones allow easier hand repositioning, and the soft zones ensure a firm grip when extra torque needs to be applied. Additionally, the ratchet head has an ergonomic design with finger recesses that fit your hand and fingers for faster tightening.
Ratchet Accessories
The comprehensive range of chrome vanadium accessories available in 1/4", 3/8" and 1/2" drives further extend the Zyklop ratchet's versatility. Long and short extensions come in standard and "flexible lock" versions and all feature the Wera freewheel sleeve for ultra fast tightening. The universal joint and wobble extensions allow easier positioning and less slipping when working at awkward angles, providing a safer working environment. When the Wera Zyklop ratchet is locked in the 0° position, the quick release chuck adaptor can be fitted for screwdriving, accepting 1/4" or 5/16" insert bits.
Socket & Ratchet Sets
Wera Tools offer the
Zyklop ratchet and socket sets
in 1/4", 3/8" and 1/2" drives and with the choice of imperial or metric socket selections. Socket sets are supplied in strong metal cases with smooth rounded edges and power-coated surfaces. The cases have rubber feet for surface protection and inside the tools are set into a removable dual colour foam insert that helps sort tools quickly and reliably. Zyklop ratchet and socket sets are available in basic and top line formats. Both have the same ratchet and sockets, but the top line version has the "flexible-lock" extensions instead of non-locking, the quick release chuck adaptor and a selection of screwdriver bits.