Brief History Of The One Pound Coin
The history of the British one pound coin really starts with the gold sovereign, first issued in 1489 for Henry VII, which were the first one pound coins, and were last struck for circulation in 1932, however we relate that part of the story elsewhere on our site.
The story of the modern pound coin starts in 1983.
The new one pound coin in base metal, nickel-brass was introduced in 1983, as a replacement for the £1 banknote. Banknotes, being made of paper suffer from wear and tear more readily than metal coins. By 1983, the life expectancy of the £1 note was about 6 months, and that of a coin is about 100 years. The £1 note had become too popular, and was too expensive to produce and replace. Notes are more suitable for higher value denominations where they are handled less, and therefore last longer. The last £1 note was issued in 1984, and ceased to be legal tender on 11th March 1988.
A £1 coin denomination is not, of course, new. The gold sovereign has been struck from 1489 until 1932, although it started to be replaced during the first world war. It has again been issued intermittently from 1957, although as a bullion and collectors piece rather than for circulation.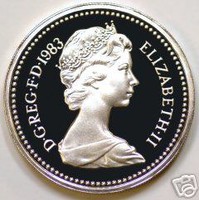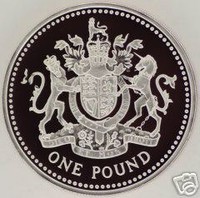 Silver Proof Version of 1983 the First Pound Coin
Gaining Popularity
The £1 coin was not very popular when it first appeared, but this is often the case. It promises to be quite an interesting series, in its first 16 years it has had 13 different designs, only repeating a previous design in the three years 1990, 1991, and 1992. In my personal opinion, the ordinary nickel brass version is not particularly attractive, but the silver proof versions transform it into an attractive and beautiful collectors piece.
Prediction
It's our guess that the pound coin may be reduced in thickness in the next few years, and its weight reduced, in line with the two pound coin, which appears to be gaining in popularity.
1998, 1999, and 2000 Not Issued for Circulation
We have been informed by the Royal Mint that no pound coins were issued for circulation dated 1998 or 1999, although it is always likely that a few taken from collector's sets will reach circulation.
In 1998, the only versions available were silver proofs, proofs from the proof sets, and uncirculated coins from the mint sets.
In 1999, there were also specimen versions issued in folders, in addition to the types issued in 1998.
In 2000, all four sources are possible, plus silver piedfort proofs. The Royal Mint tell us, 9th October, 2000, it is likely that year 2000 pound coins will still be issued.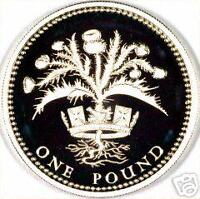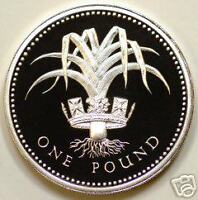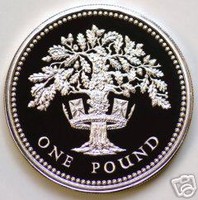 Silver Proof Versions of 1984, 1985, 1986, and 1987 Pound Coins Featuring Scottish, Welsh, and Northern Irish Designs
Silver Proofs, Piedforts, & Gold Proof & Patterns

Silver proof versions have been available for collectors each year since 1983, as have silver proof piedfort (heavy weight) versions.
A gold proof version was issued with the 13 coin 2002 gold proof Golden Jubilee collection, and individual gold proofs have also been issued starting in 2004.
In 2003, a proof pattern set was issued, previewing the forthcoming "Bridges" series, all date 2003. These are non-legal tender, and say "PATTERN" instead of "ONE POUND". Another gold proof pattern set was also released in 2004, with the "rejected" heraldic beasts design. Silver pattern sets were also issued of both of these pattern sets.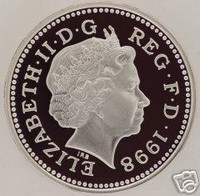 Reverse of 1988 Silver Proof Royal Arms Shield Design, and Fourth Portrait Obverse Introduced in 1998
Summary of Pound Coin Designs
Because the design of the pound coin seems to change every year, it makes it slightly confusing to attempt to remember which design was made in which year.
To help simplify this, we have prepared a table of designs:-
The table may not display as well as it does on our website, as eBay do not allow us to use any html table formatting tags.
Date Obverse Reverse Description
1983 Decimal Royal Arms Coat of Arms
1984 Decimal Scottish Thistle & Crown
1985 Third Welsh Leek & Crown
1986 Third Northern Ireland Flax & Crown
1987 Third English Oak & Crown
1988 Third Royal Shield Shield
1989 Third Scottish Thistle & Crown
1990 Third Welsh Leek & Crown
1991 Third Northern Ireland Flax & Crown
1992 Third English Oak & Crown
1993 Third Royal Arms Coat of Arms
1994 Third Scottish Lion Rampant
1995 Third Welsh Dragon
1996 Third Northern Ireland Celtic Cross
1997 Third English Three Lions
1998 Fourth Royal Arms Coat of Arms
1999 Fourth Scottish Rampant Lion
2000 Fourth Welsh Dragon
2001 Fourth Northern Ireland Celtic Cross
2002 Fourth English Three Lions
2003 Fourth Royal Arms Coat of Arms
2004 Fourth Scottish Forth Railway Bridge
2005 Fourth Welsh Menai Straits Bridge
2006 Fourth Northern Ireland Egyptian Arch
2007 Fourth English Millennium Bridge
2008 Fourth Royal Arms TBA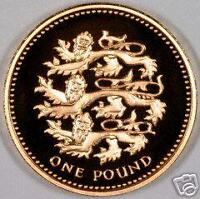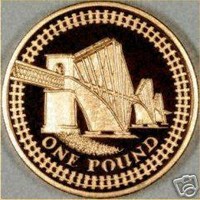 Reverse of 2002 Gold Pound from the 13 Coin Golden Jubilee Set, and 2004 Forth Railway Bridge Gold Proof Pound
Author & Copyright Notice
Any images shown are our own copyright images. Our text and description is also copyright, Lawrence Chard of Chard Coins.
Useful?
If you found this guide interesting or useful, please spare two seconds to vote "Yes" by clicking the button below. If it disappointed you, please think about contacting us to let us know what else we could have included to make it more helpful.
Other Guides
You may be interested in viewing our other guides:-
Gold Sovereigns - History Information & Specifications
Mints & Mintmarks on Gold Sovereigns - All Seven Mints

How to Photograph Coins - Advice, hints, tips & more...
1780 Maria Theresa Silver Thaler Restrike Trade Coin

Krugerrand - One Ounce Investment Gold Coin

Buffalo - 9999 Fine Gold US Bullion Coin - 24 Karat Au

Pink Diamonds - One of Nature's Rarest Gemstones
Sniping - Is It Good Strategy or Tactics for Winning eBay Auctions?
£2 Two Pound Coins Queen with Necklace Rumour & Facts

Winning Auctions - Or Spending Money?
CGT Capital Gains Tax Exemption on Gold Sovereigns Britannias UK Coins

Definition of Investment - VAT Exempt (Tax Free) in UK & EU

Second Chance Offers on eBay - Should You Use Them?

BNTA - The British Numismatic Trade Association
Famous People (Celebrities) Who Collected Coins

Gold Coins Which Are Not Gold - Including German & € Euros
Postage Packing Shipping Insurance Charges - Fair or Excessive?
The Difference Between Proof and Uncirculated Coins
London Gold Fixing Price
Gold Bullion Bars For Investment