This guide deals only with the 'Burberrys' brand which has the dark blue label and knight on horseback with 'Prorsum' banner, and is specific to the camel coloured coats as these are the standard ones. Other colours are available, but they would not have been worn by officers. The current 'Burberry' brand, with the lighter blue label, is not the same although much of this guide will apply to that version too. A good account of the history of the company and the Trench Coat can be read on Wikipedia.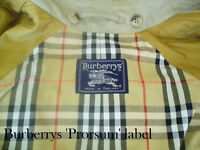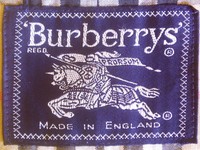 There is a detachable wool liner for the Trench Coat. Sometimes they come with the coat but they can be found separately occasionally. When buying one separately from the coat remember that thay can be either buttoned to the inside of the coat or zipped in. If buttoned, and the buttons are not present in your coat, you can source suitable ones from a good haberdasher's supplier and you will need 19mm diameter. Burberry will supply buttons for this purpose, but they only have the modern black ones which are wrong for the early coats. If zipped, you will need to ensure that the appropriate zips are present in your coat. You do not want to find out that there is a difference when your new purchase does not fit your coat!
The Burberrys Trench Coat is a beautiful and highly desirable garment to own and wear; a tribute to British craftsmanship at its best. Today, there are some very good used coats to be had at a fraction of the cost of a new one, not that the 'proper' one is available new any more. There are however certain things to watch out for before parting with your money to ensure that you get a good one. The main things to be wary of are originality, condition and size. As sizing, especially on ebay, is not a well-understood subject in the minds of many people let's start there because if you get that bit wrong there is not much future for the rest of it.
SIZE: Burberrys used, and still do use, a slightly unconventional method of sizing these coats and, unfortunately, many of these garments are being offered for sale by people who have little or no understanding of men's tailoring. They may have an excellent grasp of dressmaking, but there is a world of difference between the two. We often see tortuous attempts to guess the size which usually include what is commonly described as 'armpit to armpit', or 'pit to pit' which is a linear measurement across the coat between the armpit seams and is, for all practical purposes, fairly useless.
As a working example, my own coat measures 24.5 inches 'pit to pit' which, according to many sellers, makes it a 49 inch chest. Unfortunately this is not true. My true chest measurement in terms of men's tailoring is 40 inches and my coat size, according to Burberrys, is 50 and it fits me very well. It will not fit a 49 inch chest by any stretch of the imagination at all, make no mistake, and yet we see similar offerings daily on eBay.
At the time if writing this guide there are 2 identically sized coats on eBay labelled SIZE 50. One seller quotes the 'pit to pit' measurement as 23 inches (which is 1.5 inches less than my measurement of the same thing) and says that this will fit size 46. The other seller just describes it as XL (which it isn't) and says 42-44 fit. Clearly there are certain problems with this 'pit to pit' method:
You have to rely entirely on the level of accuracy of the person measuring, and the accuracy of the tape used. Commonly you will see this 'pit to pit' measurement simply doubled and then quoted as the chest size. This is a completely wrong and makes no allowance for the shape of a human being or how the coat should properly fit. That aside, none of this is even necessary because Burberrys were kind enough to mark their coats with the size anyway, but it does need to be interpreted correctly. This information is found on a small white label sewn on the inside of the left-hand pocket. If this label is not there, be suspicious as the coat may be a fake! This is the sort of thing which is not obvious to the untrained eye and will likely be missed in places where fakes are made.
The size is marked in the space marked 'NAME' and will be a number eg. 50, 52, 54 etc. and REG, S, L which denotes regular, short, and long lengths. In English sizes the numbers equate, not to an exact measurement of the chest, but the correct FIT allowing for jacket, pullover and shirts underneath the coat PLUS a small degree of 'slack' for comfort.
Here is a conversion from the size as shown on the label to English:
Burberrys size: 44 46 48 50 52 54 56 58
English size: 34 36 38 40 42 44 46 48
YOU CAN SAFELY ALLOW PLUS OR MINUS 2 INCHES ON THE ENGLISH SIZE
The correct way to measure your own size is to place a tape measure around yourself under the armpits and add an extra bit which can be gauged by placing a couple of fingers under the tape. Don't make any of these measurements tight and do them without a jacket, and remember that you will not, in all probability, stop breathing when you don your Burberry so take that into account and breath in when measuring. Many moons ago, I worked in high-class menswear and it never ceased to amaze me how many people ceased to be human beings when trying garments, but tried instead to become more like the stiff, immobile and lifeless tailor's dummies they saw in the window! Just remember that the size you arrive at is the FIT and not a tight measurement around your chest. As a guide, I am a 50 in Burberry's sizing which is a 40 in English size and I can comfortably wear mine over a suit, pullover, or just a shirt.
These coats remember are extremely high quality and the cut is generous so you can easily allow a couple inches on top of these measurements if you are not sure which size to go for. Better to have one which is slightly full than one which you can't even get on which, I suspect, has been the fate of many relying on 'pit to pit' based measurements.
GENUINE OR FAKE?: As with many quality things theses coats are targeted by fakers, but these fakes are quite easy to spot especially after you have seen and handled the real thing. The key thing about fakes is that they are cheaply made by people who don't know, or don't care, what sort of quality goes into the real thing so they will not have the hallmarks of the REAL thing, which are:
1 Heavy gabardine cloth. Very hard wearing and it is common to see Burberrys coats which are 20 to 30 years old and still showing little signs of wear. There are usually two types of gabardine seen, the better one being 51% Cotton and 49% Polyester. A slightly less expensive version was made using 67% Polyester and 33% Cotton. Very occasionally you may see one which is 100% Cotton and these should fetch a higher price, assuming good condition. This information is on the large label inside the coat (see photo). Make certain you know which one you are bidding on because the difference must be reflected in the price.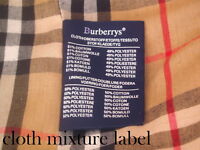 2 High quality thread and stitching. If you look closely at the way genuine Burberrys are put together you will see that there is a lot of strong, complicated, and accurate stitching, much of it done before the linings are sewn in. The belt-loops, for example, are sewn on with a very neat square arrangement of stitches which go through all layers of the coat except the inner lining (see photo):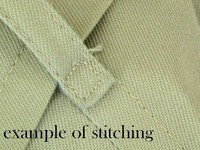 3 The trademark Nova Check pattern seen on the lining is made up of beige, white, black and red. If you see other colours you are seeing a fake, at least for the traditional camel coloured ones, other colours are found with different coloured tartans.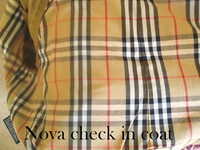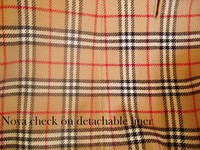 In genuine Burberrys the checks are well lined-up, so if you see random patterns you are probably seeing a fake. Just look at how well the pattern is matched at the seam on the wool liner for example; a bit difficult to see in the photo but the seam runs vertically through the centre of the photo.
4 White size labels. These carry size and order number of the garment and are a sign of authenticity. If they are not present, be suspicious. Many sellers are unaware of the ones in the coat itself, which is found inside the left-hand pocket so do ask. You'd be surprised how many actually ARE there, but the seller didn't know where to look. The size label on the detachable wool liner is even harder to find and is cleverly hidden under the Burberrys label. The bottom edge is not stitched to the garment and if you lift it slightly you will see the little white label hiding there (see photos):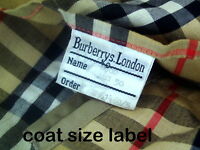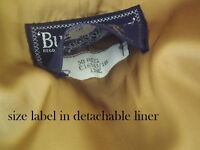 Basically, these coats shout quality; the genuine ones that is!
CONDITION: There is no reason to buy anything other than one in good condition with minimal or no obvious wear or damage. It is advisable to avoid ones with stains and if the seller is not prepared to clean the garment before selling, this is not good. Many marks clean out successfully but there some that resist all attempts at removal, especially if somebody has already 'had a go'. Water can be the 'kiss of death' as far as stains are concerned so be careful. Any reputable seller would mitigate against these risks in the first place by dry-cleaning the garment.
In closing, Burberrys Trench Coats will last a lifetime, and more, if looked after and this one of the reasons they have become something of an icon today coupled with the fact that so many well known people are associated with them. Humphrey Bogart is, perhaps, one of the most famous. Edgar Wallace's fictional detective J.G.Reeder is pictured wearing one on some published editions. For the traditionalists, when wearing the trench coat buttoned and belted, the belt should not be buckled, but tied in a loose knot. This sort of detail is almost lost today, but very much synonymous with the image of the English gentleman, or American detective such as Humphrey Bogart's film portrayal of Sam Spade and Philip Marlowe. It is also practically standard issue for most of the Intelligence Agencies.