Gazebos have become a popular addition to our gardens for good reason: they shelter us from rain, shade us from the sun and hide us from our neighbours. If you are thinking of making the best use of your garden year-round, follow our guide to finding the right gazebo to complement your home.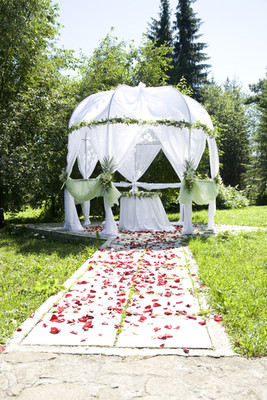 What to consider when buying
A gazebo makes for a perfect party venue but be sure to gauge the space you have first before taking the plunge. A gazebo can also be put to more practical use – to cover a child's play area, house a
hot tub
or just provide a quiet area for relaxation – so make sure it is tough enough to withstand the elements. Always think safety and consider fire-retardant materials.
Before you start
If your budget is limited consider buying a good-quality, smaller gazebo than a larger cheap one that may only hold up for one summer. A gazebo can be purchased from as little as £5 secondhand, up to several hundred pounds for a larger, new pavillion-style option.
What will you use it for?
From weddings to christening parties, or just to cover a kids'
sand pit
, know what you have in mind for your new gazebo. If you're planning a party and want everyone to stay dry, make sure it is waterproof and/or has sides that can be battened down.
Choose your style
Gazebos come in all shapes and sizes, from deluxe
marquee-style
structures the size of a small field, to small pop-up canvas shades. The idea is to enhance what you already have in your home and garden rather than to outdo your neighbours.
Pavillion
Grand marquee-type gazebos measure 3x6m or 3x9m, which is suitable for large gardens and where a lot of guests are expected. They usually come in white or green and have three sides or a partial front section, together with clear arched windows.

Intimate
For romantic dinners or a gathering of a few friends, a high-quality fabric
gazebo
with a strong metal frame is perfect. These are commonly round or hexagonal in shape and are large enough to include a table and chairs.

Pop-up
Pop-up
gazebos are perfect for summer parties, camping, car boot sales or just to keep up through the summer months for general use. These 3m x 3m gazebos usually come in a neat storage bag with carry handles and can be erected in less than 10 minutes.
Try to find a pop-up model that has a lightweight frame that is adjustable in height. The material should be flame-resistant and better-quality models have stitched joints to enable it to fit correctly. Some styles come with optional sides that can be zipped in.
Fixed options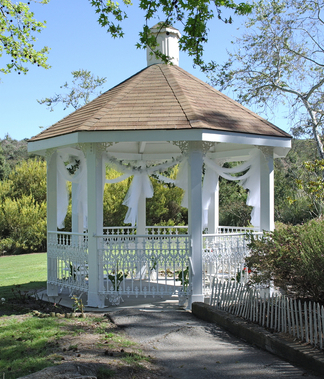 Semi-permanent structures
These gazebos are designed for all-year-round enjoyment. They have a fixed iron frame that is usually ornate in style and fixes securely into the ground. The top is usually made from treated canvas so is very durable
and can stay up all year.
This style is ideal for outside entertaining and looks great with a table and chair set underneath or laid-back patio furniture. These may have sides, which are often more like curtains, which can be drawn around to
enclose the gazebo.
Permanent structures
If you want a structure that will last year-in, year-out, it may be worth investing in a
permanent
gazebo. Often made of wood, permanent gazebo structures may even incorporate a tiled roof. They can be brought as kits or you can have a bespoke one made and fitted to your specifications.
Health and safety
If you're decorating your gazebo for an evening party, look for one that is flame-retardant for the safety of your guests. This is especially relevant if you are using an outdoor heater or are lighting candles or lanterns anywhere near it.
Ensure all ties, cords, and so on are tidied away to avoid any danger to children. Guy ropes should be made obvious to guests to stop any tripping incidents.
Decorating your gazebo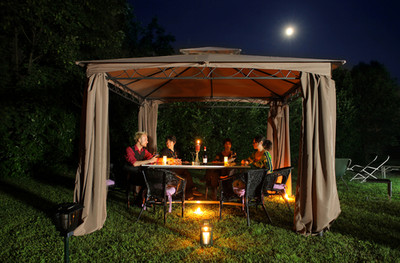 A gazebo can be transformed into an amazing focal point for any party just with a bit of decoration.
Bunting
gives a country chic look, perfect for an afternoon tea party or celebration such as a summer christening.
If you are having an evening party and fancy an exotic Eastern feel, tea lights in coloured glass lanterns are extremely effective. Then add some
floor cushions
, a rug and some sumptuous throws and you will have created a fabulous chill out area for your guests in the style of a Bedouin tent. For a quick dash of sparkle, simply drape some fairy lights around. You can purchase solar powered ones for outdoor use that can be left up all year if required.
No matter what you want a gazebo for, the most important thing is that you use it often and enjoy it. So make sure you do plenty of research first before selecting the gazebo that will make your parties the envy of all your friends no matter what the weather.