Here we will explain how to install window film. We'll include installer tips and make it as easy as possible for you. Before you start the installation, you will need:
Spray bottle filled with 1 teaspoon of washing up liquid per 1 pint of cold water.

Retractable knife

Squeegee

Measuring tape

Non-abrasive scrubbie pad

Glass scraper if you have dried paint on the window

Lint free cloth (blue roll)
1. Measure and cut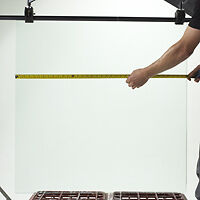 Get a tape measure and measure the window. Take note of the dimensions and cut the film slightly oversized.
---
2. Clean the window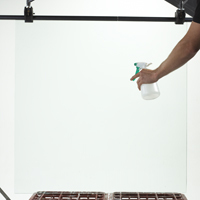 Spray the soapy water onto the glass and clean using a scrubbie pad, taking special attention to the edges. You may also need to use a glass scraper if you have bits of dried paint on the window.
Spray the window again and squeegee all the water from the window.
Using lint free cloth (blue roll), dry around the edges of the window so that dirty water doesn't drip behind the film when installed.
---
3. Preparing the film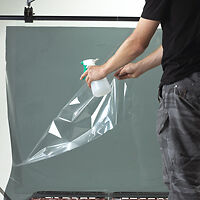 Spray the window again so there is a fine mist covering the glass.
Remove the backing liner from the film and spray the sticky side as you peel. This stops the film from sticking to itself.
PRO TIP:
To remove the backing liner, use your teeth to seperate the 2
sheets of film, or put some tape on either corner. Professionals will almost
always use their teeth. It's the most easiest way.
---
4. Applying the film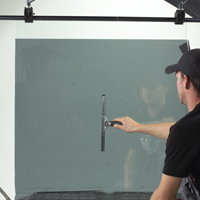 At this point, place the film onto the window, being careful not to crease. Using the squeegee, start to remove some of the water from behind the film. Start from the centre, moving outwards.
Don't worry if all the water isn't removed. This stage is to keep the film in place for cutting.
---
5.Trimming the film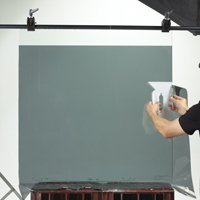 Now that the film is in place, you can start to cut around the edges of the film. Follow the edges of the glass as not all windows are perfectly straight.
You can use a straight edge or the squeegee to help you cut around the window.
---
6. Squeegee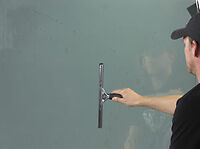 To remove all the water from behind the window, spray over the film with the soapy water once more and using the squeegee, remove all the water as you did earlier. Overlap each stroke and work slowly, applying as much pressure as possible without damaging the glass.

Dry around the edges of the film with the lint free cloth and you're done!

If some bubbles still remain, try going over with the squeegee again.
---