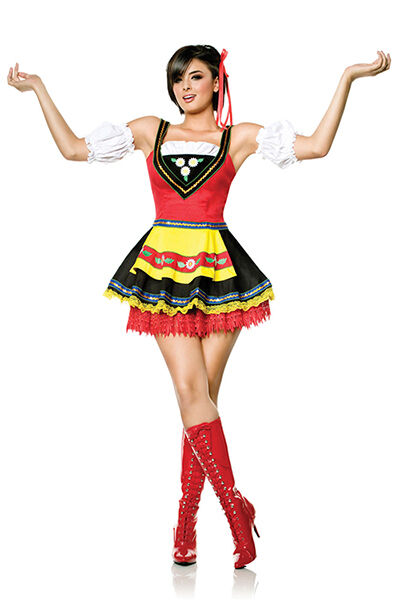 Oktoberfest is a treasured time in Munich, Germany, and one that is re-celebrated throughout the world. Traditional clothing for men, women, and children is inspired by Bavarian folk costume and attire. While many of these costumes include a great amount of embroidery and detail and can cost hundreds of pounds, some you can create fairly simple within your home. Depending on your size, shape, and overall desired outfit, you can create anything with a few staples and imagination. Buying Oktoberfest costumes on eBay or at a local theme shop is an option, but making your own costume is much more thrilling.
Costumes for Men
Man of the items needed for male Oktoberfest costumes are available in your home. Comprised of leather hiking boots, tall white socks, calf-length pants, suspenders, and a plaid shirt, the outfit is simple. Lederhosen are perhaps the most difficult since they can be knee-length or dip between the calf and knee. They are usually made of leather but do-it-yourselfers may find a thick dark khaki or denim can do the trick. More elaborate outfits include a neck scarf and a cap.
Costumes for Women
As with most clothing, women have more options for their Oktoberfest attire. Again there are a few wardrobe staples such as a skirt, bodice, stockings, shoes, dirndl blouses, dirndls, and Bavarian shoes and jackets. The blouse is usually no more than something to cover a brassiere, so simply cutting an old white button-down blouse and hemming the bottom can do the trick. Creating a dirndl at home is a bit more complex, but it essentially looks like a fitted apron with a backside. Some are short and flirty while others are almost floor-length and are made of cotton or wool. To complete the outfit, a pair of white knitted stockings that rise up to the knee, followed by a pair of black flats or Mary Janes complete the look. To accessorise the ensemble, a feathered wool or felt cap can do the trick.
Costumes for Children
Dressing children in any folk attire can be endearing. However, Oktoberfest costumes are arguably the most endearing, since children look like little men and women once fully clothed.
Oktoberfest Costumes for Girls
Much like the Oktoberfest costumes for women, components for girls are similar. Rather than a brassiere-covering dirndl blouse, a short-sleeved t-shirt can suffice. Further, the length of the skirt should be less flirty and a little more proper. A dirndl should not be form-fitting. Also braiding girls' hair with ribbon through it, is a clever way to complete the outfit as opposed to a feathered cap.
Oktoberfest Costumes for Boys
Boys are known for moving, running, and being rugged overall. Thus, their Oktoberfest costume should keep up. Instead of the lederhose, you can use an old pair of overalls and paint them a deep brown to look the colour. Alternatively an old pair of cotton shorts with a matching-colour suspender can do the trick. You want to be sure that movements do not detach the suspender or enable the slacks to fall during play. A checkered shirt and feathered cap complete a young man's outfit.
Oktoberfest Costumes for Pets
Pet owners around the world dress their furry friends for almost any occasion, or simply for family photos. An Oktoberfest costume for a pet is a bit more creative. These are usually best purchased pre-made based on your animals weight and size. However, creating one for a doll of equal size, with the feet or point-of-entry taken into consideration, you may be able to create one without much difficulty.
A female dog, for example, simply needs a white base that seeps out of the top and bottom as though the skirt flows and it has a bosom. Next, a layer of green or black can act as the dirndl and should not quite meet the edges of the white base. Again, the bottom portion should flow as though it is a skirt. Lastly, red or yellow ribbons sewn in an 'x' pattern act as the bodice and complete the ensemble.
How to Buy Items to Create Your Own Oktoberfest Outfit
While do-it-yourself costumes are most economical when you have everything you need at home, there are a few items some consumers simply do not have at hand. For example, a feathered cap, leather pants, or a dirndl. To complete the outfit without buying a pre-made one, head to eBay and input your search terms. Once you input your search requirements, be sure to filter according to size, price, and condition of the items if you value these parameters. Some sellers may even have ideas for your costume that can take it to the next level. Or, they may have multiple items you might be looking for. Whatever you decide to buy, be sure it helps you complete the ensemble for the ultimate DIY Oktoberfest costume.