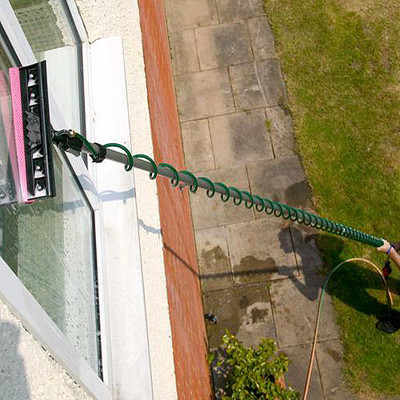 Add a caption
Clean window, conservatories, solar panels and gutters
The best domestic water fed window cleaning pole, also can clean gutters and conservatories
Comes complete with brush, squeegee, gutter cleaner, soap dispenser and water fed tube, connect straight to your garden hose: see ebay item 111531371612.
A complete 5m Telescopic Water Fed Window, Conservatory and Gutter Cleaning Set, ideal for cleaning your windows, conservatory including UPVC, flushing out your gutters, caravans, heavy goods vehicles etc....
The cleaning Set includes the following:
Giant Telescopic Pole
Accepts all Swop Top accessories. Extends from 1.8m to 5m. Use with appropriate attachments to clear gutters, clean upstairs windows and conservatories and prune high branches. Weighs only 1kg.
Soap Dispenser
Used in conjunction with the DP577 Spiralflow Hosepipe, this dispenser allows for the use of liquid or powder detergent to clean windows, conservatories, soffit boards and gutters.
Flexible Gutter Cleaner
Use with pole and spiral flow hose to flush out gutters. Flexibility means you can angle it as required.
Soft Brush
For conservatory, greenhouse, soffit boards and high vehicle cleaning. Use with spiral flow hose and soap dispenser to achieve maximum cleaning results.
Glass Squeegee
Cleans and dries glass surfaces. Mesh cover helps to remove more stubborn marks. Can be used with spiral flow and soap dispenser.
Spiral-Flow Hosepipe
Spiral flow will take water to the top of any "Swop Top" telescopic pole and has an on/off valve at the base. It wraps around the outside of the pole for leak-free operation. Held in place with two velcro straps.