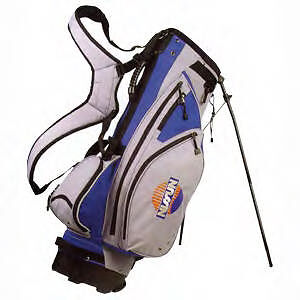 Playing golf is a relaxing pastime that can be enjoyed alone or in the company of others. However, as with all sports, injuries can occur and it is important to purchase suitable equipment before playing. Bags for carrying golf clubs are available with either single or double straps, and some time should be spent deciding which of these is more appropriate.
Using eBay to search for golf bags is a smart move, as the site has a great selection of new and used bags at unbeatable prices. The following guide shall examine double and single strap golf bags, and explain to buyers how to find the right bag for them on eBay.
Types of Golf Bag
There are a few different types of golf bag used today, and their size and weight will determine if they should employ single or double straps.
Carry Bag

The carry bag is the most common bag found on golf courses today. The carry bag utilises a simple and slim design, and the bags usually measure between 5 and 8.5 inches in diameter. Carry bags should hold a full set of fourteen clubs, and have plenty of space for balls. The majority of new bags come with a double strap , but older models will most likely have a single strap. Carry bags are one of the lightest and least expensive bags available to purchase.

Cart Bag

Cart bags are carried across the course on a golf buggy, and are around 9 inches in diameter. These bags are bigger and heavier than carry bags, and this is due to their rigid structure. The structure also makes the bag very strong and able to withstand day-to-day use. They can be quite expensive, but used bags will cost less. Cart bags do not come with a single strap option, as they should never be carried. Cart bags are ideal for elderly or injured people.

Tour Bag

Tour bags are the largest golf bag available, and are the type used by professionals during competitions. These bags measure in at 10 inches in diameter and can weigh up to 45 lbs. Tour bags are not ideal for people who golf regularly and wish to carry their own clubs. They come with both single and double strap's, but it advised to choose a double strap model because of the weight. Tour bags are also the most expensive bag to buy.

Pencil Bag

Pencil bags were manufactured with a nine-hole golf course in mind. These are similar to the carry bag, but are much lighter and are made from a thinner material. Their lightness makes them suitable for dry and warm days, but they will not offer much protection to the clubs in wet weather. As these bags are very light, a single strap model will not strain the back or shoulders. A 6-inch diameter bag can carry a full set of 14 clubs, and these bags are very low-priced.

Stand Bag

Again similar to the carry bag, but with the added feature of two legs that keep the bag upright when not in use. The bag leans on the two legs, keeping it off the ground and clean from dirt. Having the bag upright makes it easier to draw clubs from it. These are available as both single and double strap, and the weight of the bag should be considered when choosing.

Travel Bag

Travel bags are available in a variety of sizes with plenty of features to choose from. These bags use a stiff, padded construction to protect the clubs inside from damage that could occur during travel. These bags are suitable for use as checked airline luggage, and most come with a special lock to prevent theft. Many travel bags are large enough to accommodate a standard sized carry bag, which eliminates the problem of having to drag a heavy travel bag around the course. Most new travel bags come with double straps only, and this is due to the heavy weight of the padding. Travel bags are more widely used by amateurs on holiday than professionals. Professional golfers tend to store their clubs in rigid flight cases when in transit.

Ladies Golf

Club Bag

Ladies clubs bags appear quite similar to those made for men, but these bags are lighter, making them more practical for women. The bags are also shorter in length, as clubs used by women are shorter than those used by men. All of the above bags are available in ladies' versions.
Double or Single Strap Bag?
Although it may seem like a minor detail, choosing one option over the other can make a big difference. Buyers should consider the amount of clubs to be carried, the original weight of the bag and the size of the courses played on.
Double Strap Bags
· The majority of golf bag manufactures now recommend that all golfers use double strap bags to prevent injury from occurring.
· The bag is worn like a backpack, with the straps going across both shoulders and the clubs carried vertically. Double strap bags are ideal for courses that involve a lot of walking, or for golfers who are prone to back pain.
· Using the double strap will distribute the weight of the clubs evenly across the back. However, this can cause the bag to hang low below the waist, which can strain the lower back.
· If using a double strap bag make sure that the straps are tight as this will even the weight out between the shoulders and back and will help reduce fatigue.
· It is advised that all tour and travel bags are bought with double straps, as these bags are far too heavy to be continually supported by one shoulder.
Single Strap Bags
· Single strap bags allow for easier access to the clubs, but place all of the weight on one shoulder.
· Single strap is the traditional style for golf bags, and is still favoured by many amateur and professional golfers across the world.
· Most golfers use the 'stick' method when carrying a single strap bag. This involves wearing the bag with the clubs facing behind and using the free arm to pull the top of the bag across the back, keeping it in a horizontal position. This will even out the weight of the bag and help reduce fatigue.
· Single strap bags are more suited to courses with shorter walking distances.
Double and Single Strap
More and more manufactures are fitting their bags with an easily removable second strap, allowing golfers to quickly change between carrying styles while on the course. Any buyers experiencing difficulty in choosing an option should think about buying a bag that allows for both. As these bags are a relatively new model on the market, they are considerably more expensive than normal single or double strap models.
Buying a Double/Single Strap Bag on eBay
· To begin a search for a golf bag, first head to eBay.co.uk and click on the Shop by categories tab. Then click on the See all categories tab. This will load up the Categories page.
· From here scroll down to the Sporting Goods title and click on the Golf link.
· This will load up the Golf listings page.
· Click on the Golf Bags heading found under the Categories table to the left, and enter either double strap bag or single strap bag into the search bar.
Listings and Items Pages
· The listings page is used by eBay users to browse through the various golf bags for sale on the site. Typing double strap bag into the search bar will list double strap bags only, and typing single strap will list single strap bags.
· The Filter table on the left of the page can be used to speed up and refine the search. Buyers can choose to list golf bags by brand, condition and the item's location.
· Clicking on the title of a listing will load the item page. This page contains important information about the current bid on the bag, the time left to bid and the costs for postage.
· The seller's information box on the right allows buyers to quickly review the seller's transaction history. It is advised that buyers avoid dealing with sellers who have received a high percentage of negative feedback.
· All item pages should contain a recent photograph of the golf bag in its current condition. Use the 'Ask A Question' feature located below the description box to request additional photographs or information.
· The description box will contain further details about the bag, e.g. size, if there are any defects or when it was bought. The postage and payment box will contain further details about the delivery costs and the estimated time for delivery.
Conclusion
It is important to spend some time thinking about which option would be of the most benefit. Consider factors, such as the weight of the bag and clubs combined, the size of the bag and the length of the golf course that it will be used on. If feeling unsure about the option that would be more suitable, search for bags that have a removable second strap. If suffering from any sort of back pain avoid single strap bags, as they could cause further injury.
eBay is a great place to search for both single and double strap bags. The site has an extensive database of users meaning buyers can often find bags at lower prices than those found on other sites or in specialist stores. Spend some time searching through the listings, and remember to always review the seller's history before placing a bid.