'So I'm sorry that you turned to driftwood
But you've been drifting for a long long time.'
Travis, Driftwood, 1999.
Where Can I Find Driftwood?
Walking along the tideline, you'll find all kinds of seaside goodies - and plenty of driftwood. You can find the most driftwood at the high-tide mark and that's the only place that's really worth looking, although sometimes it does turn up randomly on other parts of the beach.
The best places are where the tide sweeps in close to the coast and its easiest to find wood after a storm or a high tide.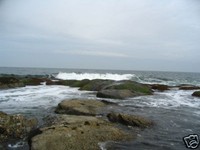 Is All Driftwood Created Equal?
Definitely not. Sometimes the sea moulds the wood in beautiful soft white shapes, other times it just rots. Sometimes a beautiful shape will inspire your craft, other times you'll just chuck it back in the sea.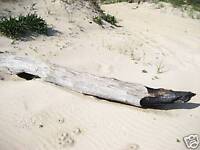 What Equipment Do I Need?
Just razor sharp eyes and an a willingness to brave the elements! I take a back pack with me and line it with a bin bag. The wood can get pretty heavy and sometimes you have to walk quite a long way.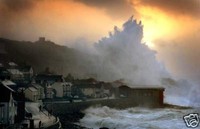 OK - I've Got A Bag Full Of Driftwood, What Now?
1) Bleach it; you need to do this to stop anything nasty from crawling out. Marine insects are totally harmless, but even I'm not hippy enough to let them live in living room. Bleaching it will also make it whiter, the longer you leave it in for, the whiter it will get. I leave my wood overnight in a bucket.
2) Dry it; don't let anyone tell you otherwise, this takes weeks. Unless you happen to live in the middle of the Nevada desert, you're going to have to patient. I've got a coal fire and I often leave my wood to the side of it in a metal gauze waste paper basket. It still takes about five days to dry out.
3) Craft it; this is where the fun starts. Often the wood is beautiful in itself, but I share the view of William Morris that, 'nothing useless is truly beautiful,' and like to make things out of it.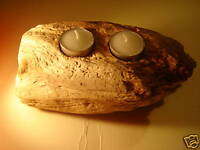 What Can I Make?
I make tealight holders and candle plinths, but the world's your Oyster. I've seen planters, candle sconces, shelves, jewellery, birdhouses, mirror frames, clocks, mobiles lamps and even loo roll holders made out of driftwood.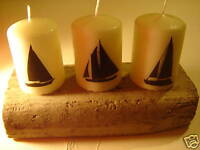 If you found this guide interesting, please vote 'yes'