Before you buy a Montblanc pen on eBay can you be sure that it isn't a counterfeit? Here are some tips to help you avoid losing money to someone who is selling counterfeits. When you are looking for a specific pen beware that most common counterfeits will be sold on a 1, 3 or 5 day listing, by a fairly new seller with either no feedback, or very few feedback that has recently been left for buying inexpensive items.

Sellers of counterfeit items often separate the words 'Mont' and 'Blanc' by placing another letter, number or word between them to try to avoid breaching the manufacturer's copyright. There are also sellers of counterfeits who place a small number 1 or 2 or even an exclamation mark around their titles and descriptions, and show a batch of library pictures for the same reason. Check that the pictures on the listing are of the actual pen that you are buying, as library pictures from the Montblanc web-site should arouse your suspicions. Also beware of one blurry picture of a pen where you can't see the nib, bands and clip clearly. Some sellers even show pictures of authentic pens but send counterfeits after you have won the auction and sent payment. So before bidding always check a seller's feedback to see if he has sold similar pens before and received any negative feedback for selling fakes.
Unfortunately the presence of a serial number or Pix under the clip is not a guarantee that the pen is authentic, as most counterfeit pens have fake serial numbers plus Pix on them. Buy it Now multiple item listings for low priced Montblanc pens should always be treated with suspicion.
Always use PayPal as your payment method, so that you have full buyer protection, and if the seller says that his PayPal account isn't working then don't pay by any alternative suggested method.
There are some new counterfeits currently appearing on eBay. These include many Montblanc Meisterstück 144 Classique and 145 Classic sized pens that come with counterfeit converters and/or counterfeit leather pen pouches. They don't have an original box and warranty certificate, and they are always inexpensively priced. These have serial numbers that have been cloned from authentic Montblanc writing instruments, so it's always worth checking the serial number is an individual one by doing a Google search for it. An authentic Montblanc converter doesn't have 'Mont Blanc' along the tube, and it has a smooth black twist plunger not a ridged one. The authentic 144 Meisterstück Classique has never been issued with an 18ct monotone platinised nib, so those will all be fakes. Fake clip bands are usually wider than authentic ones, and the clip isn't always perfectly smoothly attached to it on both sides as the authentic clip would be. A 144 Classique also has a push on cap, a gold band next to the nib and a gold band in the centre, whereas a 145 Chopin (now called Classic) has a screw on cap and one gold band in the centre. I would currently be very suspicious of any 144 Classique that doesn't come with an authentic box & warranty. If a box is present please note that many counterfeit boxes from China have a black snowcap symbol with a white outline inside the lid of the box, whereas the authentic Montblanc snowcap symbol is white with a black outline. There is also a frequent misspelling of the words 'Writing Instruments' on the warranty booklet cover.
I will try to help you to see the differences between fake and genuine modern Meisterstücks: If you look at the spacer underneath the bottom of the clip (the bit that keeps the clip away from the barrel) you will see that it has been placed on separately. The end and sides of the clip aren't 'folded in' to make the spacer. If you examine the three gold or platinised bands around the base of the cap, they are perfectly inset into the resin and are flat and level with the cap resin body. The centre band is still inset and it's upper and lower edges are flat and level with the cap, but the central portion is slightly raised, although still quite flat rather than fully rounded, and has MONTBLANC MEISTERSTÜCK cleanly engraved into it. The cap bands on fake Meisterstücks aren't inset flat into the resin, they sit on top of the resin and have moulded black plastic between them. The lettering isn't cleanly engraved into the central band and feels rough.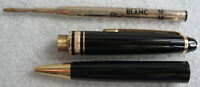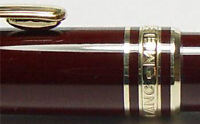 When you unscrew a Meisterstück ballpoint, the brass screw thread protrudes out of the bottom of the cap, and screws inside the barrel. The cap doesn't have a screw thread inside it that screws onto a resin screw thread around the top of the barrel. When you remove a refill from a Montblanc ballpoint, the spring will not come out, as it has a flared top to keep it inside the bottom of the barrel. The fail safe test for most counterfeit Montblanc ballpoints, if everything else looks right, is that an authentic Montblanc ballpoint refill won't fit into them as it's slightly larger than the copies that the counterfeiters make. So I would recommend that you always have a genuine refill on hand to try out in any suspect ballpoint. Unfortunately, the latest counterfeit Starwalker ballpoints pass this test.
All Montblanc ballpoints are twist action pens. With Montblanc fineliners and rollerballs you have to remove the cap before you can write. So if you have a normal ballpoint refill in a pen that needs the cap removed before you can write, it isn't an authentic Montblanc. Montblanc don't make any coloured Meisterstucks that have black snowcap tops. Nor do they make any cheap metal pens with designs on them.
For metal Solitaire Meisterstucks the metal always continues up around the sides of the snowcap top, past the clip band. Montblanc don't make Solitaire Meisterstucks that have black snowcaps with no metal around them. Nor do they have any signs of black resin bands between the silver or gold bands around the base of the cap. The metal cap bands are neatly inset into the metal body of the cap. There are some new style Solitare silver or gold vermeil counterfeits that have the silver hallmark laser engraved onto the surface of the cap rather than the authentic stamped hallmark. Genuine silver hallmarks are always stamped into the precious metal. If these pens are fountain pens, their nibs are also lightly surface engraved with their Montblanc symbols rather than having an authentic stamped nib. I currently wouldn't buy any new Solitaire style pen unless it came with it's original box and warranty and was being sold by a reputable seller with previous feedback for selling Montblanc items. Many cheaply priced Buy it Now counterfeit Solitaire and vermeil pens are regularly being listed on eBay by zero feedback sellers.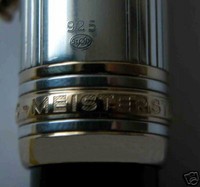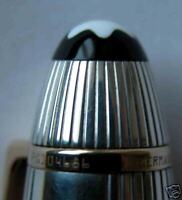 Before you buy a fountain pen please look at some genuine Montblanc nibs on the Montblanc web-site. Montblanc don't make any nibs that say Iridium Point Germany (or Italy or Paris - a dead giveaway!). See the pictures below: The left hand nib is a genuine Montblanc nib, and the right hand nib is an Iridium Point counterfeit nib. For modern black resin Meisterstücks the nibs are usually 14ct gold with a platinum inlay. They have Montblanc, 4810 (the height of Mont Blanc in metres) and the snowcap engraved on them, plus 14ct (or 18ct). The 149 has either a 14ct or an 18ct gold nib, and the Solitaires have 18ct nibs like the one below. Brand new latest versions have a different gold mark on their nibs. They now show either AU 585 or AU 750 for the gold content. Limited and Special Editions have specially designed 18ct nibs that refer to the edition. Post 1991 Montblancs have a serial number plus 'Germany' etched into the upper cap band. Older serial numbers started with 2 letters followed by several numbers, although the very latest serial numbers follow a slightly different pattern of letters and numbers. Some post 1997 Montblancs also have the trademark 'Pix' on the inside of the metal clip shaft. Since 2000 the word 'Pix' is also being used on the centre cap band. However, absence of the word 'Pix' does not necessarily denote a fake pen. Post 2014 pens have Made in Germany Metal on the inside of their clip shafts.
One of the most commonly seen counterfeits of a Limited Edition pen is the Writers Edition 'F.Scott Fitzgerald'. So if you want this pen please make sure that you know what a genuine one looks like in every detail. Specifically the counterfeit won't have the correct Montblanc platinum and gold nib, the silver bands are a different width, and there is an extra one around the base of the grip next to the nib. The counterfeits will usually show black resin through the marbled white resin where the barrel pieces join because it's cheaply made. Any 'F.Scott Fitzgerald' pen that's a different colour, or is not in it's original book box packaging should be considered a serious risk. The genuine version is pictured below. Please note that all Montblanc Limited Edition pens are only made in one colourway. Alternative colour choices are always counterfeits. Montblanc never made a Jules Verne rollerball, and they only ever made the Jules Verne fountain pen or ballpoint in bright blue guilloche enamel with platinised accents. The Greta Garbo diva edition only comes with a cream cap and a black barrel and, apart from two very expensive diamond editions of it, hasn't been made in any other colourway. Montblanc only made the Greta Garbo as a twist action ballpoint and a fountain pen. So all Greta Garbo rollerball style pens, or those called ballpoints that have removable caps rather than a twist action are counterfeits. Also, the authentic Greta Garbo fountain pen only accepts small cartridges. It can't accept a converter because of it's shape. All Montblanc Greta Garbo pens come with a special large square leatherette case that opens down the centre. So any Greta Garbo's that come in other types of Montblanc style boxes should be considered potential counterfeits.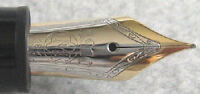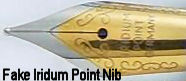 Counterfeit Limited Edition pens won't usually be in their original special boxes or cases. Instead they might come in an ordinary Montblanc box that someone has sold on eBay. Cheap counterfeits sometimes also come in Montblanc leather goods boxes with 'Solitaire Leather Goods' warranty cards and booklets. Genuine Montblanc pens should have a 'Writing Instruments Service Guide' booklet, or 'International warranty', although these are also faked, and sellers of counterfeits also buy boxes and Service Guide booklets on eBay. No authentic Montblanc boxes contain white satin material with a white satin band over the pen, whether it has the authentic white snowcap logo or the fake black one. These boxes are Chinese fakes and are almost always guaranteed to contain a fake Bohème, Meisterstück or Starwalker style pen.
Montblanc don't usually make rollerballs in their Limited Editions although they do make rollerballs in their Special Anniversary Editions. One notable exception is the Dostoevsky Writers Edition. However, within the past couple of years they have started to produce rollerballs in some of their Writers Editions, so the best way to check if a Limited Edition pen includes a rollerball version is to go and look at the Montblanc web-site, or at images on Google. To see good detailed images of other ranges such as Bohème, Starwalker and Scenium go and check the Montblanc web-site before you buy one. You can also find some good close up pictures on many of the genuine listings from high feedback ebay sellers on ebay.com or Google. The Montblanc Bohème range has different coloured jewels on the clip, and the colour of the jewel depends on whether they have gold or platinum coloured accents. Apart from one original large edition, the Montblanc Bohème fountain pen comes with a retractable nib and is a cartridge only pen. That was the main idea for Montblanc making this range.

Montblanc make the Starwalker as a twist action ballpoint, a fountain pen with a short rhodium coloured nib, never a Meisterstück shape nib, and a fineliner with a spring action tip. Although the fineliner can also take a rollerball refill, it isn't sold new like this. When you look at the tip end of Starwalkers, the writing tip of the refill only just protrudes out of the end of the barrel. If you can see quite a lot of pointed refill tip then the pen is more likely to be counterfeit, as this is one sign of a fake Montblanc refill. The end of the clip is always smooth and solid rather than just having it's edges turned in with a gap between the edges and the back of the clip. The authentic Starwalker rubber grid pattern pen should always have a platinised metal end cone, as Montblanc never made it with a black plastic end cone. Although Montblanc have produced various new Starwalkers, those with brightly coloured, marbled barrels are always Chinese fakes as Montblanc have never made the Starwalker with a marbled barrel, nor a partly marbled barrel. Currently there are some very clever counterfeits of the Starwalker on sale, unusually these even accept genuine Montblanc refills. The only apparent difference that can be detected by an experienced eye is a slightly off-centre snowcap, or a larger one than the genuine version, floating inside the perspex top. I personally wouldn't currently buy any Starwalker rollerball or ballpoint on eBay UK unless there were clear pictures of the clip and the warranty certificate, and I had confidence from the sellers previous feedback.


When you go to the Montblanc web-site, if you require a copy of the latest catalogue, they will send one to you. Also, you don't need to buy any current Montblanc bottled ink, cartridges, converters or other refills at higher than retail prices plus excessively high P&P from an ebay seller. You can order these consumables by telephone from any Montblanc boutique or department store concession, at a fraction of the cost. At the time of writing Montblanc bottled ink currently costs around £13. Montblanc will post them to you for a reasonable P&P. This also helps you to guarantee that you will receive a genuine ballpoint or rollerball refill that hasn't been used, also that bottled ink is genuine Montblanc ink, and is not a refill of a different brand, or watered down old ink.
There are also lots of counterfeit pen pouches or cases on eBay. Compare the following 2 examples: The one on the left is a genuine smooth calfskin Montblanc Siena pen pouch. Please note how long and straight the flap is and how it tucks into a loop that is one wide piece of thicker leather sewn into the seam on the lower part of the case. The image on the right shows a common fake cheap 'pimply' leather pen pouch that has a short flap with shaped edges.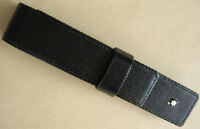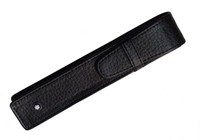 It doesn't take much practice to spot the differences between a fake and a genuine Montblanc. Take your time, look out for the pitfalls and you might own your authentic Montblanc sooner than you think. Good Luck! If you've enjoyed reading my guide, then please give me the thumbs up by voting YES below. I would love to stay in the top 100! Thank you very much. :-)