How to spot and avoid fake Ray-Ban sunglasses
I have seen many fake Ray-ban sunglasses available on Ebay at the moment. I have purchased a few recently that are 'laughable fakes'. This guide will allow you to spot and determine the fake items out there and which items are genuine, authentic Ray-Bans
Price
The price of sunglasses, as with any make is obvious. £10 for a pair of Ray-Ban's is a very small fraction of the RRP (Ray-Ban's usually sell for £80-110). Ask to see markings on the sunglasses and always ask for a warranty card to be shipped with the item. Also asking for the serial number would also help you filter out the fakes.
Made…Where!?
New (post 1998) Ray-bans are made in Italy. Bausch & Lomb USA stopped making the Ray-Ban sunglasses range back in 1998, so sunglasses that have the markings Ray-Ban USA and claim to be 2005-2006 models, will not be genuine Ray-Ban. The Ray-Ban brand is now owned by the Luxottica Group.
Bausch & Lomb do not make Ray-Ban anymore. Luxottica, Italy now own and produce the sunglasses. Ray-Ban is no longer made in the USA.
Sellers from China, or any other country that would be considered expensive to ship Ray-Ban sunglasses to should be watched extremely carefully for these fake items. Malaysia is a current big offender.
Markings
The new Ray-Ban aviator range (which is the most popular search on Ebay for Ray-Ban sunglasses) has the markings Ray-Ban Italy UNDER the top adjoining bar on the sunglasses. Markings that are over the bar are considered fakes. If unsure, ask the seller to send more pictures. Also the sunglasses should have markings on the left arm, usually the same Ray-Ban Made in Italy/ Ray-Ban Italy.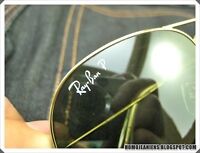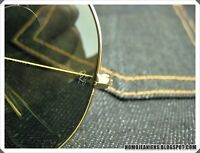 Taken from my REAL Ray-Ban Aviators.

The product itself
Since when has anything designer been wrapped in plastic? I have never seen a pair of Ray-Ban sunglasses in any style, made in the USA (pre year 2000) and made in Italy that have been wrapped in plastic. Also check out some of the more expensive sunglasses on Ebay, the Buy it Now sunglasses that are around the RRP of Ray-Ban. Are these products wrapped in plastic? Will the seller be happy to send you more pictures or answer any of your questions? The answer is more then likely, yes.
Sellers are now becoming experts at making these sunglasses look like the real deal. Here are some tell-tale signs of fake products.
Real Ray-Ban sunglasses do not come with a plastic tag attached. The below picture is an example of fake Ray-Ban aviators with this tag on. I have asked a retailer for verfication on this.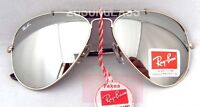 The G-15 sticker does not look authentic. By this I mean it is slightly discoloured or off-centre. I have also had a pair of sunglasses with a G-15 sticker from 'Luxomca'. Definate fakes.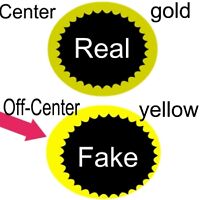 A good idea of a fake pair of Ray-Ban's is to look at various online retailers. Do a Google for these products, also, do the products match? Same model aviators from one seller, but the warranty card/sunglasses case are slightly different. Always question and don't be dazzled by the deal you are getting.
As mentioned above, Luxottica now own the Ray-Ban brand. I've recently seen a pair of Ray-Ban (or Ray-Ban counterfit should I say) on Ebay stating that the product is 'Made in Italy'. Oddly enough this product had 'B&L etched into both lenses'. The new etching for Ray-Ban sunglasses is a small RB on the left lens (the lens opposite the one with the Ray-Ban written logo.) Also as stated above, B&L (Bausch & Lomb) DO NOT own the brand anymore, therefore would not etch Ray-Ban sunglasses with their initials.
It is extremely hard to forge markings and etchings on fake sunglasses. These are the most important points to look out for.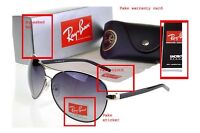 The seller
Check feedback. Always check feedback it is a must for any transaction of this kind. If something feels dodgy about the seller having sold 100's of Ray-Ban aviators, question where are these products coming from? How can the seller afford to charge £15 a piece for them? Always browse through items on Ebay, Different seller, but with same pictures and item? It becomes pretty obvious who is selling the fakes when you take into account the above information. Do yourself a favour. Buy a real pair, look after them, use the case and protect your eyes with proper sunglasses. Expect to pay £70 or more. The fakes at £25 will break within a month, or worse, do your eyes damage.
Get to a trusted Ebay seller who will provide you with details and has RRP Ray-Ban sunglasses.
*
Remember, this guide is to be taken as a guide, there are genuine sellers on Ebay and the decision to buy is left directly up to you.
No one likes paying for a product that does not protect against harmful UV rays, or is flimsy and costs more time/effort/cash to return the item for a refund. Most Ebay sellers will be happy to answer your questions. But as with anything, there are always some cowboys.

If this guide has helped you, please allow others to view it by answering YES to the below question 'Was this guide helpful?'. This in turn will help filter out these fake traders and allow others to be informed when buying Ray-Ban sunglasses. Thank you.

*Note: Not all designer sunglasses are wrapped without plastic apparently. No more messages on this subject please.
*Note2: If you continue to send me hate mail/threatening mail directed at the information I have provided here, I will name and shame your user ID. You should not be selling fake items on Ebay. That is a breach of policy, not the GENUINE information I have provided.
I do not respond to personal messages. Any received will be automatically deleted.